Bud Light Backlash Is Hurting Other Anheuser-Busch Brands, Data Shows
The backlash over Bud Light's partnership with a transgender influencer appears to be impacting the sales of its other beer brands in the U.S., the latest industry statistics show.
News that sales of Budweiser had fallen more than 11 percent at the end of April follow recent data that showed sales of Bud Light had declined drastically amid calls for a boycott after it sent Dylan Mulvaney a commemorative can to mark her first year of transitioning to a woman.
Anheuser-Busch, Bud Light's parent company, has been accused of alienating its traditional customer base with the partnership, while some LGBTQ+ campaigners have also criticized the company for not defending its ties with Mulvaney.
While the company's global CEO, Michel Doukeris, said on May 4 that the declining Bud Light sales represented about 1 percent of Anheuser-Busch's global volume, the latest figures suggest the impact of the controversy could soon represent a larger hit.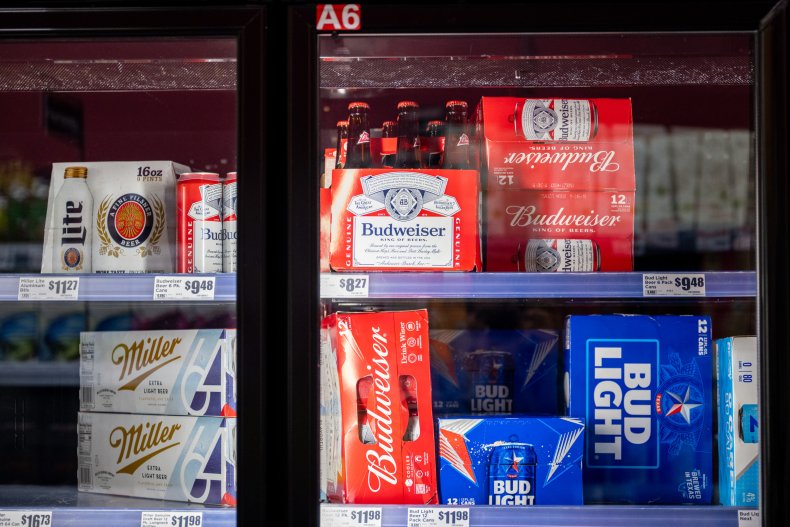 Data provided to Newsweek by Bump Williams Consulting and conducted with NielsenIQ shows that Bud Light sales revenue fell 23.4 percent in the week ending April 29 compared to the same time a year ago. Sales volume fell 27.3 percent that week, following a drop in sales volumes of 21 percent in the weeks prior.
In the four weeks up to April 29—which covers the first month of the controversy—the beer brand saw an overall decline in sales revenue of 17.2 percent off a 21.4 percent drop in volume. At the same time, rivals Coors Light and Miller Lite saw revenue gains of 17.3 percent and 19.1 percent, respectively.
Bud Light saw a 17 percent decline in sales revenue earlier in April and a 26 percent fall in off-premises sales—those taking place outside hospitality venues such as bars and restaurants—in the week ending April 22.
However, declining sales are not limited to just the one Anheuser-Busch label anymore. Budweiser in particular saw a hit to sales revenue of 11.4 percent in the week ending April 29, while another of its beers, Michelob Ultra, saw a 4.4 percent decline.
Busch Light sales also dropped 1.8 percent in the period, and Natural Light fell 5.2 percent. All had seen a fall in the number of cases sold, with Budweiser losing 13 percent of the volume compared to the same week in 2022.
Dave Williams, vice president for analytics and insights at Bump Williams Consulting, noted that while declines for the Bud family of beers "continue to accelerate," Anheuser-Busch's overall portfolio in the year to date was "in most cases either on par with or outpacing competition."
Although Bud Light sales declined 4.3 percent so far this year compared to the same period last year, Busch Light saw a 12.7 percent increase while Michelob Ultra had an 8 percent rise.
However, Williams told Newsweek: "That narrative has completely flipped over the last couple of weeks as trends soften while competition heats up, which rightfully raises questions about the potential long-term implications should these trends continue throughout the summer selling season."
Newsweek reached out to Anheuser-Busch via email for comment on Wednesday.
Brand Finance, which quantifies the financial value of brands and provides an annual ranking, previously told Newsweek it was "uncertain" whether the controversy would have a lasting impact on the beer brand. In its beer ranking for 2022, Bud Light placed fourth, behind Budweiser in third.
However, referring to the recent decline in sales, Laurence Newell, Brand Finance managing director for the Americas, said: "If this trend continues, analysts may need to reconsider their forecasts."
Anheuser-Busch's senior management has pledged to increase its investment in Bud Light in the U.S., and financial analysts have pointed to its global reach to argue that the beer brand represented "a drop in the bucket" when it came to the brewery's revenue.