Is Bud Light Boycott Causing Coors, Miller Lite Shortages?
A leading beer industry analyst is predicting the ongoing backlash against Bud Light could have a ripple effect that could lead to industrywide shortages of other inexpensive brands.
For the past two months, Bud Light's parent company, Anheuser-Busch, has seen a sizable collapse in sales from conservatives boycotting the brand over a branded post it did with transgender influencer Dylan Mulvaney. In April, she posted about receiving a personalized Bud Light can with her face on it to celebrate her "365th day of girlhood."
With other Anheuser-Busch brands like Natural Light and Busch Light also becoming targets, some have now speculated the boycott could be a boon to the rest of the beer industry—even prompting shortages of similar brews as mountains of Anheuser-Busch products continue to pile high.
Bud Light's year-over-year sales have been down just under 25 percent compared with this time last year, according to industry figures. Other Anheuser-Busch brands, like Michelob Ultra and Budweiser, have also seen considerable year-over-year declines.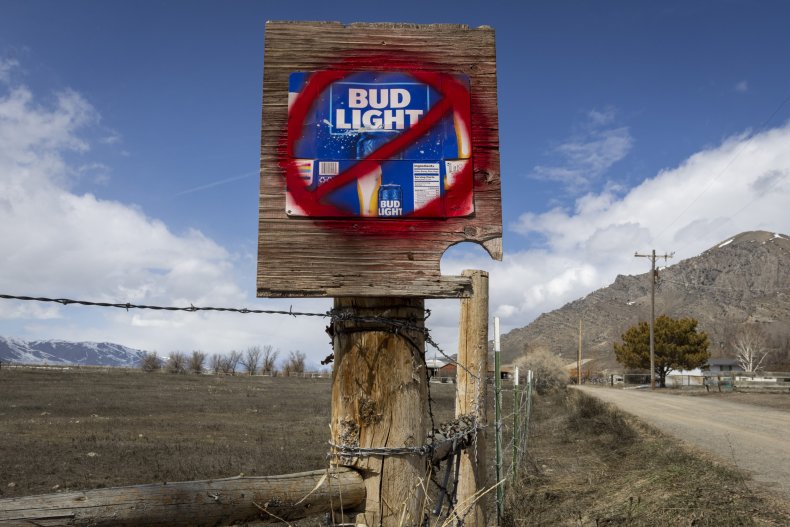 Speaking to Fox News Business this week, Beer Business Daily Editor and Publisher Harry Schuhmacher said the deep cuts in sales could cause other customers to defect to brands like Coors or Miller Lite, potentially causing shortages for those beers.
"This particular promotion [with Mulvaney] just really struck a chord. It was just a bridge too far, apparently, for consumers," Schuhmacher said. "We're in week six and it doesn't look like it's getting any better. In fact, the numbers just keep getting a little worse every week...down in the 25 percent area. And their competitors are up almost just as much, and that's continuing through today."
Anheuser-Busch's stock price shows that as well. While the stock has crumbled, share prices for Molson Coors have gone nowhere but up since its six-month low of $49.56 a share at the end of March—just before the Mulvaney controversy erupted.
While other publicly traded breweries have seen marginal increases in their share price, Molson Coors' success has been unparalleled across the industry, suggesting the nation's third-largest brewer is the prime beneficiary of Anheuser-Busch's woes.
But with that increase in sales comes a need for increased supply—which major brewers like Molson Coors may or may not be ready for this summer.
"You can't just flip a switch and make beer," Schuhmacher said. "You know, beer is brewed. It takes, you know, at least a couple of weeks to make. So they haven't had major supply issues yet, but we're about to hit Memorial Day and we could probably see some supply shortages there."
In a statement, Molson Coors told Newsweek, "We have produced enough Miller Lite and Coors Light to ensure inventory remains healthy through the holiday weekend and into the summer."
It's what happens after Memorial Day, however, that's the real question.
"Keep in mind, this is the beginning of the beer-selling season," Schuhmacher said. "We sell beer in the third quarter, and we're about to hit Memorial Day. With these trends, it's starting to be material for AB's bottom line, at least in the United States and North America."