Budapest Train Station Re-Opens After Tense Migrant Stand-Off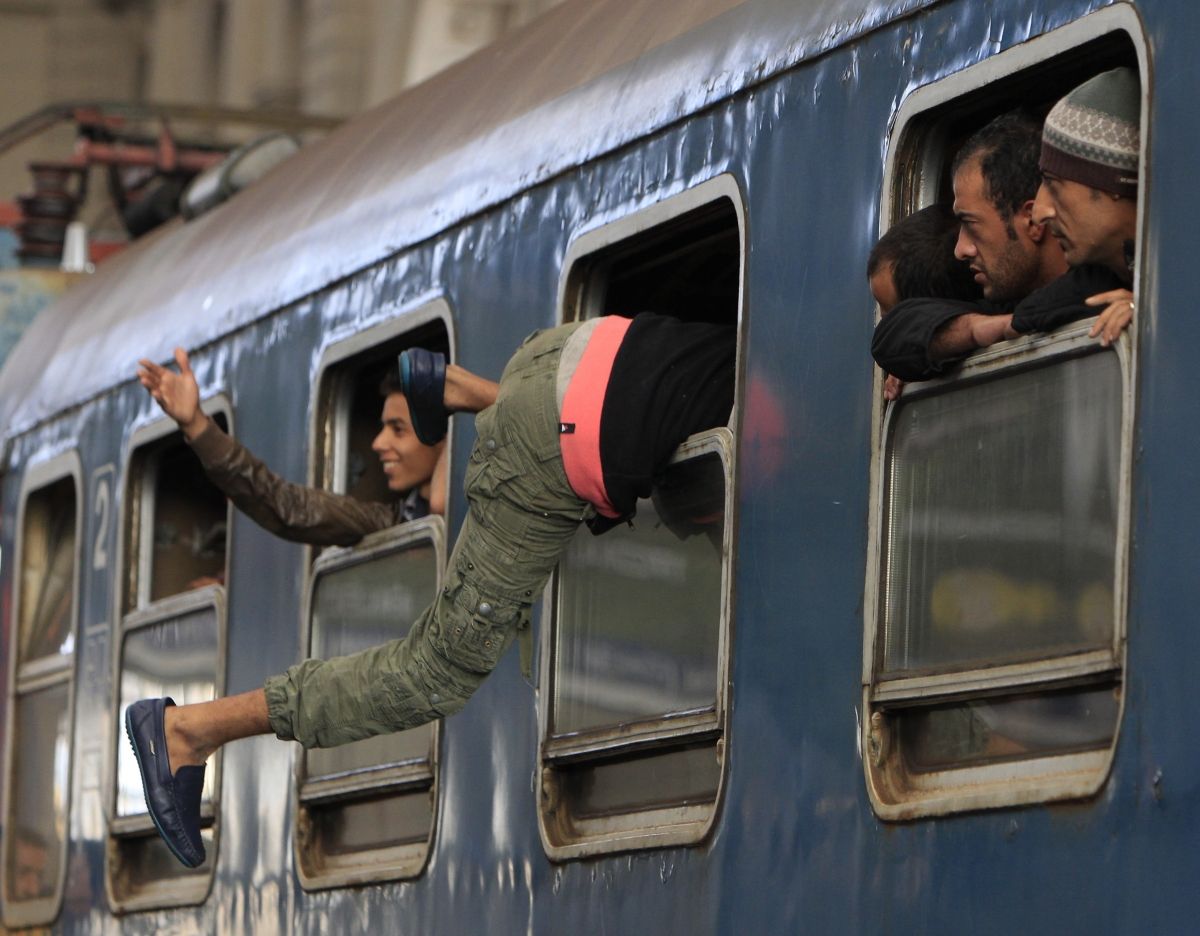 Hungarian police have reportedly withdrawn from the gates of Budapest's main international train station after a two-day stand off with the thousands of desperate migrants and asylum seekers waiting to board trains heading to Austria and Germany.
The station had been closed to anyone without legal permission to travel in Europe's Schengen area, but this morning it reopened, with many migrants trying to push themselves and their children onto trains through doors and windows at Keleti station, according to Reuters. However, a public announcement said international trains to western Europe were suspended "indefinitely," according to the BBC, and it is unclear whether any of the migrants will be able to board trains today.
On Tuesday and Wednesday asylum seekers were prevented from accessing the station to board trains, leaving them to set up tents or sleep on blankets outside. Hundreds protested, holding up their babies and children to cameras and chanting: "Freedom, freedom!" According to the Telegraph newspaper, earlier this week 2,000 migrants were using one single public toilet and one shower facility outside the station.
It is unclear what has prompted Hungary's decision to withdraw police from the station Thursday. On Monday, 3,650 migrants and asylum seekers reached Vienna, a record daily number according to the Austrian police, suggesting that Hungarian officials had abandoned attempts to register migrants, leading to vast numbers boarding the trains.
An Austrian police spokesman said there are currently no services running from Budapest to Vienna and a Hungarian government spokesman has said that no international trains will be leaving Keleti for "safety reasons", according to Sky News.
When the BBC World Service radio asked on Tuesday night why the Hungarian government had stopped migrants from boarding trains earlier this week, government spokesman Zoltan Kovacs claimed that there had a "set of misunderstandings concerning German announcements on whether they would take anyone who says they come from Syria".
His comments could refer to Germany's decision to suspend the EU's Dublin regulation for Syrian refugees, which states that anyone claiming asylum Europe must be processed in the country to which they first arrive, or else face deportation.
As of August 25, around 133,000 people have applied for asylum in Hungary, and the number is rising, according to an email statement from the Budapest Office of the International Organisation for Migration (IOM). The IOM expects the number to hit 200,000 by the end of the year, almost five times the 43,000 applications Hungary received in 2014.
On Thursday, the Hungarian national news agency reported that senior ruling party lawmaker, Gergely Gulyas, said that the parliament was likely to pass legal amendments that would halt the flow of migrants into Hungary, reducing the number of illegal border crossings to "zero" by the middle of the month, according to Reuters.