Will 'Cake Boss''s Buddy Valastro Ever Cook Again After Horrific Bowling Accident?
What began as fun bowling game with his family ended in disaster for Cake Boss star Buddy Valastro. A horrific accident left his right hand impaled and the accident was so bad, in fact, that his baking future looks uncertain.
The injury occurred this past Sunday, when the 43-year-old baker and reality television star was bowling on a lane in his family home in New Jersey. "There was a malfunction with the bowling pinsetter," Michael Ciullo, the spokesperson for Valastro's Carlo's Bakery, said in a statement. According to Ciullo, the malfunction had "a common fix in the past, but turned into a terrible accident."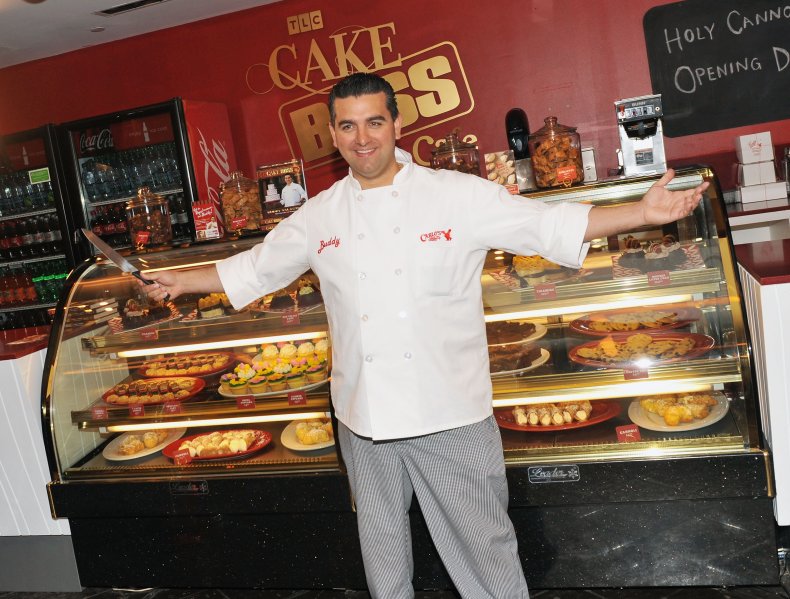 "After trying to release the bowling pin from the cage mechanism, his right hand became lodged and compressed inside the unit," Ciullo explained. "Unable to remove his hand, he can see a 1-1/2" metal rod slowly and repeatedly impale his hand three times between his ring finger and middle finger."
After five minutes, the baker's sons, Buddy Jr. and Marco, used a saw to cut through the metal rods and get their father free from the machine.
The pastry expert was then rushed to the hospital, where he received an emergency operation to remove the rod and stabilize the wound. A second surgery was performed by an orthopedic surgeon in Manhattan.
Despite the harrowing ordeal, Valastro maintained his sense of humor. In an Instagram post, he held up his heavily bandaged arm and captioned the photo with, "What do you think of my new accessory?"
What remains unknown is the impact the injury will have on Valastro's ability to make the amazing cake showpieces that have made him a star on the hit show Cake Boss, which premiered on TLC in 2009. "It will be an uphill battle as it's Buddy's dominant right hand and he will need prolonged recovery and therapy," Ciullo said.
In addition to Cake Boss, Valastro has appeared as a judge on numerous other cooking shows, produced several hit programs, and written popular cookbooks. He was even inducted into the New Jersey Hall of Fame in 2018. Along with 16-year-old Buddy Jr. and 13-year-old Marco, Buddy also shares daughter Sofia, 17, and son Carlo, 9, with his wife Lisa. Cake Boss follows Buddy and his family around the business at Carlo's Bakery, a Hoboken pastry shop open since 1910 that's expanded to several other locations nationwide.
Well wishes from other celebrities in the cooking world came in quickly, including a note posted on Valastro's Instragram from Emeril Lagasse that read, "Get better quick my friend!"
Valastro later posted a video on his Instagram story in which he said he's "getting the best care possible."