Budget Cuts Could See British Army 'Reduced to 50,000'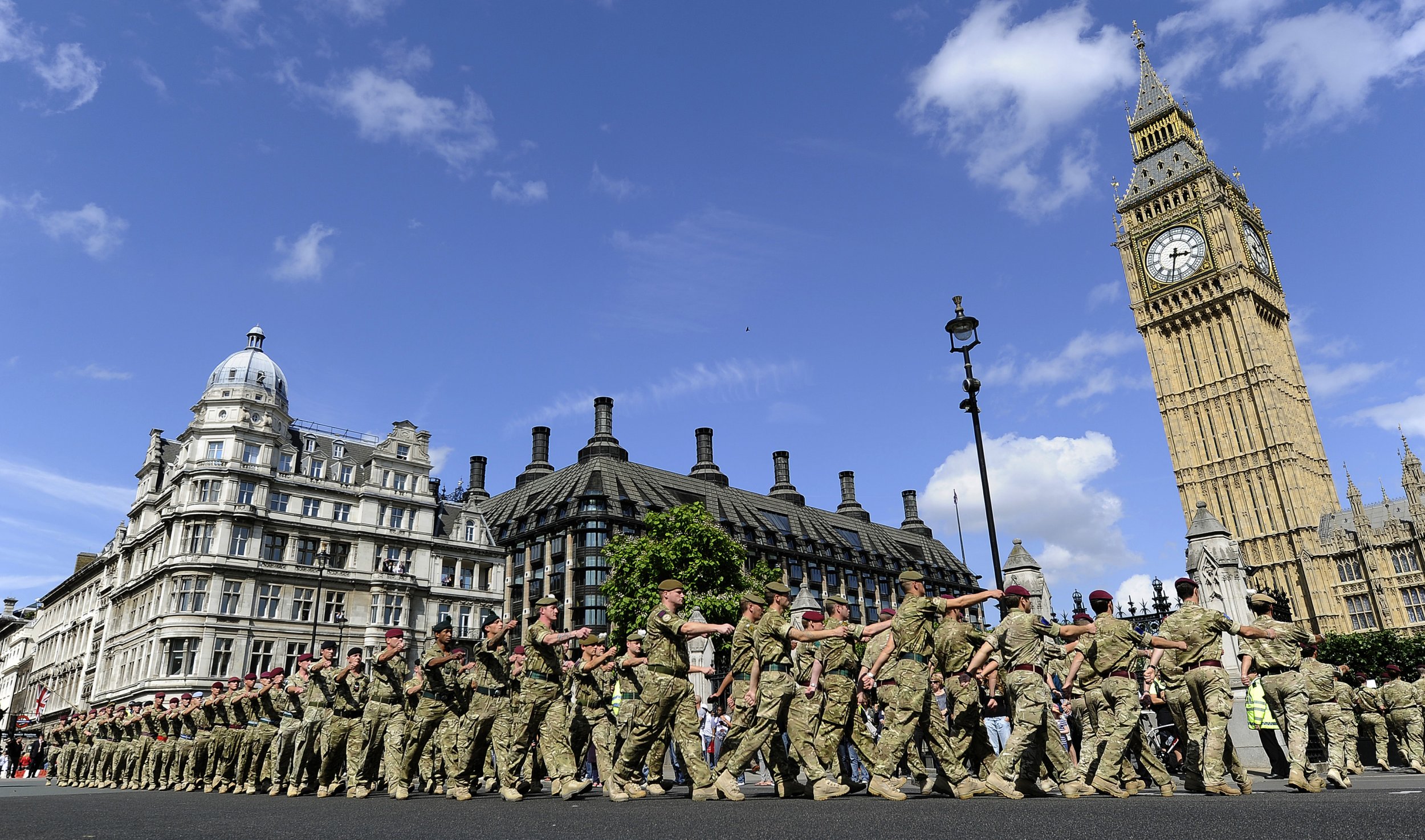 The number of trained regulars in the British army could be cut to 50,000 under proposed government defence spending cuts, according to a report from a defence think tank.
The Royal United Services Institute (RUSI) report outlines optimistic and pessimistic defence spending predictions over the next few years, and the probable effects on personnel numbers and equipment. It says the number of service personnel across the armed forces could fall from 145,000 to 115,000 by 2020, with the army left with just 50,000 regulars in a worst case scenario. The report also estimates that gross domestic product (GDP) spending on defence in 2015/16 will be 1.95%.
Colonel Bob Stewart, a former army officer and current member of parliament says it is "hugely hypocritical" for the UK's defence spending to fall below 2% of GDP after pressuring other NATO members to reach the target.
Britain is currently only one of four NATO countries that meets the 2% of GDP spending target, set at the NATO Summit in Wales in 2014 to encourage member states to boost spending in the face of the threat posed by Russia. The others are the U.S., Greece and Estonia.
However, RUSI's report says that under the spending plans of all three main political parties - Conservatives, Labour and the Lib Dems - Britain will no longer hit the 2% target, and in the pessimistic scenario the defence budget will be hit with "a 10% real terms cut over the next four years".
"By 2019/20, meeting the NATO target would require the MoD to be provided with an additional £5.9 billion in annual spending, compared with current assumptions," the report reads. "In a context of wider austerity in public spending, such an increase is not plausible."
In the 'optimistic scenario', where defence is given the same funding protection as healthcare and schools, an extra £4 billion in funds would be needed, which RUSI says will likely be raised through increased taxation or borrowing.
Col. Stewart, who served as an army officer for 28 years and is now the Conservative MP for Beckenham, has previously urged British military chiefs to resign their posts in protest over defence cuts.
"Ministers on both sides of the House of Commons say defence is the first duty, the first priority of government," he says. "If that is the case then it doesn't matter what public opinion thinks, it is our duty to ensure that our country is properly defended."
"We have been telling everyone, indeed we have been chiding everyone in NATO to get 2%. And if we are not going to reach 2% we are hugely hypocritical and apart from causing a grave threat to our security by not keeping defences up, we will probably lose the special defence relationship that we have with the United States."
He says the U.S. spends 4.6% of gross national income on defence, a fact which Col. Stewart says puts British "quibbling" over the 2% target into perspective.
He says: "If I was an American and I saw the British quibbling about paying 2% when I was spending well over twice as much per head of population, I might ask myself why the hell we are paying 70% of the cost of NATO."
The prime minister David Cameron addressed defense spending today, saying: "The equipment budget in defence over the next 10 years, will grow in real terms under a Conservative government making sure that vital equipment we have ordered - the aircraft carriers, the frigates, the destroyers, the hunter killer submarines, that all of that can be delivered. And we have also said that we do not have to see further reductions in the regular forces. But again I would say you can't have strong defence without a strong economy."