U.S. Budget Deficit Reaches Higher Level Under Trump Than at Any Point in Obama's Second Term
The U.S. budget deficit reached its highest level in six years, higher than any point in President Barack Obama's second term, the Trump administration announced Monday.
Increased spending in 2018 bumped the deficit up 17 percent to $779 billion in fiscal year 2018, largely due to an increase in spending and a decrease in corporate tax revenue because of the Republican tax cuts late last year. The deficit is now on track to surpass $1 trillion before 2020.
The Treasury Department said Monday that the increase was due to domestic and military spending, not because of a permanent cut in corporate tax rates from 35 to 21 percent.
"President Trump prioritized making a significant investment in America's military after years of reductions in military spending undermined our preparedness and national security," said Treasury Secretary Steven Mnuchin in a statement. "Going forward, the president's economic policies that have stimulated strong economic growth, combined with proposals to cut wasteful spending, will lead America toward a sustainable financial path."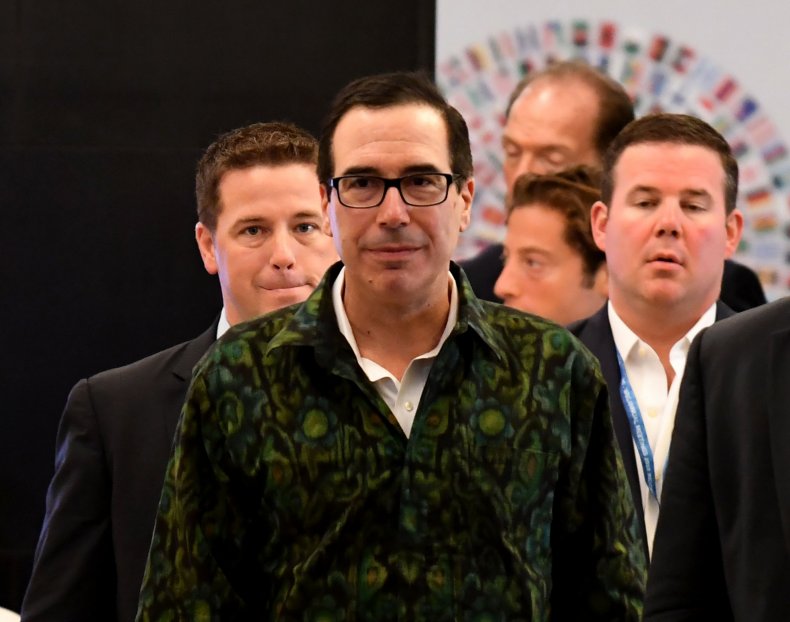 Still, an analysis of spending and revenue show that federal revenue rose by only 0.4 percent this year, a significant slowdown from last year's 1.5 percent. In fiscal year 2018, tax receipts on corporate income fell to $205 billion from $297 billion last year, but were ultimately buoyed by gains from excise taxes, estate and gift taxes, customs duties and miscellaneous taxes.
The Trump administration campaigned on fiscal responsibility, and a number of Republicans, including House Speaker Paul Ryan have branded themselves as fiscal hawks, but current policy initiatives don't jibe with that label. "Going forward, President Trump and this Administration will continue to work with Congress to make the difficult choices needed to bring fiscal restraint, which, when matched with increasing revenue, will reduce our deficit," said Office of Management and Budget Director Mick Mulvaney.
Michael Peterson, CEO of the nonpartisan Peter G. Peterson Foundation said that these deficits during an economic boom are unprecedented. "This is a uniquely imbalanced time in our fiscal history, with deficits rising despite a growing economy and low unemployment," he explained in a statement. "In fact, the U.S. is the only developed country in the world whose debt-to-GDP ratio is growing. This is a reflection of just how irresponsible our budget policies have become."
A new Pew Research Center poll, meanwhile, found that the majority of Democrats and Republicans believe that the federal budget deficit is a very big problem in the country today. The survey, released Monday, showed about 56 percent of Democrats and 61 percent of Republicans prioritized a balanced budget, one of the few issues the left and right see eye-to-eye on.
"Deficits are rising—and fast. In as soon as a year, they will top $1 trillion and never come back down unless Congress acts. This year's deficit amounts to $6,200 per household and is more than we spend each year on Medicare or defense," said Maya MacGuineas, president of the nonpartisan Committee for a Responsible Federal Budget.
MacGuineas also expressed concern that interest payments on debts will soon start to crowd out spending on other Federal programs. "Interest on the debt rose by $62 billion over the previous year to $325 billion, which amounts to twice as much as we spend on the Departments of Transportation and Homeland Security combined," she said. "Under current projections, annual interest payments on the debt could top $1 trillion by 2030."