Buffalo Mountain Fire Map Update: Colorado Wildfire Forces Evacuations
The Buffalo Mountain Fire in Silverthorne, Colorado, grew to 91 acres by Thursday morning, fire officials confirmed. The spreading flames forced the evacuation of more than 1,300 homes in the neighborhoods of Wildernest and Mesa Cortina. More than 1,000 other homes were under pre-evacuation notices and were asked to be prepared to leave at any time.
The fire, which began Tuesday morning, was about 20 percent contained Thursday. Some 150 firefighters and multiple aircraft were deployed to combat the flames.
"Without a doubt, this is a serious situation, but wildfire is a reality that we live with here in the western United States," said White River National Forest Supervisor Scott Fitzwilliams, according to the Denver Post. "The good news is that all the right people are here and we're attacking the fire aggressively, with firefighter and public safety as the top priority."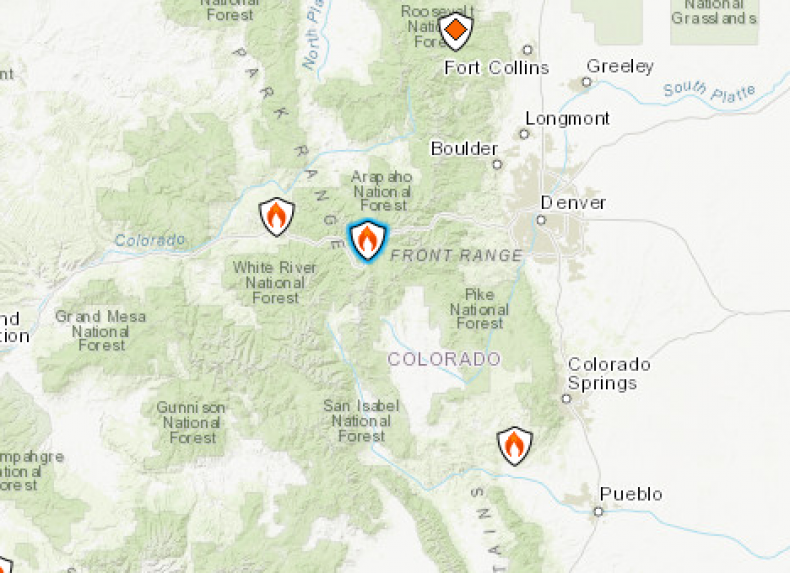 Authorities said the Buffalo Mountain Fire was not caused by natural events, according to CBS News. No further details about the suspected cause were released. The National Wildfire Coordinating Group said conditions Thursday were expected to continue to be "warm, dry and breezy, with the potential for increased fire activity and smoke in the afternoon." Multiple agencies, including local police and emergency management teams, were responding to the scene.
An evacuation center was set up at Silverthorne Recreational Center for displaced residents. The Red Cross was also providing overnight evacuation facilities at Frisco Elementary School.
Other wildfires also continued to rage Thursday elsewhere in Colorado. The massive 416 wildfire in Durango spread to more than 27,000 acres, with more than 1,000 firefighters deployed to combat the flames. The 416 fire was only 15 percent contained Thursday, La Plata County officials confirmed. New warnings were issued as firefighters prepared for high winds and lightning, both of which could exacerbate the fire.
"Folks on the ground have not caught a break since the day this fire started," said spokesperson Jamie Knight, according to the Durango Herald.
Colorado Governor John Hickenlooper issued a statement Tuesday saying Colorado had allocated more resources for firefighting than any other state in the Rocky Mountain West.
"We have seven interagency air tankers fighting the Colorado fires and, through experience, we have learned how to integrate our state resources with our federal, county and municipal resources," Hickenlooper said. "We recognize the conditions are dry and hot. Public health and safety are top priorities in fighting any fire. If you are in the fire zones, please follow safety procedures and directives. Our state agencies are here to support you. As we have proved time and time again, Coloradans are resilient."