While Buffalo Officers Walked Past the Bleeding Man They Knocked Down, State Police Rushed to His Aid
A 75-year-old man, who fell to the ground and bled from his ear after being struck by two Buffalo police officers in upstate New York during a protest following the death of George Floyd, appeared to be helped by law enforcement officials identified to be New York State Police (NYSP), the New York State Division of Military and Naval Affairs told Newsweek.
A video of the incident shared on Twitter by reporter Mike Desmond from Buffalo's WBFO station, a local affiliate of National Public Radio, showed the elderly man approaching a group of police officers in Niagara Square. The man appeared to speak to them just before being shoved by the officers. He was then seen falling backward onto the concrete pavement, shortly after which a pool of blood began forming near his head.
Several other police officers walked past the unnamed man on the ground. But two NYSP officers in military uniform approached the man. One NYSP officer appeared to kneel on the ground after seeing the man to help him, according to another video of the incident shared on YouTube.
Speaking to Newsweek, a spokesperson for the New York State Division of Military and Naval Affairs, said: "Many law enforcement personnel wear green uniforms when they are in a tactical status which makes them look like they are military.
"The wearing of green tactical gear has caused confusion in the past for people who cannot tell the difference between a U.S. Army uniform and a green tactical police uniform.
"No New York National Guard personnel were involved in that incident," the spokesperson confirmed.
The man who was shoved was reported to be in a "stable but serious condition" at the Erie County Medical Center in Buffalo. The two officers involved in the incident have been suspended without pay, according to a statement from Buffalo Mayor Bryon Brown.
Buffalo Police Commissioner Byron Lockwood has ordered an immediate investigation into the incident, the statement confirmed.
A Buffalo Police Department spokesperson confirmed in a statement that "a fifth person was arrested during a skirmish with other protestors and also charged with disorderly conduct. During that skirmish involving protestors, one person was injured when he tripped and fell."
The mayor's statement noted the incident took place "after a physical altercation between two separate groups of protesters participating in an illegal demonstration beyond the curfew."
The man did not appear to be a protester, according to Desmond.
"He walked a little bit, was standing there, and was hit with a club as far as I can tell," Desmond said. "He lost his footing after he was hit, fell back, hit his head on the concrete... and I could hear his head hit and then within a few seconds, blood started coming out from under his head."
Brown and Lockwood were "deeply disturbed by the video," the mayor's statement said.
"After days of peaceful protests and several meetings between myself, police leadership, and members of the community, tonight's [Thursday] event is disheartening," Brown said in the statement.
New York Gov. Andrew Cuomo said in a post Thursday on his official Twitter account: "This incident is wholly unjustified and utterly disgraceful. I've spoken with Buffalo @MayorByronBrown and we agree that the officers involved should be immediately suspended pending a formal investigation. Police Officers must enforce — NOT ABUSE — the law."
Newsweek has contacted the Buffalo Police Department and the office of Cuomo for comment.
Earlier this week, New York City police officers were seen repeatedly hitting a cyclist with a club after a citywide curfew went into effect in a video shared on the official YouTube channel for Reuters.
Last week, officers from the Los Angeles Police Department (LAPD) were also seen hitting protesters with clubs.
Actor Matt McGorry, reported to be among several others who recorded the incident, shared a video of the scene on his official Twitter account noting: "More police brutality from the @BLMLA @WeBldPwr protest yesterday where cops starting swinging batons and shooting projectiles at people simply standing there with there hands up."
LAPD said in a statement to ABC7 at the time: "Protests, marches and demonstrations over the last several days have been often dynamic and at times dangerous situations for both officers and demonstrators.
"A number of these gatherings have unfortunately devolved into chaos with rocks, bottles, and other projectiles being launched at police officers, who have sustained injuries that range from cuts and bruises to a fractured skull," the statement added.
More than 10,000 people have been arrested in protests following the death of Floyd, who died shortly after being pinned to the ground with a knee on his neck during an arrest by the Minneapolis Police Department.
Over a quarter of the national arrests were reported to be in Los Angeles, followed by New York, Dallas and Philadelphia, according to the Associated Press.
This article has been updated with comment from the New York State Division of Military and Naval Affairs.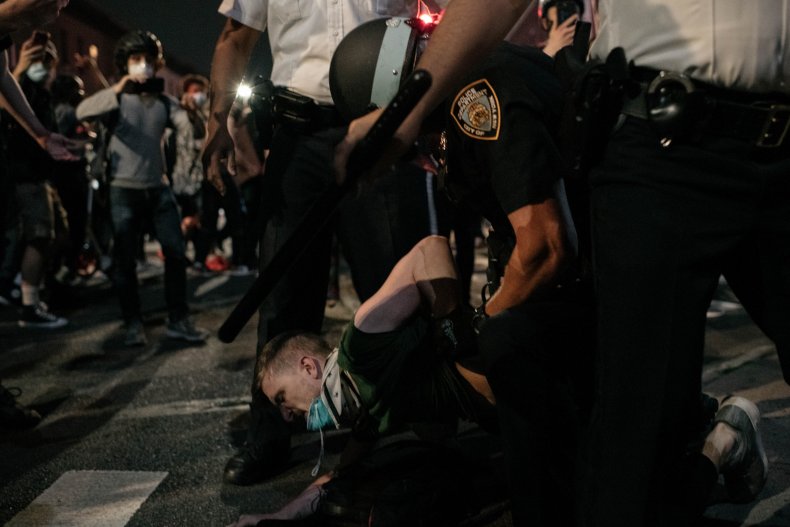 Correction: This article originally stated it was National Guard troops who rushed to the fallen protester's aid. The New York State Division of Military and Naval Affairs has since clarified to Newsweek that they were New York State Police (NYSP) wearing green tactical uniforms.