Buffalo Shooting Suspect's Home Surrounded by Authorities
Law enforcement surrounded the home of a white teenager suspected of opening fire at a supermarket in Buffalo on Saturday, killing 10 people in a massacre that authorities described as "racially motivated violent extremism."
Authorities said a heavily armed man allegedly drove to Tops Friendly Market at around 2.30 p.m. and shot 13 people—11 of them Black—while livestreaming on Twitch.
A Twitch spokesperson told Newsweek that it ended the broadcast "less than two minutes after the violence started." The spokesperson added: "The user has been indefinitely suspended from our service, and we are taking all appropriate action, including monitoring for any accounts rebroadcasting this content."
Later on Saturday, 18-year-old Payton Gendron was arraigned on a murder charge, appearing before a judge in a paper medical gown.
Meanwhile, dozens of law enforcement officials were at Gendron's family home in Conklin, New York, a small town about 200 miles southeast of Buffalo.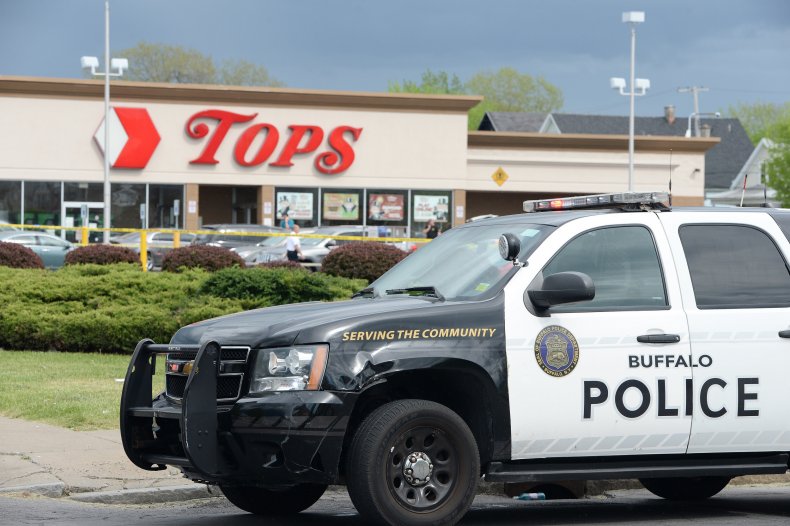 WIVB reported that law enforcement, including FBI agents, could be seen going in and out of the home on Saturday evening.
Saturday's attack—the deadliest mass shooting in the U.S. this year—sent shockwaves through a country grappling with gun violence, racial tensions and recent hate crimes.
The gunman, wearing tactical gear and armed with an assault weapon, allegedly shot four people outside the store, three of them fatally, according to Erie County District Attorney John Flynn.
He entered the store and exchanged fire with security guard Aaron Salter, a retired Buffalo police officer, who died from his injuries.
He then made his way through the store, allegedly shooting eight more people—six fatally—before police entered and confronted him in a vestibule.
Buffalo Police Commissioner Joseph Gramaglia said he put his rifle to his own neck, but two officers talked him into dropping the gun.
"I am committed to obtaining justice for the victims, their families and this community," Flynn said in a statement.
"My office is working closely with the U.S. Attorney's Office and our partners in law enforcement into potential terrorism and hate crimes. This is an active investigation and additional charges may be filed."
Gendron posted 180 pages of hate-filled writings online, according to The New York Times. The document purportedly outlines racist, anti-immigrant and anti-Semitic beliefs, including the "replacement theory" that white Americans are at risk of being replaced by people of color.
At a news briefing, Erie County Sheriff John Garcia called the shooting a hate crime.
"This was pure evil. It was (a) straight up racially motivated hate crime from somebody outside of our community, outside of the City of Good Neighbors ... coming into our community and trying to inflict that evil upon us," he said.
New York Gov. Kathy Hochul tweeted: "Tonight my heart is with my neighbors in Buffalo who are feeling unimaginable pain due to a white supremacist.
"We'll be there for the families affected by this act of terrorism. And we'll ensure law enforcement has what they need to prosecute the shooter to the fullest extent."
President Joe Biden said he and the first lady were praying for the victims and their families.
"We still need to learn more about the motivation for today's shooting as law enforcement does its work, but we don't need anything else to state a clear moral truth: A racially motivated hate crime is abhorrent to the very fabric of this nation," he said.
"We must do everything in our power to end hate-fueled domestic terrorism."
Update 5/15/22, 9:25 a.m. ET: This article has been updated with a comment from Twitch.