A Buffalo Wing and a Prayer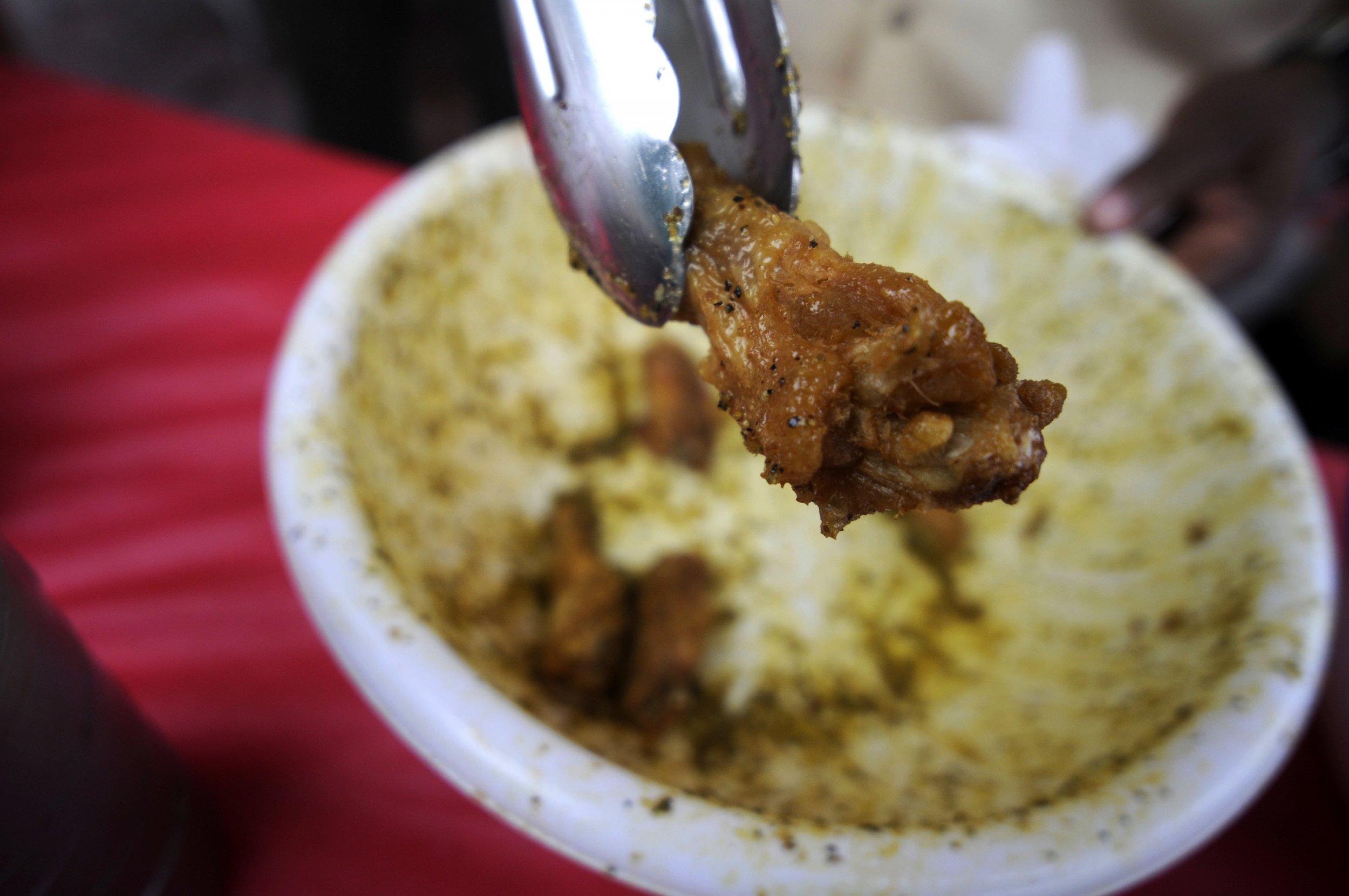 Call it the Desire of Wings: Over Super Bowl weekend, Americans will polish off around 1.2 billion chicken wings, capping an annual peak in sales that swells every January, according to the National Chicken Council. (There is no measurement for playoff weekends, save the spike in sales of Maalox.) Wings are taking off and chickens are justifiably nervous: 2014 is the 50th anniversary of the invention of the Buffalo wing, the most popular food the United States can claim as a creation purely its own. Or at least that's what Matt Reynolds, the director of The Great Chicken Wing Hunt, maintains. His film documents a madcap road trip through the "wing belt" of upstate New York in search of the nation's tastiest Buffalo wing. And no, the mission did not make vegans of them all.
Reynolds, a native of upstate New York, and a team of judges spent 16 days traveling 2,627 miles and trying 270 types of wings from 72 bars and restaurants, visiting as many as 12 different eateries a day. The idea came to him when he was working for Reuters in Bratislava, Slovakia, and began cooking Buffalo wings for his Slavic friends.
The tasters endured mouth sores, queasy stomachs, at least one bout of tears and a serious lack of roughage. A near-mutiny came early on when the team discovered Reynolds had scheduled no time for regular, wing-free meals, making the undertaking a sort of Supersize Me–like endurance test for some. "I tried to be nice about it," he says, "but part of me was definitely like, 'Stop whining, all you have to do is eat wings every day and have fun!' "
Reynolds says he kept a positive attitude throughout, buoyed by a large volume of cranberry juice and dedication to his mission. "I just loved the idea of going on a quest that on the face of it is really silly but is actually kind of amazing at the same time," he says. "The whole story of the wing is kind of like that."
The film, which was released through on-demand services on January 14 and is touring select theaters, begins with the late Dom Zanghi, who was the last surviving witness to the first meal of Buffalo wings. (Zanghi died in 2012.) On March 4, 1964, Teressa Bellissimo, one of the owners of Anchor Bar in Buffalo, N.Y., fried a shipment of wings – considered throwaways at the time – that her restaurant had accidentally received, tossed them in hot sauce and fed them to some family and friends. Soon the restaurant was giving them away with bar peanuts and then, when it became clear that diners were making a meal of the snacks, she and her husband Frank paired them with blue cheese sauce and celery and put them on the menu.
"For how many other foods can you say, 'We can point to the day it was created'?" says Reynolds, who grew up about 100 miles from Buffalo in Lyons, N.Y. "There wasn't much to be proud of where I'm from, but we do have this thing that has spread all over the world."
His oddball team of judges, which included Ron Wieszczyk; Ric Kealoha, a Prague-based Hawaiian chef with an award-winning Buffalo sauce recipe; Al Caster, a folk singer with a love for wings so great he routinely awarded contestants 10.5 points out of 10; and a Slovak film crew, captures the energy of the undertaking without a hint of irony. The group set stringent parameters for their search – unbreaded, deep-fried chicken wings coated in pepper-vinegar sauce and butter – then ate and argued until they could name one restaurant the ruler of the roost. "Paradoxically, if we weren't taking it seriously, the audience wouldn't find it funny," says Reynolds.
In the end, the panel found little to like at Buffalo's most celebrated wing spots. (Spoiler alert: The winner was chef Marshall Grady of Abigail's in Waterloo, N.Y.) How will the wing nuts respond? Reynolds doesn't expect to be tarred and feathered: "I think the overriding feeling will be happiness that somebody made a movie about wings at all," he says. Indeed, there was wacky enthusiasm everywhere the crew went. "A lot of strange things happened," says Reynolds. "Two clowns ambushed us in Albany with a plate of giant turkey wings in Buffalo sauce. In Watertown, they threw a wing festival when we showed up." (No word of Paul McCartney and Wings reforming for the film tour.)
Making a film is an act of faith, given the up-front investment of time and money. But Reynolds went out on a wing in another way, too, making his personal life, especially his relationship with his girlfriend Lucie (now his wife) into an entertaining subplot. "He told me I would be part of the crew," says Lucie, who grew up in the Czech Republic and met Reynolds while he lived abroad. "I had no idea I was going to be a character. He kind of tricked me into it." Early in the film, Lucie declares that she wants no part of Reynolds's "reality show." By the end, she's accepting his marriage proposal on camera. "It was a good push for him to have to ask me so he could finish his movie nicely – otherwise he might have always been scared to do it," says Lucie.
When she first heard the film's concept, says Lucie, "I thought: That's such a boring idea." But she now sees wings as a window into American life. "Wings are an American food, because partying and being social is a big part of American culture," she says.
The experience also raised her opinion of wings as a comestible. "Now, before we watch the movie, I always order wings because I know that I will be craving some. It's hard to watch it without wings."