Buhari's Boko Haram Deadline in Doubt After Attacks Kill Almost 50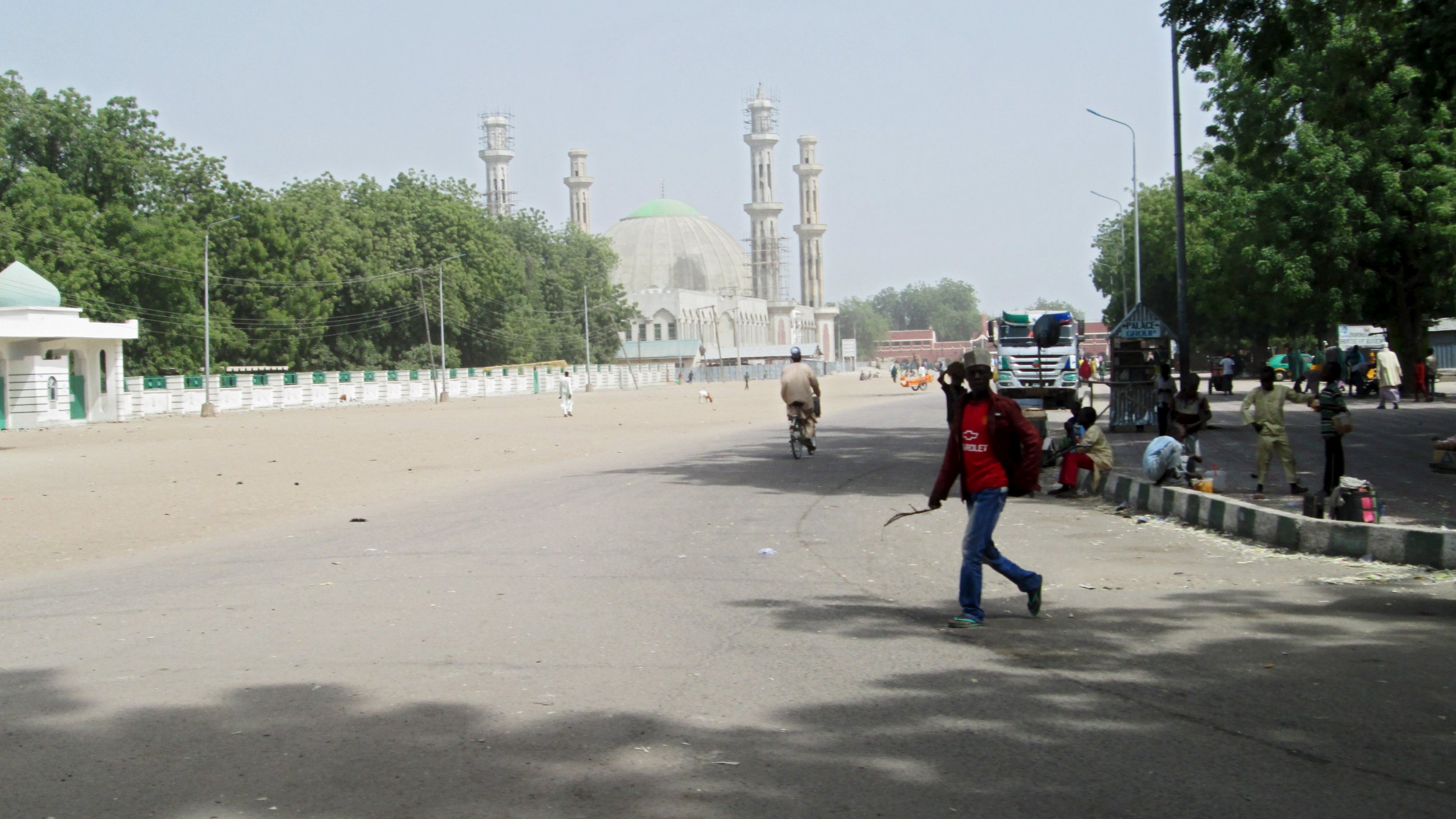 Nigerian President Muhammadu Buhari's deadline for wiping out Boko Haram in Nigeria appears to be in tatters after a series of suicide bombings, on Monday, left almost 50 people dead in the north of the country.
Two bombings occurred in a suburb of Maiduguri, Borno state, including an attack at a mosque that killed around 20 people, while two female suicide bombers blew themselves up at a crowded market in Madagali, Adamawa state, Reuters reported. The Madagali attacks reportedly killed at least 28 people, though this death toll remains unconfirmed. Neither set of attacks have been claimed by Boko Haram, but the methods bear the hallmarks of the militant group.
Buhari tasked the Nigerian Army in August with defeating Boko Haram and reclaiming all Nigerian territory held by the insurgent group by the end of December. The president claimed, on Thursday, that the Nigerian military had "technically" won the war against Boko Haram, recently ranked as the world's deadliest militant group, and that the group was no longer able to mount conventional attacks on security forces or population centers. Lai Mohammed, the Nigerian Minister of Information and Culture, said on December 23 that the Nigerian military had met their deadline and that "the war against Boko Haram is largely won."
Despite Monday's attacks—which followed Christmas Day shootings in which Boko Haram gunmen killed at least 14 people in the village of Kimba, Borno state—Mohammed told Newsweek on Tuesday that the group was not "capable of staging any spectacular attack[s] that they used to do before. We have recovered almost every inch of territory from Boko Haram," says Mohammed, who adds that "there is nowhere in the world that is safe from this kind of kamikaze attacks" carried out by the militants. Mohammed says that Boko Haram now only controls one or two local governments out of 27 in Borno state, in contrast to 20 at the height of the insurgency. "By December 24, we had largely met our deadline," says Mohammed.
The Nigerian military has had some success in driving the militants out of towns and villages in the restive northeast, but reclaiming territory held by Boko Haram does not necessarily signal the group's demise, according to Ryan Cummings, chief sub-Saharan Africa analyst at crisis management company red24. "While it's a positive development that territory has been regained, it's by no means a sign of Boko Haram's defeat," says Cummings. "The fact that the group can still operate within populated urban centers such as Maiduguri is in itself alarming, because it means that the Nigerian government has yet to establish local intelligence networks that one needs to counter an insurgent group that is operating in an urban environment."
Cummings says that capturing and holding territory is a relatively novel approach for Boko Haram, which was founded in 2002 but launched military operations in 2009, killing some 17,000 people in six years, according to the BBC. Following the launch of a coordinated military campaign by Nigeria and its neighbors in March in the guise of an 8,700-strong joint military force, Boko Haram has simply reverted to its tactics as "the quintessential guerilla movement," says Cummings, attacking civilian targets and carrying out suicide bombings rather than engaging in conventional warfare.
Buhari has made tackling Boko Haram's insurgency a priority since coming into office in May. On Buhari's orders, the Nigerian Army relocated its control center to Maiduguri, where Boko Haram was founded, and sought international support in Nigeria's battle against the insurgency. Setting a deadline for wiping out the group has left the president with little room for manoeuvre in the face of ongoing attacks, according to Frank Charnas, chief executive of Afrique Consulting Group, a sub-Saharan African risk consultancy. "In declaring a deadline, Buhari appears to have left himself no option but to declare tactical victory, no matter what the relative position of his forces and those of the multinational African forces vis-a-vis Boko Haram," says Charnas. While the military has made progress in its operations against Boko Haram, Charnas says that, given the group's fluid nature, "it is not plausible to foresee the complete destruction of all cells and small networks of Boko Haram."