This week, former Amazon CEO Jeff Bezos realized his dream of flying to space, after spending a reported $5 billion on his rocket company. This is spare change for Bezos, who made $75 billion during the coronavirus pandemic alone, launching him into the stratosphere of over $200 billion in personal wealth.
Meanwhile, here on Earth, those who sweat in Amazon's warehouses and deliver the boxes struggle to make ends meet, lack basic health and safety protections and are hard pressed even to take bathroom breaks. As Molly Kinder of the Brookings Institution has documented, Amazon made billions during the pandemic and workers saw little of it. In fact, the median Amazon worker made only $29,000 in 2020.
Bezos is not the first entrepreneur to get rich imagining a product or service people love. But there was once a time when Americans who actually did the work saw a part of the profits and had a voice in the workplace. Henry Ford famously believed that his company benefited from his workers being able to buy the product they made. Living wages and labor unions helped build an American middle class that welcomed workers who built and grew things, even without a college degree. Today, those same workers are fighting for the Protect the Right to Organize Act (PRO Act), a piece of common-sense legislation that would give workers a fair shot at economic mobility and the right to form unions. It gives workers a voice and a stake in America building back better, as well as an ability to bargain for a family wage and to demand safety and dignity on the job.
Nowhere did the need for the PRO Act become more clear than within Amazon's warehouses, where workers began organizing to negotiate for better conditions after tens of thousands of them contracted COVID-19 in 2020. These efforts were led by workers like Jennifer Bates in Amazon's warehouse in Bessemer, Alabama, and Derrick Palmer in Amazon's fulfillment center in Staten Island, New York.
Jennifer, Derrick and hundreds of thousands like them are the reason packages land at our doorsteps and Amazon's profits skyrocket. A union would mean Amazon could hear from Jennifer, Derrick and their coworkers, identify problems and solve them together. A union would push Amazon to invest in workers who can take pride in their work and fuel growth, and in return be able to come home from work healthy and with enough money to take their kids on a vacation or save to send them to college.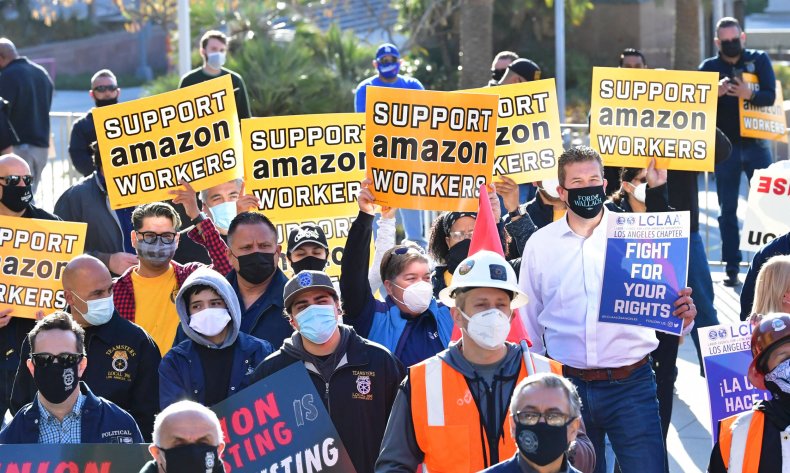 Amazon has fought tooth and nail against every unionization effort that has taken place at its warehouses. In Bessemer, the company spent nearly $10,000 a day on union-busting consultants. It also resorted to shameful, and possibly illegal, tactics to squash organizing attempts.
Unfortunately, Amazon workers are not alone. Most workers who attempt to organize face harassment and intimidation from employers emboldened by an outdated legal system that fails to protect workers' rights. The resulting decline in unions is one of the biggest drivers of stagnant wages.
The good news is that workers are winning the fight for the PRO Act. Unions are more popular than they have been in decades. It is obvious to the American people: frontline workers like Jennifer and Derrick, who put themselves in harm's way to keep our country running, deserve a seat at the bargaining table. American voters understand that Amazon and Bezos, who made billions off the labor of their workers, should not be able to intimidate and fire workers asking for better wages and conditions. That is why more than half of all voters support the PRO Act, according to Data for Progress.
The U.S. House of Representatives acted in March, passing the PRO Act. Now it is time for the Senate to act—and fortunately, the PRO Act is included in Senate Democrats' Build Back Better bill. As Senator Joe Manchin (D-W.V.) has said—it's time to level the playing field for working people.
This week, the AFL-CIO is organizing with other worker and faith-based groups for a week of action to pressure the Senate to act on behalf of workers, and not the billionaires who use the profits from their labor to invest in spaceships. The odds are tough—corporate interests are already spending millions to spread misinformation and defeat the bill—but breakthroughs in worker organizing have never been easy.
This is less a matter of Left-versus-Right than of warehouse workers-versus-rocket riders. That is why Senator Manchin is a champion of the PRO Act. As the GOP makes claims—hollow, so far—to being the party that cares about the working class, this legislation poses a test: do Republicans stand with the CEOs or with the hardworking men and women trying to make ends meet? If we are going to build back better, we will need a better deal for the workers doing the building.
Tom Perriello is a former congressman from Virginia's 5th Congressional District. He now serves as the U.S. executive director of the Open Society Foundations.
The views expressed in this article are the writer's own.