To Build a Smart Gun, You Need to Build a Smart Gun Market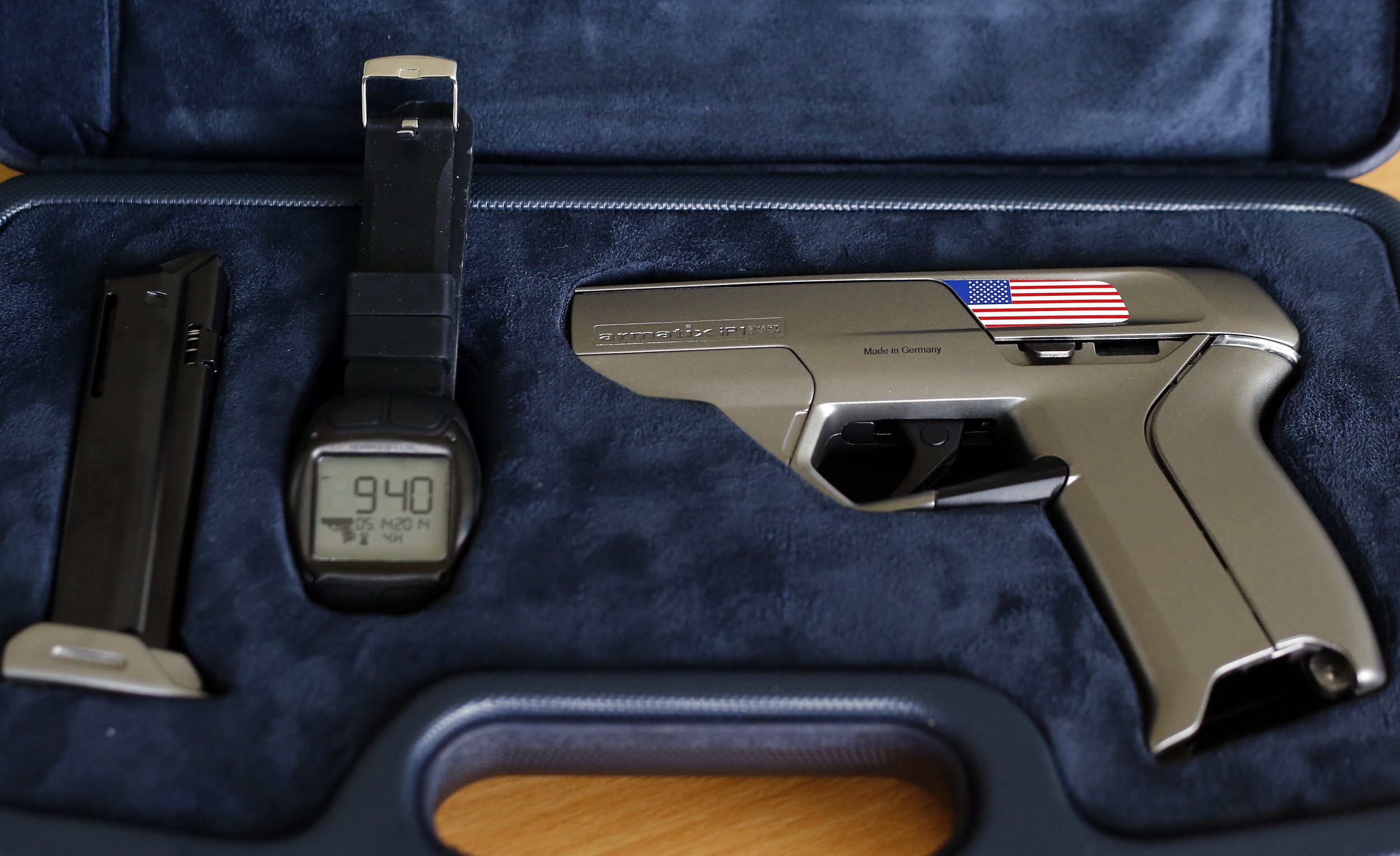 Updated | At the investor meeting for Sturm, Ruger & Co. on Tuesday in Greensboro, North Carolina, the gun-maker's CEO, Michael Fifer, highlighted some of its future projects: "fun guns," "cool guns" and "takedown products."
The words safety and smart gun never came up, according to Donna Weinberger, an activist with the gun safety group Do Not Stand Idly By. Weinberger was part of a group with two clergy members who were lent four shares of the company's stock, allowing them to attend the meeting, with the intention of asking Fifer why the company hasn't moved more aggressively on what the group sees as a massive, untapped market: high-tech guns for military and law enforcement that have built-in safety features.
For Weinberger, guns that work a bit like your smartphone to figure out who owns them just make sense. "It seemed like there was a way to add gun safety that didn't alienate both sides," she tells Newsweek.
Guns that are technologically advanced enough to stop toddlers from using them or to be rendered useless if they're stolen, as 200,000 guns in America are every year, might seem like a great idea. What firearm owner wouldn't want a disincentive for potential gun thieves? But the gun industry hasn't made any advances on them in years.
In the late 1990s, two gun-makers with storied histories, Colt and Smith & Wesson, made some steps toward embracing the technolog, and both were crushed by boycotts from gun activists, concerned the technology was really a backdoor to gun control and that unreliable, expensive smart guns would be mandated. And so the smart guns of the late 20th century never made it to production.
Gun-makers have mostly stayed away from the technology since. A rare exception, the Armatix iP1, which debuted in 2013 and has a smart mode, has proved hard to sell, in part because stores offering to sell it were often threatened by opponents, in at least one case with arson.
The lack of working smart guns on the public market leaves open one big question: Are there no smart guns because there's no market, or is there no market because there are no smart guns?
Some gun safety activists want to jump-start the technology by building a market from scratch using law enforcement agencies and the military as buyers. "The public sector demands could be key in getting R&D and getting these products to be reliable and getting them to market," says Joe Morris, an organizer with Metro Industrial Areas Foundation, the group that founded Do Not Stand Idly By.
Law enforcement agencies and the military combine for 40 percent of the gun sales in the United States. If they could be sold on technologically advanced guns that could limit accidents and, in the case of police officers, fatal wounds suffered in the line of duty at the hands of criminals wielding stolen guns (3 percent of police officers killed every year are murdered with their own guns), it would mean a massive overnight market.
So far, 85 municipalities, including cities like San Francisco, Boston, Pittsburgh, Atlanta and Columbus, Ohio, have signed a smart gun request for information, a formal solicitation of details considered to be the first step in making a buy. Gun-makers have yet to respond to the RFI. Morris hopes cities will move to the next step, a request for proposal, soon.
Of course, all this has happened without any smart guns to actually buy—or any idea of whether the complex technology will work as well as a regular gun. But President Barack Obama is working on another piece of the puzzle.
This past Friday, the Departments of Defense, Homeland Security and Justice released a report at the request of the president on "boosting the development of smart guns," as well as keeping guns out of the hands of the mentally disturbed and engaging with local elected officials on the problem of gun violence. Among other things, the report suggests creating requirements manufacturers would have to follow if they wanted law enforcement to consider "purchasing firearms with enhanced safety technology." It also says the DOD will aid in their development by providing rigorous testing of the firearms at the U.S. Army Aberdeen Test Center in Maryland. The report also suggests making grants in the future, to help law enforcement agencies purchase the smart guns, which will inevitably be more expensive than regular weapons.
There are real concerns about leaping to a new technology that hasn't been tested. "Police officers in general, federal officers in particular, shouldn't be asked to be the guinea pigs in evaluating a firearm that nobody's even seen yet," James Pasco, executive director of the Fraternal Order of Police, told Politico. "We have some very, very serious questions."
San Francisco Police Chief Greg Suhr said he would make smart guns available to his officers as soon as they were proved to be as reliable as a regular gun. "I'm almost certain," he told a smart gun symposium earlier this year, "that there would be some officers who would take it."
Morris is hopeful that the presidential order will help change the gun industry, first for cops, then for the general market, because the consumer gun market tends to follow the public sector market: "Before the Glock became known as America's gun, it became America's police gun," Morris says. Many of America's best-selling guns, including the AR-15, started as police or military weapons.
At Sturm, Ruger & Co.'s meeting in Greensboro, the activists from Do Not Stand Idly By say they were met cordially, although they were greeted by a lawyer, who told them they didn't qualify to be proxy voters but would still be admitted if they agreed to several rules, which they did. Sturm, Ruger & Co. didn't respond to Newsweek's request for comment.
"We called attention to President Obama's actions, and those of public officials across the U.S. that we have helped organize, to demonstrate the demand for life-saving innovations in the gun industry's products and practices. We asked CEO Michael Fifer for a meeting to explore these areas, and for a response to the Request for Information issued to date by 85 cities, counties and states," Rabbi Joel Mosbacher said in a statement.
The crowd, mostly employees and investors, was polite. Fifer reportedly said he would look into the group's demands.
It may not have been the answer they were looking for, but Morris and Weinberger believe things are changing. Years ago, Weinberger made the trip to Nuremberg, Germany, to the world's second largest gun show, to talk to executives at SIG Sauer and at Glock, who she says were both dismissive of the technology. "There's quite a different response now, which I think says how far we've come," Weinberger says.
Morris thinks the president's actions have a lot to do with the change, although he would like to see more from the executive branch on smart guns. He also says that in closed-door meetings gun CEOs aren't as opposed to the technology as they are in public, and that several have told him that they are researching the technology but won't talk about it and won't go first. Of course, all that could change with one big government contract.
Correction: This article orginally said the Armatix iP1 debuted in 2006. It was designed in 2006 and went on the market in 2013.