Build the Wall: Will Iraq's New Syria Border Fence Keep ISIS Fighters Out?
Iraq has begun building a massive border fence to prevent Islamic State militant group (ISIS) fighters from entering the country from Syria.
The electrified, barbed wire barrier so far includes a nearly 20 feet-wide trench and begins at the formerly ISIS-held border town of Al-Qaim, running about 12 miles north along Iraq's vast border with Syria, where the last of the jihadis that once claimed half of both nations are believed to be hiding. Iraq has coordinated with both the U.S.-backed Syrian Democratic Forces and the Syrian government—which is allied with Russia and Iran—in conducting strikes against ISIS in eastern Syria, but the militants have still managed to infiltrate the porous, roughly 373-mile border that separates Iraq and Syria.
"Ten days ago, we started to set up a barbed wire security fence with surveillance towers along the border with Syria," Anwar Hamid Nayef, a spokesman for Iraq's border guards in western Anbar province, said Sunday, according to the Agence France-Presse.
Nayef said that the project was to be evaluated by experts from the Iraqi Ministry of Defense and a representative of the U.S.-led coalition tasked with defeating ISIS in Iraq and Syria. If approved, he said, construction "will continue along the whole border with Syria."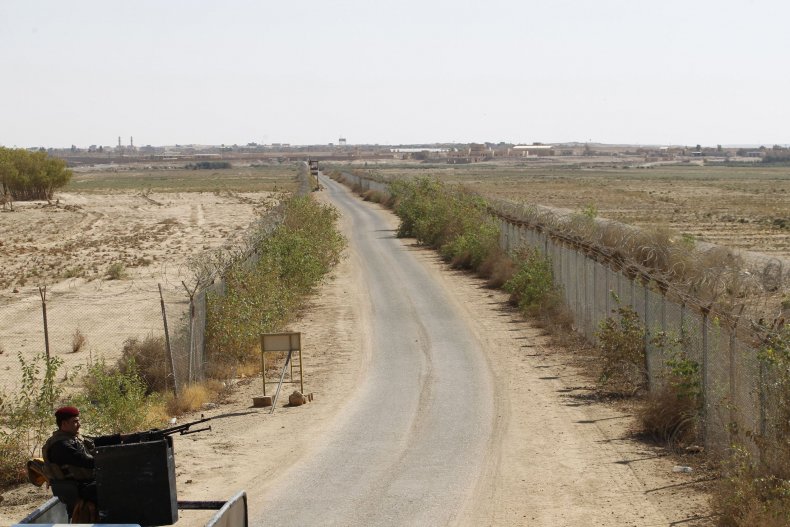 The Iraqi Border Guard Force would reportedly patrol the barrier, where authorities were prepared to install thermal cameras to detect jihadis trying to sneak through. Drones would also be deployed to monitor the fence from the air. Major General Hamid Abdullah Ibrahim, commander of the border guards, said the order to start work on the barrier came from the prime minister himself, who oversaw the defeat of ISIS in Iraq and has since expanded Iraq's role in taking out remaining jihadi strongholds in Syria.
"We are now concerned about the Syrian border. We have put forward a program based on Prime Minister Haider al-Abadi's request…and are doing strategic work to protect the border," Ibrahim said in a press statement carried by local outlet Kurdistan 24. Russia's state-run Sputnik News further quoted Ibrahim as saying such measures would be "purely self-made and at the lowest cost."
Related: Iraqi fighters threaten attacks against U.S. and Israel after deadly Syria strikes
"Neither infiltrators nor smugglers nor terrorists will penetrate our borders in the future," he continued, explaining that the nearly $3.4 million project would later expand across all of Iraq's borders, beginning with the Jordan-Syria-Iraq triangle.
Fighters from Iraq's Popular Mobilization Forces, known as Al-Hashd Al-Shaabi in Arabic, also frequently cross the Iraq-Syria border to battle ISIS on behalf of the Syrian government. The Iran-backed, mostly Shiite paramilitary collective was officially inducted into Iraq's armed forces in March, but a number of powerful and influential militias have continued to operate independently.
The Popular Mobilization Forces's website quoted a media official claiming responsibility for building a new border barrier. "The military engineering of the 33rd brigade of the Hashd has begun establishing new military fortifications and security barriers west of Mosul to prevent the infiltration of elements on the border," the official said.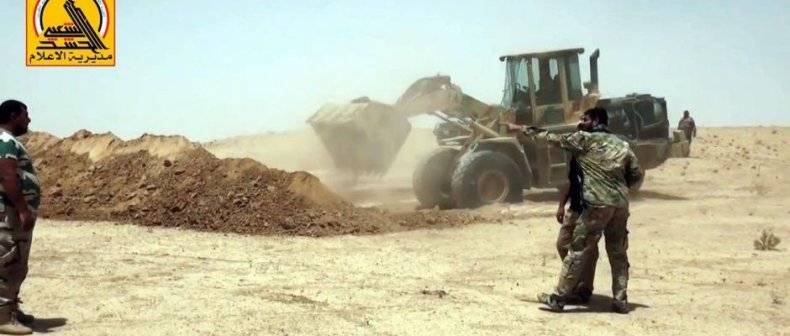 The participation of Popular Mobilization Forces in Syria has complicated Iraq's already precarious balance of alliances with the U.S.-led coalition and the so-called "Axis of Resistance" formed by Syria, Iran and various Iran-backed militias, including the Popular Mobilization Forces and the Lebanese Hezbollah. The U.S.-led coalition has offered its assistance in Iraqi operations that were coordinated with the Syrian government. But U.S. airstrikes on pro-Syrian government forces—and recent unclaimed strikes in the Syrian province of eastern Deir Ezzor that killed a number of Iraqi militiamen and have been blamed on both the U.S. and Israel—have stirred up tensions toward the 15-year U.S. military presence in Iraq.
The U.S. first entered Iraq in a 2003 invasion that toppled President Saddam Hussein, who was accused of producing weapons of mass destruction, accusations later proved to be false. The subsequent unrest helped give rise to a Sunni insurgency that spread to Syria in the form of ISIS in 2013. The U.S., which had joined Turkey and Gulf Arab states in attempting to overthrow the Syrian government via training and arming opposition forces, began bombing ISIS in both countries in 2014. Iran sent military assistance to both governments and mobilized local and foreign militias, while Russia entered Syria in support of Syrian President Bashar al-Assad in 2015.
Iraq and Syria both declared victory over ISIS late last year, shortly after both countries' armed forces and their allies reclaimed their respective sides of the crossing between Syria's Al-Bukamal and Iraq's Al-Qaim. But clearing out the last of the jihadis has proved difficult for both nations. The U.S.-led coalition has continued to bomb ISIS in Iraq in support of the Iraqi government, and it has backed a mostly Kurdish formation known as the Syrian Democratic Forces in Syria.