'Build The Wall' MAGA-Themed Toy Tells Kids To Stop 'Mob' Of 10,000 Central American Migrants
A website selling conservative-themed toys, T-shirts and other items has launched a line of MAGA "Build the Wall" building blocks, which invite children to build a Lego-like wall to stop "a mob of 10,000 Central American migrants" from crossing the U.S. border.
Keep and Bear, a website that was launched in 2016 to showcase the release of pro-gun ownership film Keep and Bear: America's Most Controversial Right, but now appears to be focused on selling pro-conservative merchandise, has started accepting pre-orders for the $29.95 "Build the Wall" toy set.
"This toy makes a great Christmas gift for your kids and grandkids!" the website states.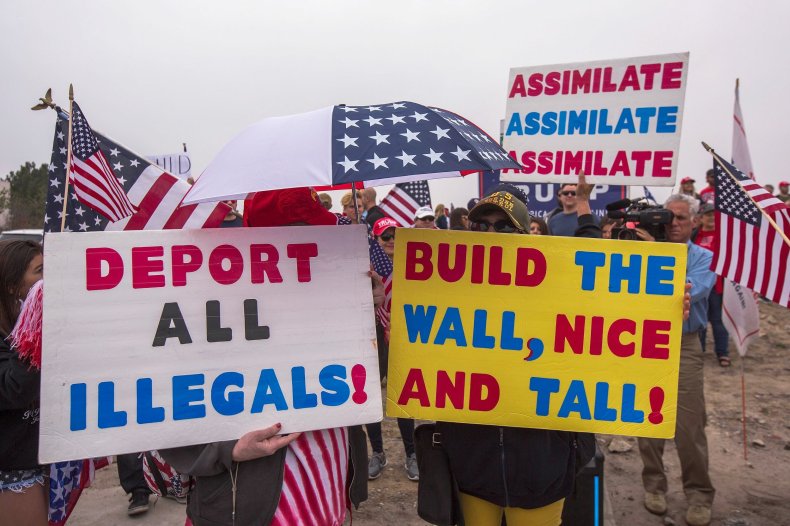 The set, which is advertised as being suitable for ages 5 and up, includes 101 pieces for a "build the Wall starter kit," including a figure of President Donald Trump wearing a hard hat featuring the U.S. leader's favorite acronym, MAGA, which stands for "Make America Great Again."
The toy's creation comes as the real-life Trump continues to rail against several caravans of Central American migrants who are making their way to the U.S. border.
Read more: Migrant Caravan Moving Closer, But Will They Get Into the States Or Be Deported?
In anticipation of the arrival of thousands of migrants, the Trump administration has overseen the deployment of thousands of military troops to the southern border.
The Trump administration also recently put forward a new rule that would make migrants caught crossing into the U.S. illegally ineligible to seek asylum in the U.S.
In a description of the "Build the Wall" toy, Keep and Bear writes: "A mob of 10,000 Central American migrants is marching through Mexico and heading toward El Paso, Texas. Mexican border agents attempted to stop them at the Mexican border, but to no avail."
"We understand why they want to flee Honduras and live and work in America," the description says. "After all, we are the greatest nation on earth."
"In the interest of national security, however, we cannot allow just anyone and everyone to cross our borders. While there are good people attempting to enter our nation, there are also gangs, criminals, and terrorists," the description states, appearing to echo previous claims from the Trump administration about the real caravans of migrants heading towards the U.S.
"The wall must be built. The wall will keep America safe and strong. Only then will we be able to help those in need," the description states.
In addition to the "Build a Wall" kit, Keep and Bear also appears to be selling a number of pro-Trump toys, including a "Trump sends Hillary to Prison! limited edition collector's set."
The toy features a figure resembling Hillary Clinton wearing an orange suit and standing beside a toy computer screen, an apparent reference to the controversy arising from Clinton's use of a private server for official government communications during her time as U.S. Secretary of State.