Building a Better Path for Syrian Aid | Opinion
In a month Syrians will mark the tenth anniversary of the start of their uprising against the brutal Assad regime. The Syrian conflict has contributed to the largest refugee crisis since World War II. From its pre-civil war population of 23 million, there are now 5.6 million Syrian refugees, mostly in Turkey, Lebanon and Jordan. Another 6.7 million are displaced inside Syria. Almost half the pre-war population needs humanitarian assistance, according to U.N. relief agencies. With winter upon us, human misery is skyrocketing, further compounded by rampant coronavirus outbreaks that are deepening poverty among the displaced.
The Trump administration pressured Assad's government with sanctions and deployed U.S. troops in eastern Syria, but no political settlement is in sight.
The movement of a million Syrian refugees toward Europe in 2015 demonstrated the political destabilization that spring out of Syria's humanitarian crisis. More destabilization and human suffering is certain unless the Biden administration is ready to respond to Russian efforts that would impede aid flows and reinforce Syrian President Bashar al-Assad.
Most urgent is ensuring humanitarian aid to almost 3 million displaced Syrians in opposition-controlled northern Syria, who won't return to their homes because of the vengeful Syrian secret police services.
For the past six years international donors have funneled aid to these desperate people from neighboring states under a U.N. operation that the Security Council approves every six months.
Russia, however, is now turning the screws. Over the past 18 months it has used its power on the Security Council to cut the number of allowed border crossings for aid deliveries from four to one.
At the next Security Council vote in July, Russia will aim to stop the last cross-border operation, thus stopping food shipments and causing millions of people to flee. The Biden administration must be ready to replace this U.N. operation with an international donor mechanism.
The U.S. Agency for International Development could undertake this role with Turkey and European partners. To make this a reality, the Biden administration must start making plans to step in for the U.N. and consult partners now. This effort will also require a legal justification for an international operation that supplants the U.N. role. Biden' team must focus on the legality of international responses when sovereign states starve people and knowingly provoke regional instability.
The Biden administration also needs to stiffen the U.N. aid operation in the rest of Syria. The Syrian government impedes international aid staff movements and blocks aid convoys to the desperate people in Idlib, as the U.N.'s Under-Secretary-General for Humanitarian Affairs Mark Lowcock told the Security Council on January 20.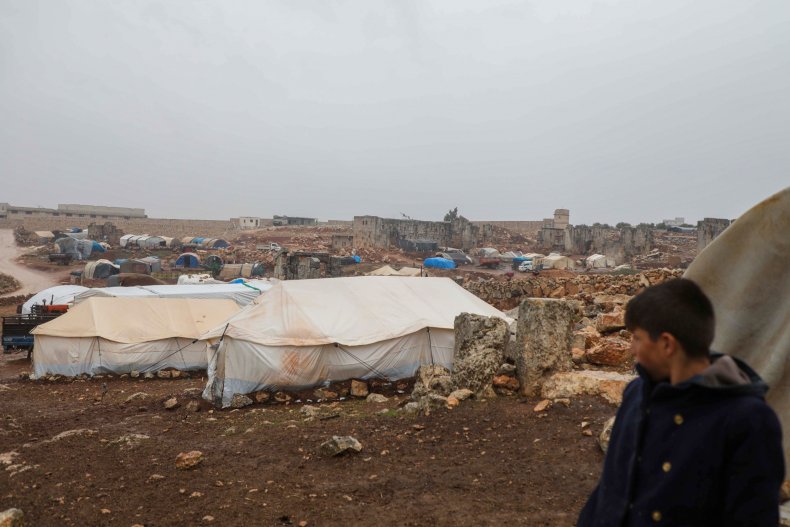 Meanwhile, Damascus insists the U.N. pay an artificial exchange rate to boost Damascus' foreign exchange earnings. The government also mandates that the U.N. work only with organizations connected to the Syrian government. For example, the U.N. must work with the Syrian Red Crescent, a politicized instrument responsible, among other things, for all blood donations, including those that go to the Syrian Ministry of Defense.
The U.N. has accepted these Syrian restrictions in order to continue aid programs in government-controlled areas home to roughly 11 million people.
Russia will back the certain re-election of Assad to a new seven-year term in a bogus election tentatively scheduled for this spring, and Moscow then will seek wider carte blanche for Assad to direct all U.N. aid operations in Syria.
Russia and China demand full respect for Syrian government sovereignty and over the past 10 years vetoed 14 Security Council resolutions in order to shield the Assad government. They influence the course of the war, but they give very little to the U.N.'s humanitarian aid effort even as the U.S. has spent over $11 billion for humanitarian aid to Syrians. Russia is standing up its own rival aid operation to bolster Assad.
To counteract these obstacles, the Biden administration should develop with other donors, most of whom are European, a set of principles to govern U.N. humanitarian work in Syria. If Damascus rejects the principles, then donors need to reassess if their aid monies should go to the U.N. operation in government-held areas or if those monies would provide better impact in refugee communities in neighboring states and in opposition-controlled northern Syria.
The point of these steps is not to politicize the humanitarian crisis. The Syrian government already has done that by blocking aid under Russian political cover.
The Biden administration needs to establish with Moscow early on that the U.S. will not allow Russia to exploit the principle of state sovereignty to override international humanitarian law and put millions of Syrians and regional stability at further risk.
To succeed against obstruction from Moscow and Damascus, the new administration needs to start preparing now.
Robert S. Ford is a senior fellow at the Middle East Institute and Kissinger senior fellow at Yale University's Jackson Institute for Global Affairs. From 2011 to 2014, he served as U.S. Ambassador to Syria.
Wa'el Alzayat is the CEO of Emgage, a national civic engagement organization, and a senior fellow at the Middle East Institute. He previously served as a senior advisor to Ambassador Samantha Power at the United Nations.
The views expressed in this article are the writers' own.