Building the New Nation of South Sudan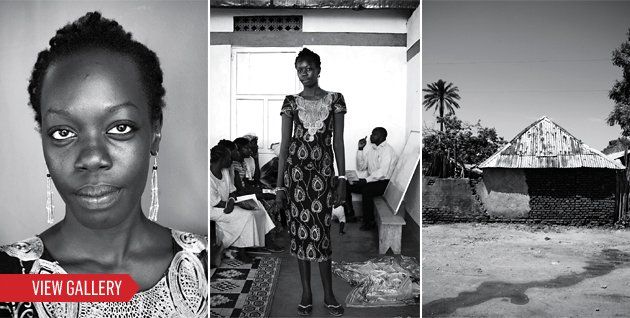 Nyagoa Nyuon is a willowy, striking woman of illustrious stock. Her father was a leading rebel commander; her mother one of the first women to join the militia that sought the independence of South Sudan. In 1986, when she was just 5 years old, her father sent her family into exile to protect them from a raging civil war, a conflict that over time killed roughly 2 million people. William Nyuon Bany, one of the founders of the Sudan People's Liberation Army, knew that because of his profile, his family was particularly at risk, and so he dispatched eight of his nine wives abroad, along with dozens of his children. Some landed in Kenya, but others went as far afield as Cuba, Australia, Britain, and the United States.
When her father was killed 10 years later in circumstances that remain unclear, the plan for a joyful reunion with his family died. But for Nyagoa Nyuon, her father's legacy was one of the main motivations for returning to South Sudan. "I told my mom I would come back…for the celebration" of the peace agreement that ended the civil war, says Nyuon. "My mom said, 'You should be here. This is what your father started.'?"
On a recent afternoon, sitting under an umbrella in the blazing midday sun in Juba, a city of pungent smells and potholed streets that will become the capital of the world's newest country on July 9, Nyuon contemplates the winding roads that led her away from where she was born, and now, at 30, back to her place of origin.
"I never felt like the U.S. was my home. I just felt like somehow, someday, I have to go back to where I came from," says Nyuon. "My dad always told us, 'You're going there for security. Get what you can, educate yourself, come back, and find your place. America is not your home; this is your home.'?"
Like Nyuon, many in the generation who grew up abroad are "returning" to South Sudan to help build the country. For some, it's a return to a home they have no memory of, a return to a place that existed only in the imagination. If the stories told by parents and grandparents were to be believed, here life was simple, land was plentiful, and they were among their own.
In January, a vast majority of the southerners voted for independence from the north, in a secession that's been troubled but, so far, not as bloody as feared. Still, after nearly five decades of civil war, the challenges facing everyone in South Sudan are hard to overstate. The government is largely composed of rebel fighters turned politicians, many of whom have had little formal education, let alone experience building a democracy. Only 24 percent of the population can read, and the literacy rate is significantly lower among women. Travel is difficult, as there are few paved roads in the region; during the rainy season, some areas are accessible only by helicopter.
Communities on both sides of the 1,900-kilometer north-south border, who used to move freely in search of pastureland or water, now find themselves in the midst of a geopolitical standoff. Unresolved issues—such as where the exact line of the border will be, how to share the oil wealth, and how to divide the international debt—threaten to reignite violent conflict.
The northern Army's offensive in the disputed area of Abyei in late May illustrates how combustible the situation is: with its sophisticated weaponry, which includes fighter jets, the northern government was able to displace much of the southern Ngok Dinka population in a matter of days. More than 100,000 people were displaced, conjuring up the term "ethnic cleansing" among international observers. Young men, especially, say they want to fight for their homeland, but that they're biding their time until after South Sudan has been declared formally independent.
Since the peace agreement, donor countries have pumped more than $1 billion in aid into South Sudan—to little noticeable effect outside the capital. This is a place where the nicest homes and office buildings are little more than prefabricated containers—most people live in mud huts with conical straw roofs or in single-story cinder-block buildings, and glass windows are still a luxury.
On the few roads in the region, motorcycle taxis kick up red dust as they impatiently maneuver around Land Cruisers and lumbering cargo trucks. Herds of cattle and goats meander down the road, intermingling with the pedestrians. At night, roadblocks suddenly appear in the dark, manned by police or civilians in fatigues, and the sound of shooting is not unusual. Usually, they are just echoes of celebration. But civilians who have lived through decades of war still startle at the popping sound.
When discussing their first impression of South Sudan, young Sudanese who grew up in Washington, D.C., Salt Lake City, Liverpool, or London use words like "shocked" to describe how they first felt when encountering their homeland. Nyuon herself couldn't believe her own eyes. "I think my expectations were way too high," she says. "When I landed at the airport in 2005, I thought—I hoped—maybe they were stopping for fuel." It turned out, it was her final destination.
Having made her ancestral home her own for the past six years, she now notes with pride the vast improvements in terms of governance and infrastructure. "You go to other countries, and it takes a hundred years to accomplish what we're trying to do in six months."
Stella Kenyi, another returnee, was 8 years old when her mother and four brothers, one a newborn, left Yei, a town surrounded by teak plantations close to the borders with Uganda and Congo. It was the first time Kenyi had left her hometown, and while fleeing was unsettling, it was also an adventure that offered novel sights, sounds, and tastes. "It was the first time I had chocolate," recalls Kenyi, now 30.
Four years later, her family was given asylum in the United States, and the country soon felt like home. Kenyi's oldest brother enlisted in the U.S. Marines and served in Iraq; her middle brother is a policeman in Virginia; and her youngest brother played basketball for Harvard University. Kenyi herself got a master's degree in development from Cornell University.
In many ways, members of the returning generation are not that different from the young idealists from America and Europe who go overseas to work in other developing countries. Motivated by a thirst for adventure and a desire to help, few are burdened by children or mortgages. "I relish the fact that I'm American, and my orientation and sensibility is completely American," says Kenyi. "But I know that I can come back [to South Sudan], and this is home as well. I can help shape it, because I'm inspired by our American story and the things we've been able to achieve."
Kenyi, who came to Juba before January's secession vote, says she was moved when the polls opened, thinking of her great-grandmother, who had refused to leave the family home when Yei came under siege. The family believes the grandmother is no longer alive—they haven't heard from her and have been unable to find her. "I was just thinking about the people who had fled and died for the right to become a separate country. Their freedoms were curtailed for such a long time. And I was thinking about the fact that now we have a chance to help shape and mold this country."
As a manager for a major USAID contractor in South Sudan, Kenyi came to the volatile region to work with county commissioners, village elders, and other local officials even before the vote. "I'd been doing development work for a while. But this was exciting because we were trying to focus on the north-south border. It felt like a clean slate, like 'Where do we want to begin?'?"
While her Sudanese heritage enabled a greater connection with people in the communities where she works, her background has also been cause for tension with peers and co-workers, some of whom were mistrustful of her because she's young, a woman, and has had opportunities many Sudanese can only dream of. "I look young, so to them I'm a girl, I'm a sister," she says. "But I think they also see how hard I work, and over the past10 months I've gained their trust, and they respect me."
Anyieth D'Awol, who spent most of her childhood moving around with her diplomat father, eventually earning a law degree from the U.K.'s University of Leicester, finds it difficult to put down roots, even after living in Juba for six years. "This is the thing about South Sudan: it's nice, it's beautiful, it's home, but it's not so practical," says D'Awol, who has grown exasperated by the lack of civil society and infrastructure. "I don't know a dentist. It just frustrates me. I'm living here, but the first thing I do when I get out is check my health, sort out my finances—things that you should do where you live. We have a country, but we need to do a lot of work."
D'Awol moved to Juba in 2005 with a background in human rights, and she was at first enthusiastic about her U.N. job, which would enable her to live, for the first time, in the place she considered home. But she was quickly disillusioned by the work. "We were doing so-called capacity building, but we kept seeing the same people," she says. "I thought, why don't we do something practical, teach people to take care of themselves?"
Her vexation—and belief that South Sudan's unique cultural history should be preserved to help forge a cohesive national identity—inspired her to launch a nonprofit. Her Roots Project finds and trains women with knowledge of traditional crafts, which have been neglected during the years of war. The jewelry and handicrafts are sold in a boutique in Juba and generate income for the women in the cooperative, many of whom are vulnerable widows, single mothers, former soldiers, or victims of domestic abuse.
Her younger brother, Awol D'Awol, 26, recently joined her in Juba, leaving England as soon as he had completed his undergraduate degree in zoology at Liverpool University. In South Sudan, he found work on a U.N. funded project helping former soldiers find their way back to a civilian existence. "It helped that Anyieth was settled here, because you don't want to be the only one. It made the transition easier," he says. "But I was very adamant that I was going to come back."
Nyuon agrees that this is a moment she doesn't want to miss. "So much is going to happen here in the next five years," she says. A few of her countless siblings have already come back, and she hopes even more will decide to join her in the world's youngest country. "If I stay in the U.S., my father's name dies. And I feel like I'm here to make a difference—for my younger brothers, for the people who are coming after me."
Heaton is a Nairobi-based writer and reporter.