The Building on Pink Floyd's 'Animals' Album Cover, Battersea Power Plant, Will Be Reconstructed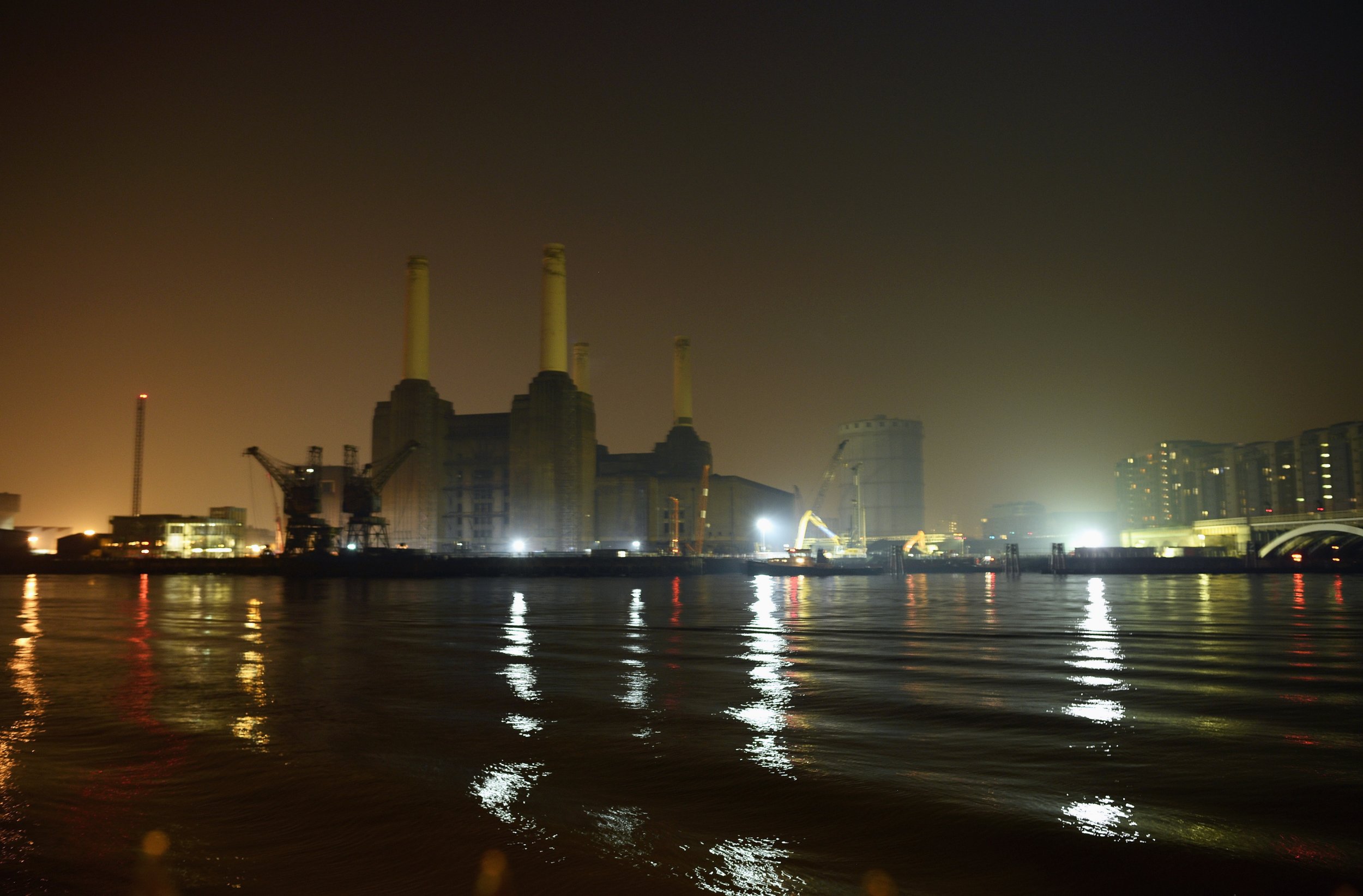 Nothing will be spared from gentrification, it seems. Battersea Power Station, the iconic building on the River Thames featured on Pink Floyd's 1977 Animals album cover, will be reconstructed later this year and transformed into luxury villas with a roof garden. Malaysian developers are selling retail and office space at the former power plant at roughly $3,300 per square foot, according to Consequence of Sound.
Built in the 1930s, the South West London power station has been a pop culture fixture for nearly 50 years. Although it shut its doors in 1983 and is no longer functional as a power plant, Battersea's exterior has appeared in many films, including the Beatles' 1965 film Help!, Alfonso Cuarón's Children of Men and, recently, Christopher Nolan's first Batman flick, The Dark Knight.
The building's classic smokestack chimneys, now structurally damaged and decayed by decades of coal fumes, will be torn down and "painstakingly reconstructed" down to the original paint hue by Wilkinson Eyre, the architecture firm that will be reconstructing Battersea. Speaking to CNN, Jim Eyre, director of Wilkinson Eyre, said that two of the chimneys will be turned into a "modern energy center" that will generate power throughout the building, while one will be hollowed out and the other will be converted viewing platform with a glass elevator. Looks like Roald Dahl was on to something when he wrote Charlie and the Great Glass Elevator in 1972.
The project has brought controversy with it. Sir Terry Farrell—one of Britain's most celebrated architects, responsible for the MI6 building also on the River Thames—told CNN that the new development plans were "rather sad," referring to the whopping price developers were asking of the space's future tenants. Farrell initially drew up designs to develop Battersea, and had wanted to make it an "iconic ruin" with a public park inside. Developers passed on his design though, reportedly over fears of obtaining planning permits.
Battersea is a public landmark, but critics say the space will transform the former power station into its own microcosm of posh up there with the luxurious apartments one might find in London's most opulent neighborhoods, such as Chelsea or Kensington. This is ironic since Battersea became symbolic of Pink Floyd's battle against the socioeconomic problems that plagued Britain in the late 1970s and throughout the 1980s.
But Wilkinson Eyre claims they'll only be doing a "light renovation" of the power plant, leaving graffiti and signs of wear untouched, presumably to give the villas a rustic, authentic feel. The firm plans to complete the project's first phase by 2016. No word yet if the renewed Battersea will be decorated with Pink Floyd's giant pig balloons.
Correction: This article has been changed to reflect that the Battersea power station is not being destroyed, and that the structurally damaged towers are being rebuilt carefully to reflect original plans.