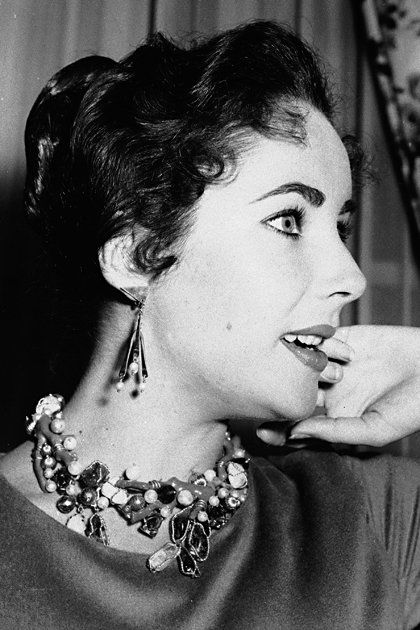 Elizabeth Taylor once said that when her lover Richard Burton took her to Bulgari jewelers on the Via Condotti in Rome, "I would get so excited that I would jump on top of him and practically make love to him," right there in the store. No wonder Burton showered Taylor with Bulgari during their torrid affair, which began during the filming of Cleopatra in Rome in the early 1960s. For their first engagement—remember, they married twice—Burton gave Taylor a diamond and emerald brooch. For the first wedding, he supplied the matching necklace. The ensemble was so regal that it became known as the Grand Duchess Vladimir's suite because it looked like something a Russian aristocrat would wear. Taylor has worn the pieces at key moments in her life: when she met Queen Elizabeth, when she won the Oscar for Who's Afraid of Virginia Woolf?, and when Helmut Newton photographed her in her swimming pool in 1989. "I introduced Liz to beer," Burton said, "and she introduced me to Bulgari."
This week the Grand Duchess Vladimir's suite goes on view at the Grand Palais in Paris as part of a major Bulgari retrospective. "Bulgari: 125 Years of Italian Magnificence" is the first big jewelry exhibition in the 110-year-old hall, and will feature 600 pieces, including 16 from Taylor's personal collection. Among them: a diamond and sapphire sautoir with a giant Burmese sapphire pendant that Burton gave her for her 40th birthday. "Not only were they significant gifts to Ms. Taylor," says Amanda Triossi, director of the Bulgari historical archives and the show's curator, "they are significant Bulgari designs."
The Taylor gallery is one of eight that covers the company's evolution from the early years to the postwar era—when Italian movie stars such as Anna Magnani and Gina Lollobrigida were avid clients—to the color explosion of the 1950s, when Bulgari began using bold-hued stones in the domelike cabochon shapes that became its signature. Other galleries commemorate Bulgari during the pop-art-inspired 1970s and 1980s, the high-glam 1990s, and the modern-day 21st century. But the Taylor collection is perhaps the most alluring. In addition to the items from her personal jewelry box, the show displays several pieces she wore in films, including a pair of diamond and natural-pearl-drop earrings from Ash Wednesday and an emerald, sapphire, and diamond floral bracelet from Boom! Also on display is a diamond and emerald ring Burton gave to Taylor that she later auctioned to raise money for AIDS research. "We decided to approach as many private collectors as possible," says Triossi. "Most of these pieces don't see the light of day, especially in a museum."
The birthday celebration and glittery publicity provide a sorely needed salve for the bruising the brand has taken during the recession. In 2008 net profits plunged a staggering 45 percent following the economic crash, and last year the company posted a €47.1 million loss and cut its dividend. The brand has since rebounded, thanks to a new strategy that includes cutting costs and burnishing the brand image, as well as targeting the booming Chinese market, where sales have increased an astounding 25 percent in the third quarter of this year. "We are on the right track," says Francesco Trapani, the company's CEO and great-grandson of the founder.
Bulgari—pronounced "bool-gahr-ree"—was founded in 1884 in Rome by Sotirios Boulgaris, a Greek immigrant and son of a silversmith. For the first 25 years he continued working in silver, creating designs that were Byzantine in style, much like the buckles and sword sheaths his father taught him to make back in northeastern Greece. In 1905 he moved the store to 10 Via Condotti—still the company headquarters—and Italianized his name to Sotirio Bulgari. In 1915 he turned to jewelry and followed the design lead of the French houses of Cartier, Van Cleef & Arpels, and Boucheron, developing a style that was intricate and often asymmetrical, says Trapani.
Following Sotirio's death in 1933, his sons Giorgio and Costantino took over the business, and changed the U in Bulgari to a Roman V: Bvlgari. Two of Giorgio's sons still head the company: Nicola is vice chairman, and Paolo is chairman. A third, Gianni, was CEO until he was ousted in a family dispute in the mid-1980s and replaced by Trapani, who is the son of their sister Lia Bulgari.
In 1945 an in-house designer named Gianni Valli joined the company, and for the next 45 years he produced much of its jewelry. "He had the hand," says Triossi. It was during Valli's era that Bulgari's designs took on a more Italian look—constructed, symmetrical, and carnal—and it became the house's iconic style. The company reached the peak of chic in the 1960s and 1970s, when the ripe, vibrant stones set in voluptuous settings appealed to hedonistic jet-setters like Burton and Taylor. But by the time Trapani took over, the brand had grown tired. Trapani began a major overhaul of the company, adding new lines such as perfumes and accessories, ramping up advertising, buffing up existing stores, and rolling out scores of new ones. In 1995 he listed 48 percent of the company on the Milan stock market, and the family retained the remaining 52 percent; today it still holds 51 percent. Of that, Nicola and Paolo are the two top shareholders, and Trapani, with 4.4 percent, is the third.
Today Bulgari does about €1 billion a year in sales. Almost half the business is jewelry; the rest comes from watches, perfumes, accessories, and two hotels, one in Milan and the other perched on a soaring seaside cliff in Bali. Yet Bulgari is considered a small luxury jewelry brand; the leader, Cartier, does nearly $3 billion a year in sales, and Tiffany does approximately $2.7 billion. Bulgari's small size and growth potential also make it a target for corporate takeover. Rumors regularly run through the European markets that a watch or luxury group is looking to buy it; one of the names that surfaces often is Swatch. Trapani has grown tired of denying that a sale is possible.
In fact, Trapani has plans for greater expansion and, like his confreres in the luxury industry, he is setting his sights on China. According to the World Luxury Association, China is now the second-largest market for luxury goods, after Japan. Today, Bulgari has 20 boutiques in mainland China, as well as 15 more in Hong Kong, Macau, and Taiwan, and it has plans for more. Last month it signed an exclusive distribution agreement with Hengdeli Holdings Ltd., the largest retail company of high-end watches in China. And when the exhibit closes in Paris on Jan. 12, it will travel to Hong Kong, Beijing, and Shanghai. "Celebrating 125 years of activity is a significant achievement that few companies, whether in Italy or abroad, can claim," Trapani says. The Burtons surely would have raised a pint to that.