Bull With its Horn Set on Fire Gets Loose and Charges Man
A bull that had his horns set on fire for a festival in Spain got loose and fell into a ravine after charging at a man.
The steer's horns were intentionally set alight as part of a bullfighting festival in Sagunto, Valencia. But it escaped its enclosure around 4:30am, racing down the street and charging a man sitting on a fence above the dry Palancia River bed.
Though the unnamed man was able to escape, the bull fell into the ravine.
Francisco José Gómez was able to catch the incident on video. "A flaming bull escapes in Sagunto," he tweeted. "I hope to my mother that nothing happened to those caught on the fence."
Thankfully no one was seriously injured during the nine-hour struggle to recapture the bull.
"One person was wounded during the struggle, and was treated immediately without sustaining serious injuries, said Sagunto Mayor Darío Moreno, adding that a veterinarian was on hand to tranquilize the bull. "The animal has been rescued and is safe and sound," he told The Olive Press.
Setting bulls horns on fire is not an uncommon practice at bullfighting festivals, especially in Valencia and Southern Catalonia. The tradition, known as "toro embolado" in Spanish and "bou embolat" in Catalan—or roughly, "a bull with balls"—involves attaching torches or balls of tar to the animal's horns, and setting them afire. (Sometimes fireworks are added.)
The bull is then set free in the streets at night, as participants try to dodge its horns.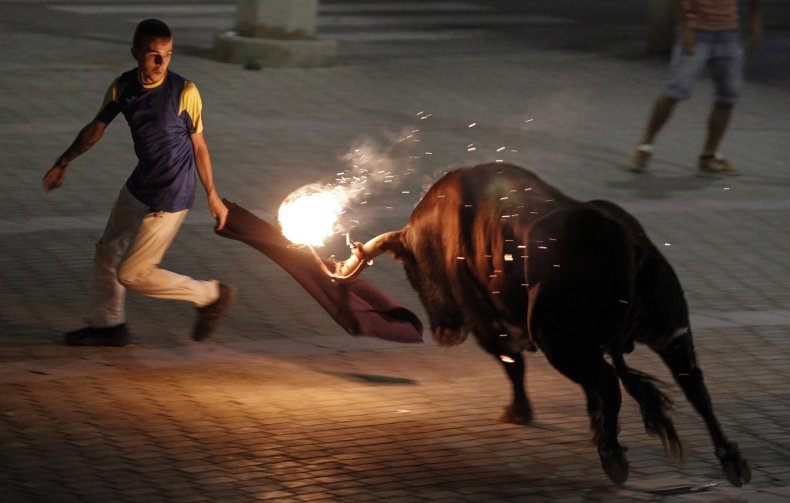 Generally a barricade or fence separates the bull from spectators, but the bulls often smash into walls in an attempt to douse the flames. In some cases, the bull is left in an enclosure with barrels and other items.
Critics say the practice is animal cruelty, as many bulls are injured or killed during the run. In 2017, a bull died after running into a wooden post in confusion.
"The agony the bull must suffer is unimaginable," said PETA UK in a statement. "These fiery balls can burn for hours, and they burn the bull's horns, body and eyes and cause tremendous stress – all while spectators cheer and run around the victim."
The practice is dangerous for humans, too, as many people have been gored by bulls with flaming horns: In September 2018, Rogelio Rodrigo Rodrigo, 71, was gored with a flaming bull charged him. A month before, a woman was gored after she jumped into an enclosure to take a photo of a flaming bull. She was sent to intensive care, but survived the encounter.
Though the practice was banned in Valencia in 2016, it still takes place in small towns throughout the province.