Who is The Bull from 'The Masked Singer'? Runner Up's Identity Revealed
Another series of The Masked Singer is in the can and all of the whimsical costumes featured in Season 6 have been unmasked.
Starting out in Week 1, part of Group A, the Bull made it all the way to the end and was finally unmasked as singer and YouTube personality Todrick Hall. He finished the competition in second place behind Queen of Hearts, professional singer Jewel.
The Bull made a bold entrance full of energy, before performing Train's "Drops of Jupiter" to the audience, and since then has dropped plenty of clues as to his true identity. For the most part, Hall managed to trick the celebrity panel but one person managed to guess his identity.
The Bull's Clues on The Masked Singer
Bull shuffled their way onto the stage and looked very comfortable with their choreographed moves. You can't read too much into the physical frame of the contestants beneath their costumes, but it was safe to assume that the Bull is a well-built individual.
During their pre-performance video, Bull dropped a number of clues about their upbringing.
Walking out wearing a hoodie with the words "Don't Talk To Me" written across it, the deep-voiced contestant said they'd grown up in a small town surrounded by cows.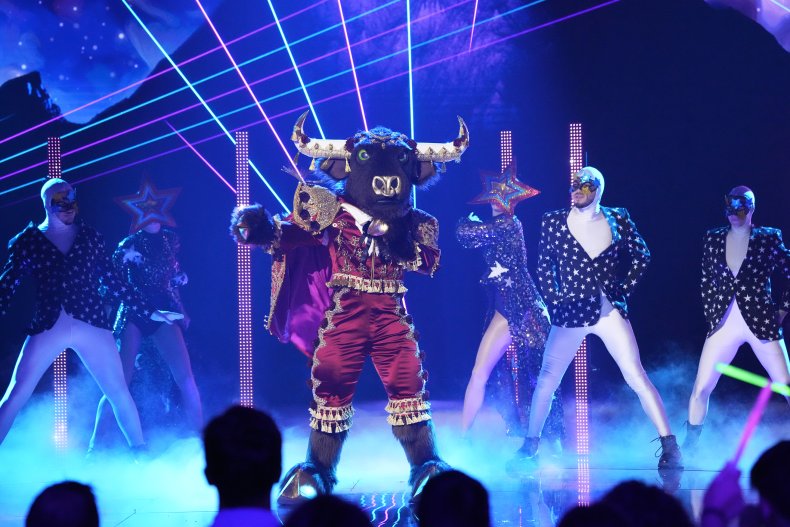 They also talked about having bigger dreams and leaving the town in search of their destiny, and becoming "the greatest of all time."
The next clip showed Bull wearing a matador's outfit, in a boat on the ocean. Opening up a map, Cooperstown was marked, which panelist Robin Thicke said must be related to baseball—so it might be an athlete.
Bull talked about being told "no" many times before finally making it to Hollywood and even Forbes took notice. Perhaps the rejections was a reference to his unsuccessful attempt to win American Idol in 2010 where he reached the semi-finals.
Other clues littered throughout the video package included doors, an astronaut and a stuffed lion.
The clues became more blatant as the weeks went by. The locker clue was a cheerleader, which Hall was in high school. He revealed they weren't in Hamilton, but he has been in a number of other Broadway productions.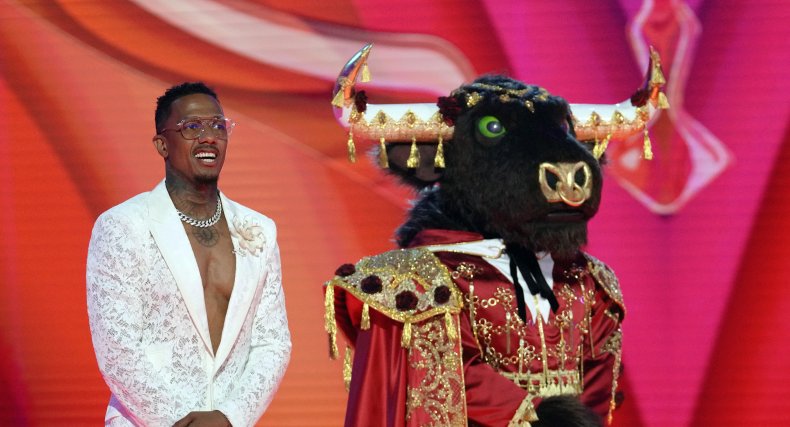 The Panelists' Guesses
From the first week, Nicole Scherzinger was convinced she knew who Bull was, and she turned out to be correct.
She didn't announce her guess in Week 1 so the other panelists wouldn't steal her idea, but her guesswork helped her win the Golden Ear trophy for the first time.
The other guesses included Sisqó from Robin Thicke, Adam Lambert from Jenny McCarthy and Taye Diggs from Ken Jeong.
Who Was Voted off The Masked Singer?
It's been a star-studded season of The Masked Singer, with eighteen celebrities unmasked during Season 6.
NBA player Dwight Howard was unmasked first, followed by actor Vivica A. Fox and singer Toni Braxton. Tyga the rapper was voted off first in Group B, followed by Larry the Cable Guy ad Ruth Pointer, Rob Schneider, Natasha Bedingfield and Johnny Rotten.
Both Honey Boo Boo and Mama June were inside the Beach Ball while Willie Robertson, Bobby Berk and Faith Evans were also unmasked.
Finally, stage duo Katharine McPhee and David Foster were Banana Split before Hall and Jewel were revealed in second and first place, respectively.