Bull Shark Kills Pennsylvania Woman on Cruise to Bahamas
A bull shark has killed a Pennsylvania woman who was a passenger on a cruise ship to the Bahamas.
The 58-year-old had been a passenger on a Royal Caribbean cruise ship, and was attacked while "on an independent shore excursion," a cruise line spokesperson told CBS news. The attack took place around 2 p.m. near Green Cay, in the northern Bahamas near Rose Island, police spokesperson Chief Superintendent Chrislyn Skippings told news outlets at a press conference.
Bull sharks have a reputation for being particularly aggressive towards humans.
The species prefer shallow coastal waters, meaning they will sometimes come into conflict with humans who are swimming. They have been known to attack people inadvertently or out of curiosity, however, attacks are rare.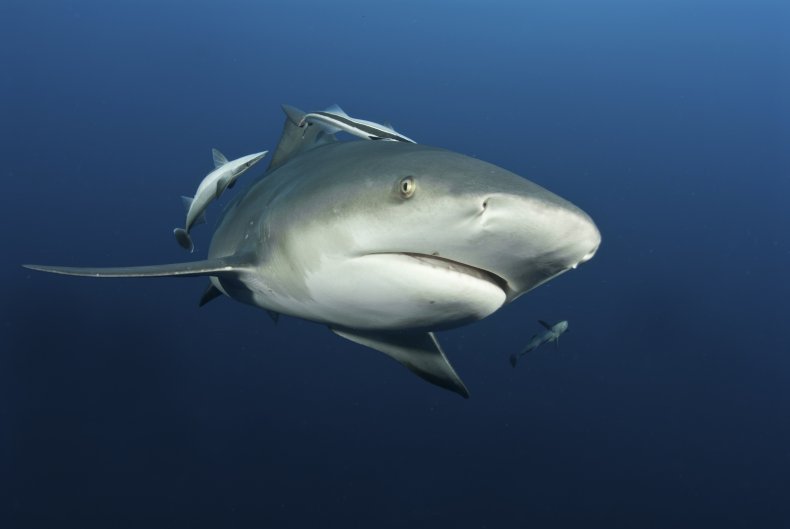 The woman's family members saw the attack happen with a tour operator. They pulled her from the water and rushed her to hospital where she was treated for injuries to her upper body, but she eventually died from her injuries, Skippings said at a news conference. The snorkeling area was immediately closed to other swimmers.
Skippings said it was an "unfortunate situation."
The woman had been a passenger on Harmony of the Seas cruise ship. It left Florida on September 4 and had been on a seven-night trip.
"Royal Caribbean is providing support and assistance to the guest's loved ones during this difficult time," the Royal Caribbean cruise line said a statement.
Newsweek has contacted the Royal Caribbean cruise line and the police for comment.
Shark attacks overall remain rare. According to the shark attack file kept by Florida Museum, only 33 unprovoked attacks have been recorded in the Bahamas since 1580. The last attack occurred in 2018.
Globally, the shark attack file recorded 73 unprovoked attacks in 2021. Only nine of these were fatal.
In August, an 8-year-old British boy was attacked by three sharks at once while swimming in the Bahamas.
The boy, Finley Downer, had been swimming with nurse sharks while they were being fed by a guided tour. He suffered deep cuts on his legs following the attack.
Bull sharks are in the "big three" species of sharks most responsible for attacks, along with the great white shark and the tiger shark.
These species are large and capable of causing severe injuries. Their teeth are also designed to shred a victim.
Despite their aggressive reputation, scientists believe bull sharks only approach humans out of curiosity. Attacks may occur when they feel threatened in some way.
Unprovoked attacks may occur if they mistake the human for its normal prey.