Bulletproof Vests for School Kids? Arizona Fire Captain Says They're Now a Necessity
Beyond working to extinguish infernos, an Arizona fire captain is doing his part to help keep schools safe from gun violence by creating a line of bulletproof vests for children and teachers.
Kevin Goodman, who has worked for the Phoenix Fire Department since 1998, told KTVK-TV that the recent spike in mass attacks on schools has made the vests a necessity in all classrooms.
"School shootings are happening, and they are occurring more often than we think," Goodman stated. "I just wanted to give people something that could actually make a difference."
Goodman develops the vests through his self-founded company called Escape Armour, whose website states provides "a far superior protection solution to an active shooter event."
"Kevin [Goodman] strongly felt that the bulletproof backpacks and emergency body armour on the market were poorly designed and lacked key elements to make them effective," the website continued.
The patented vests store easily and are able to be fully deployed in under 10 seconds, according to the website. The bulletproof plates inside are rated at level IIIA by the National Institute of Justice (NIJ), which provides protection from longer-barreled handguns, but not rifles.
The vests are offered in three different sizes, and the smallest weighs only 3 pounds, allowing for easy wearing and transportation by children.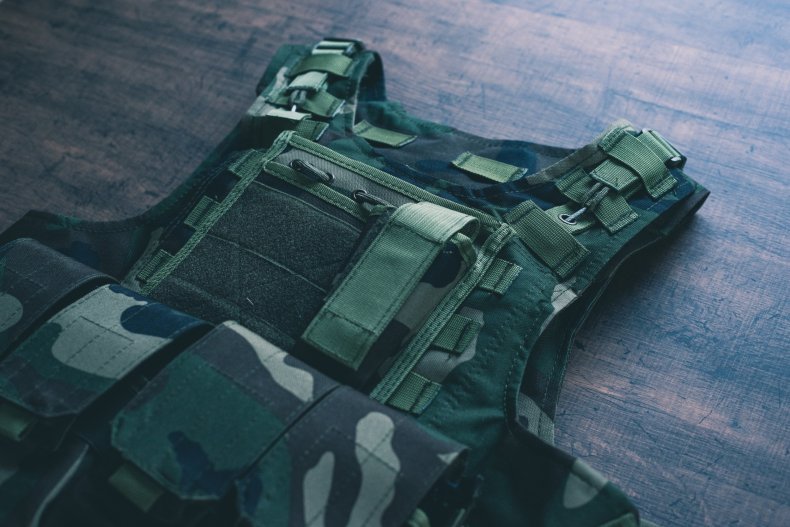 Goodman also told KTVK-TV that his vests could've prevented the loss of life that occurred in Michigan on Nov. 30, when a gunman killed four students and injured seven others at Oxford High School.
"It is sad, but we can't pretend this is not happening. We prepare for other things. If you look at schools, we have fire drills and fire extinguishers in every classroom," Goodman continued. "This is also something that is a realistic threat, and we have to prepare for it."
Escape Armour does not appear to be the only company working to create reinforced products for kids in schools.
An online business called BulletBlocker has a number of bulletproof products for sale that are designed to be used in the classroom and workplace. This includes bulletproof backpacks, binder inserts, and tablet cases.
Some of these backpacks can now even be purchased at major office supply retailers such as Staples, which currently lists a ballistics-grade backpack for sale on its website.
The Washington Post reported in 2019 that sales of bulletproof school products had been increasing each year since 2016.
The outlet also reported that school security in general had evolved into a $2.7 billion yearly business. This includes the production of active shooter mediation devices such as emergency shields and crisis response training.
Nicole Hockley, who co-founded the Sandy Hook Promise after her son Dylan died during the Sandy Hook massacre, told Newsweek that it was also important to recognize these types of events before they happen.
"Instead of giving our children body armor to prepare for the next school shooting, let's focus on what's really essential for safer schools and communities—learning the warning signs and supporting complementary policy to prevent gun violence," Hockley said.
Updated 12/09/2021, 6:16 p.m. ET: This story has been updated with a comment from Nicole Hockley from the Sandy Hook Promise.