Bullfighting Faces Uncertain Future in a Divided Spain, Pitting Tradition vs. Modernity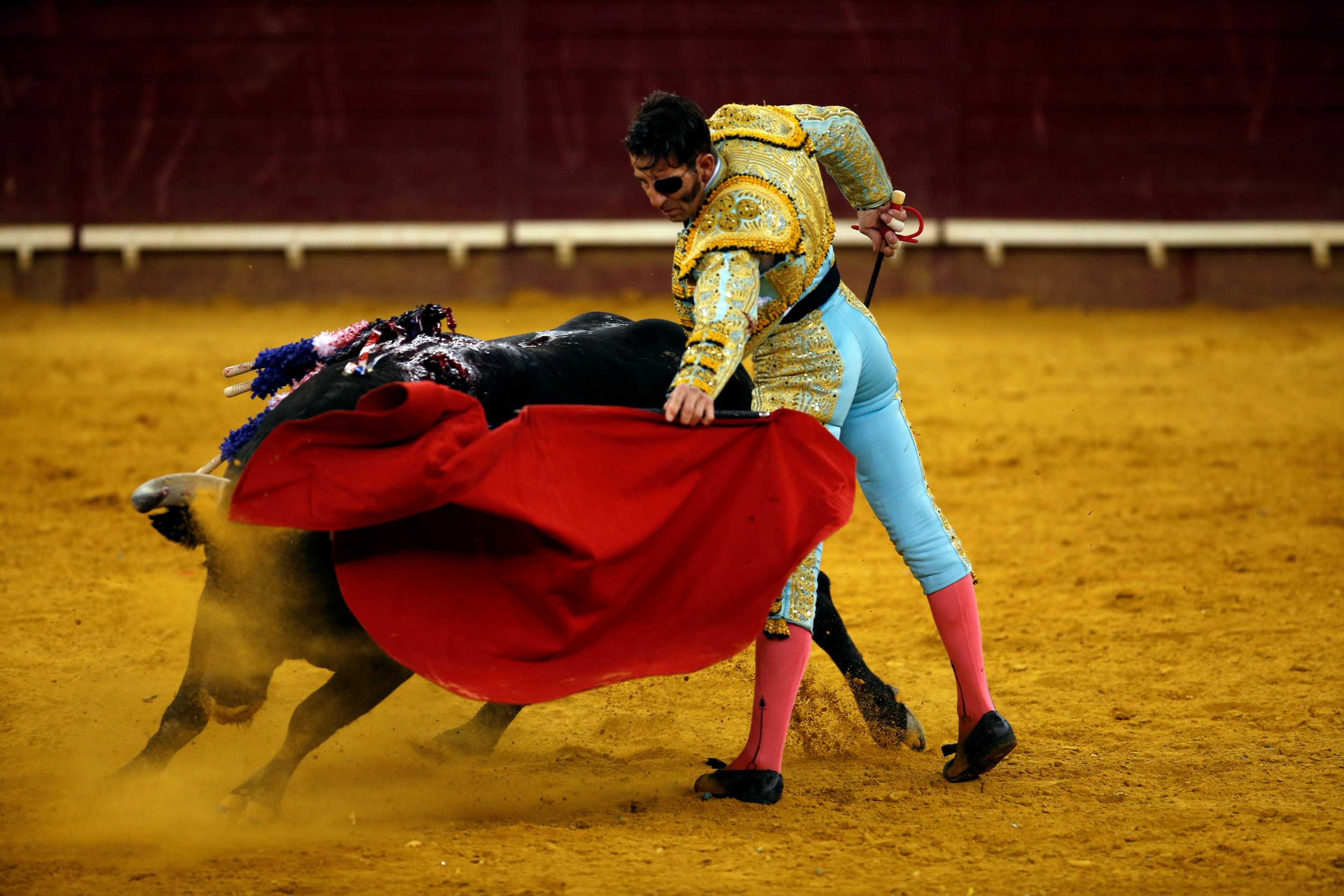 Juan Jose Padilla is a one-eyed matador, and there is a certain romance to it, especially if you are strutting around the bullring at Plaza de Toros in glittering sequins while waving a Spanish flag and pirate flag, the latter being in homage to you and your eyepatch.
Then again, the chanting protesters outside before the fight would see nothing honorable or passionate about Padilla's display. On a warm summer night in Palma, the largest city in Mallorca, Spain, the anti-bullfight crowd is holding photos of gored bulls and yelling angry exhortations about what they consider a cruel practice. The gathering makes up about half a city block across the street from the plaza. Prior to the event, the people buying tickets do so alongside a considerable police presence that lines the block with cars and more than a few officers. There is even a barricade separating the protesters from anyone who walks on the street across from the arena—the cost of ensuring a peaceful coexistence between potential fans and dedicated foes.
This sport made famous in the popular imagination by everyone from Bugs Bunny to Ernest Hemingway is at a crossroads following a ruling by the Spanish court this past fall. Now, more than ever, Spain has an existential (cultural) crisis to resolve. Though the fight to ban bullfighting has been happening for years, the movement's momentum was abruptly suspended when the country's constitutional court in October decided bullfighting is part of Spain's common cultural, or national, heritage. The move was especially surprising for some as it overturned a seven-year ban that was put in place in the Catalonia region of Spain in 2010. Not to be outdone, the Balearic parliament, which overseas Mallorca, Ibiza, and a few other Spanish islands popular with tourists, voted in July to introduce new rules meant to change bullfighting. These include measures that would make it illegal to sell alcohol at bullfights, use horses in fights or use sharp prods to prick the bulls. There would also be a 10-minute limit on fights, and bulls would not be allowed to be killed, among other restrictions.
With these legal and parliamentary challenges far from resolved and most of the bullfighting finished for the summer, both sides seem as committed as ever to prevail. Whether there will be another fight in Palma after this season is anybody's guess.
Attendees on this Thursday night in late July said they were unfazed by the protesters and did not seem bothered by the ongoing controversy.
"I like very much the bullfights," said Palma resident Maria Antonia Noguera, who stopped to ask a police officer about the protesters as she made her way to the arena.
Also on their way to the fight, Czech tourists Jiri and Lucie Pudil said they had been to as many as 20 fights throughout Spain.
As such, resistance to bullfighting is not a new concept for them. Protesters "are everywhere" when they go to fights, said Pudil as his wife, Lucie, nodded in agreement. Far from bothered, the couple even decided to bring their 1-year-old daughter, Adina, who was strapped to Jiri's chest sucking a pacifier as he explained his love for the Spanish tradition. Bullfighting, he said, is as much about the freedom of the bull to fulfill its potential as it is about pain and suffering.
Then again, after naming a series of his favorite matadors, Padilla being one of them, he acknowledged that he did not remember any famous bulls.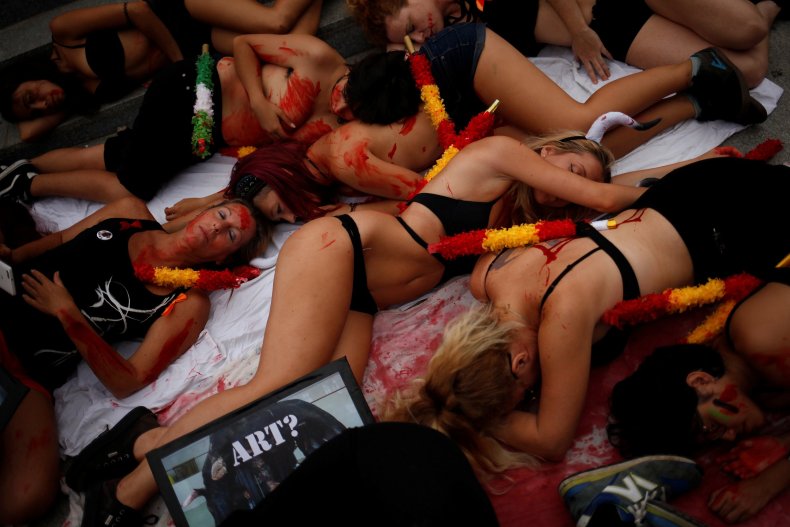 Among the passionate critics of bullfights, Mallorca resident Rosa Moreno took a break from protesting to talk about her commitment to demonstrating. For Moreno, this is an extension of her animal rights activism. A vegan who acts as treasurer of Cocinillas en accion, a vegan cooking organization, she acknowledged that assessing progress in the cause to end bullfights can be difficult.
Though new people join the protests every year, people also leave because they get discouraged about the lack of progress in ending the sport. Signs of encouragement include the changing age demographics—the audience for the fights, she says, is mostly older people in their 60s or 70s.
But Moreno also noted the "alarming number" of people attending who are younger than that and even bring their children—like the Pudils—even though it is not allowed and the people who do so are subject to fines.
"These are sentient beings that deserve better treatment," Moreno said. "I believe (change) is going to be very slow, but is required."
Man vs. Beast?
Whatever your opinion about the grandeur or savagery of bullfighting, calling it a "fight" might be the most problematic part of all. In six bullfights over the course of roughly two and a half hours on this night in Palma, every bull was put to death and no matadors were harmed, implying a dominance of man over beast that is rarely made equal in the ring. Just 15 minutes before Padilla's tribute to Spanish nationalism and symbolic self-regard, for instance, the bull that he puts down is gasping, a tongue hanging from the side of his mouth. As the crowd tries to hush everyone quiet for this last silent dance with death, the quick jab into the bull's back humbles the animal into a state of submission already accentuated by the four or five barbed sticks, banderillas, bleeding from his shoulders, stuck in earlier to slow the animal down. All that is left is for him to die, which he does by reeling onto his side, legs kicking.
When the cart and horses arrive to haul the dead bull away, his ear is cut off and presented to the matador as a trophy to give to a deserving fan. Right on cue, the band wades into a familiar celebratory brass-heavy melody, with cheering fans waving white flags and white napkins. Women toss handbags or paper fans for the matador to touch and toss back. As he circles around the bullring blowing kisses, he throws his arms and hands like a maestro conducting his final sonata sans baton.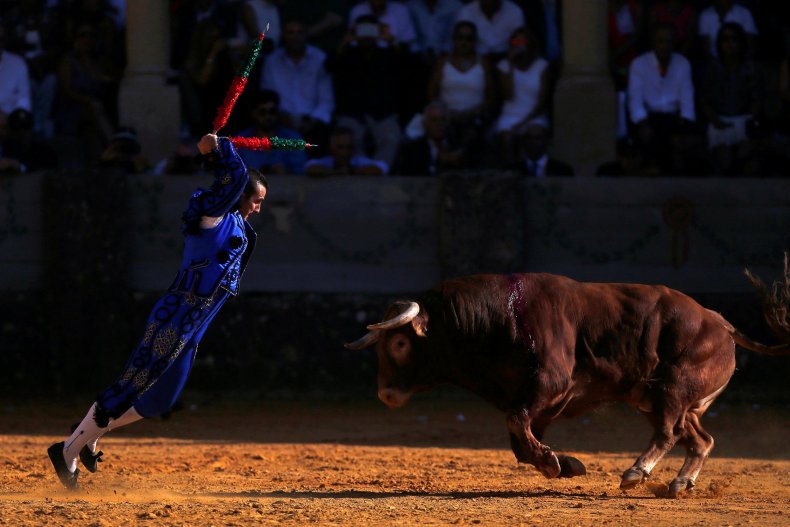 In the end, the fate of bullfighting might be determined by the public's appetite for such sensitized violence presented as ceremony. The next generation of fans, and matadors for that matter, will need to foster a reverence for a tradition becoming increasingly more niche and political, even as it excites.
To be sure, there is no absence of excitement on this night in Palma. The crowd is roused until the final fight is over and they turn for the exits. Suddenly, a bubbling of sounds rises up from the side stables around Padilla. Fans pose with him for photos, and a few teenagers dance around, pirouetting and spinning in the dirt in imitation. A group of men, sweaty and excited, hoist the veteran up on their shoulders. They are bouncing him around the circle one more time, chanting their love for the matador or bullfighting—it is not clear at this point. But for the last of us left to watch this tribute, their demonstration, like the protesters earlier, is impossible to ignore.