Is the 'Bullying Epidemic' a Media Myth?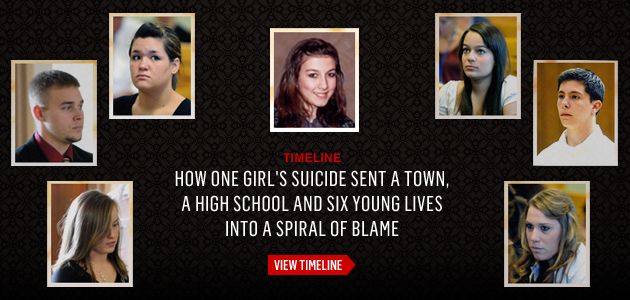 Last week it was Asher Brown, a Texas eighth grader who shot himself in the head, the subject of antigay tormenting at school. On Tuesday it was 13-year-old Seth Walsh, a California boy taken off life support nine days after hanging himself from a tree in his backyard—also a victim of antigay bullying. But perhaps the most twisted story yet came last Wednesday, when Tyler Clementi, an 18-year-old Rutgers University student and accomplished violinist, threw himself off the George Washington Bridge after his roommate used a Webcam to broadcast Clementi's tryst with a man live on the Web.
Blogs and news stories said that these young men were "bullied to death"—a ubiquitous label for the crime of the moment, the explanation du jour for tragedies and cruelty that are as old as humanity. It was made famous in a cover line on People magazine, in reference to the 15-year-old Phoebe Prince, who hanged herself last winter, and it's even been used in conjunction with Fox reality-TV chef Gordon Ramsay, the host of Kitchen Nightmares. Last Friday, one of the contestants on the show's first season plunged into New York's Hudson River, an apparent suicide. The irony? On one episode, taped in 2007, Ramsay had offered the man advice on how to turn his struggling New York restaurant around, telling him, "Your business is about to f--king swim down the Hudson."
These terrible stories inevitably become instant national news, fueling the idea that we're in a bullying "pandemic." Yet while each tale is heartbreaking, awful, despicable, most are infinitely more complicated than the media megaphone makes them sound.
The Clementi case in particular is sure to become latest potent symbol for why, in the digital age, schools need bullying policies and states need legislation to punish bullies. But the question isn't just whether these students should be held accountable—they should—but whether the bullying of today is truly any worse than the bullying of past.
It's not that bullying isn't a problem, particularly for kids who are gay, lesbian, or transgender. Research shows it affects one in five American students each year, and nine in 10 LGBT students, according to the Gay, Lesbian, and Straight Education Network. It is also known to increase levels of depression—and, thus, suicide. (Though teen suicide rates are down since 2004, according to the U.S. Centers for Disease Control, LGBT kids are four times more likely to commit it.) But forget, for the moment, the talk-show specials, the George Washington Bridge, the Florida dad who rushed onto a school bus to scare his 13-year-old daughter's bullies straight. The reality, say social scientists, is that bullying is neither more extreme nor more prevalent than it was during the days of pigtails dipped in inkwells—and in fact, over the past decade, prevention programs have been effective in lowering it. "The picture created in the media," says Norwegian psychologist Dan Olweus, a world-renowned bullying expert, "simply does not fit with the reality."
Cyberbullying has indeed added a new and potent threat—it can be more invasive, further-reaching, and harder to wash away than hurtful comments scrawled on a bathroom. And the medium for some of these cases—like with Clementi, the young Rutgers student—is often video or images distributed far and wide, making the torment all the more detailed and excruciating.
A decade ago a cruel classmate might have simply taunted Clementi for being gay or kissing a man, or perhaps described seeing them together. That could be upsetting enough. But now, a Webcam allowed Clementi's roommate, Dharun Ravi, to post the video live—Clementi's sexual life was instant fodder for potential campuswide mockery. And it was far too easy to gather: Ravi simply turned on his computer remotely, and saw Clementi kissing another man. On Sept. 19, he tweeted "Roommate asked for the room till midnight. I went into molly's room and turned on my webcam. I saw him making out with a dude. Yay." In the new world, even the alleged suicide note became a piece of social media when Clementi wrote on his Facebook page "Jumping off the gw bridge sorry."
This particular scenario simply couldn't have happened a decade ago. But there's something else going on here, too—and it's more than awful behavior by a bunch of nasty teens. We are a culture for whom bully-spotting has become a sport; bullying itself a ubiquitous label (and damning accusation) fueled by a breed of helicopter parents who want to protect their kids from every stick and stone, and of news commentators who whip them further into a frenzy. When it comes down to it, antibully crusading has become almost evangelical in its fervor. It's also a become a "cottage industry," says Suffolk University Law School's David Yamada, complete with commentators and prevention experts and a new breed of legal scholars, all preparing to take on an enemy that's always been there.
None of this is to say that bullying is not a serious problem, or that tackling it is not important. But like a stereo with the volume turned too high, all the noise distorts the facts, making it nearly impossible to judge when a case is somehow criminal, or merely cruel.
The hype around bullying has lead to demands for ever-more drastic punishments for those labeled bully. Ravi, along with Molly Wei, who are accused of tormenting Clementi, face two counts each of invasion of privacy and, if convicted, could spend up to five years in prison. The college is now also under fire for not preventing the tragedy: Clementi allegedly discussed the incident on an online message board; he had also complained to his resident adviser about another incident earlier in the month. (In a sad irony, the news about Clementi's death came on the same day that Rutgers kicked off a two-year, campuswide project to talk to students about bullying.)
But could anyone have stopped it? Did someone miss the signs that Clementi was in deadly emotional pain? Those guilt-laden queries are not new. And as the families, the school administrators, and the young resident adviser pore over the details of his death, examining the terrible timeline that led him to the bridge, they will surely torment themselves with those thoughts. Those unanswerable questions are the eternal burden of anyone who's close to a suicide victim.
As for the two people who thrust a cruel humiliation upon Clementi just before his death? There may be no legal punishment that comes close to the long-lasting guilt they will likely endure. Of course, they probably weren't thinking of that when they allegedly posted the video. That's the thing about the young and callous: they are immature, they sometimes don't think two steps ahead to the consequences of their actions. It's the job of adults to teach basic norms of compassion and decency, but it remains to be seen whether there's an antibullying program out there that can give every young person the wisdom and foresight to curb their worst impulses.
With reporting by Nancy Cook.