Is Bumble Better Than Tinder? Dating Apps Are Battling for the Single Woman's Soul
Watching the legal conflict between two dating apps, Tinder and Bumble, has ironically begun to feel like we're all watching our friends navigate a toxic relationship. On Friday, Recode called Tinder's quest to acquire Bumble "a long courtship," but according to Bumble, Tinder is not playing fair.
Should the conflict between companies affect which dating app women use? It depends on whose narrative you buy into.
In one corner, Tinder's owners, Match Group, are alleging that Bumble stole Tinder's IP to create a competitive dating app. In the other, Bumble alleges that misogyny and bullying are integral to Tinder's DNA. If the corporate conflict feels oddly personal, that's because it's rooted in a story deeper than intellectual property law.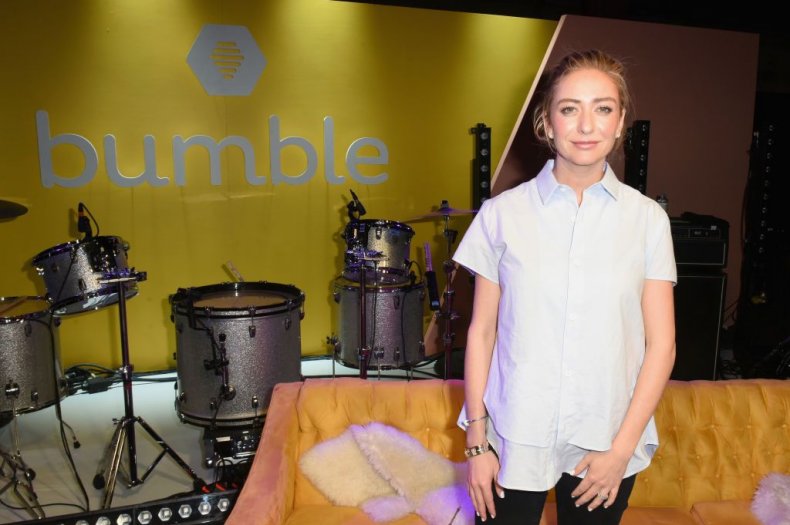 The conflict between two companies
In August 2017, Match Group, which owns Tinder, attempted to buy Bumble for $450 million. The company tried again in November, this time offering a sum TechCrunch called "well over a billion dollars." Bumble demured a second time, and many spectators believed the company's refusal has more to do with its founder's principles than a payout.
Bumble founder Whitney Wolfe Herd occupied a senior marketing position at Tinder from 2012 to 2014. Though she remains legally bound from describing her experience at Tinder, she has hinted that the workplace environment was toxic to women. In 2014, Gawker published a series of disturbing text messages exchanged between Wolfe Herd and Tinder co-founder Justin Mateen, in which Wolfe Herd pleaded with Mateen to stop texting her and "get back to work".
Speaking with NPR in 2017, she said the media fallout surrounding the lawsuit left her devastated. "I, quite frankly, thought I was at the very bottom of my barrel," she said. "I mean, there were days where I didn't want to live. I didn't want to get out of bed."
For years, Wolfe Herd has heavily implied that Tinder has an internal misogyny problem, one reflected in its office environment and the way its app's interface allows harassing, profane messages to filter into user inboxes.
So, which dating app is better for women?
Upon first glance, Bumble is the clear front-runner for women who want to control the character of messages they receive. But it does owe a great deal of its interface to Tinder—it remains to be seen if the amount of IP Bumble borrowed from Tinder is legally sound. There are also ways for dedicated misogynists to use any app, including Bumble, to track down women, as Vice reported in May 2017.
A 2017 study by the consumer data group LendEdu found that the "vast majority of Tinder users" report looking for casual sex as opposed to a relationship. The study reported that "40.1 percent of respondents said 'Tinder is for hookups, and Bumble is for dating.'"
As many users report, Tinder's gender-blind freedom, which allows men to send their matches as many messages as they please, puts women on the defensive. Women post many of these negative Tinder messages, which can range from creepy to outright threatening, to subreddits like r/niceguys or r/creepyasterisks. A quick scan through either subreddit illustrates that many men believe a Tinder match suggests the women they're speaking to have consented to any kind of messaging.
A 2018 study published by the University of London concluded that prevalent misogyny occurring on Tinder can be blamed, at least partially, on assumed consent. Male users, the study suggested, assume that a match with a woman implies that they've consented to any manner of messaging, as if a right-swipe meant, "Call me any names you want."
On Bumble, which fancies itself the feminist answer to Tinder, women have the sole ability to send the first message. It's a component of the app's UX that Bumble has always said encourages female empowerment and ensures safety from harassment. According to Bumble, the app is a safe haven for women fed up with the negative messages they receive on Tinder. It's also worth pointing out that Bumble uses a demonstratively more cutthroat approach to banning abusive users.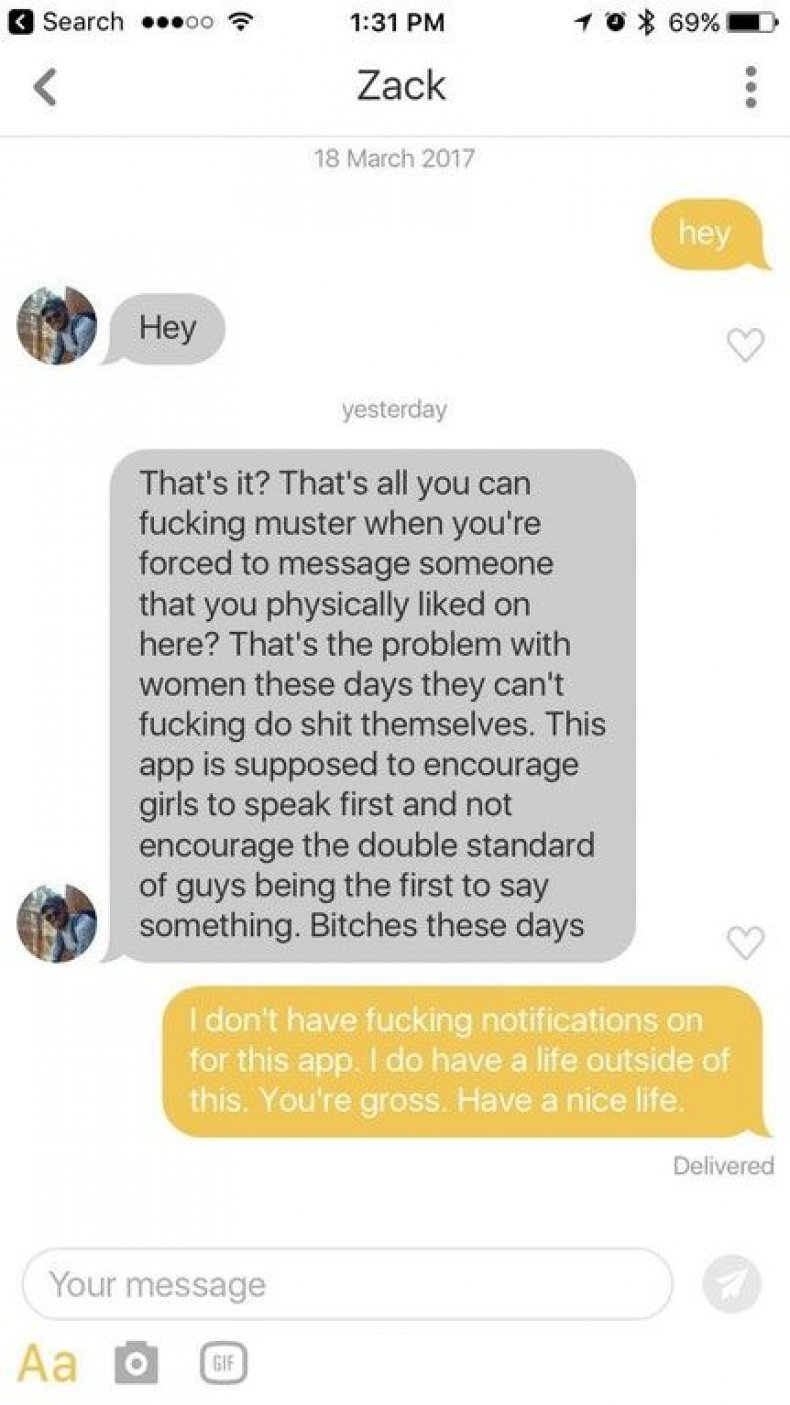 If you prefer Bumble's set-up, does that mean you should delete Tinder completely?
In February, Match Group announced it was developing a Bumble-like update that would only allow women to send the first message, which means Tinder may construct a safe space of its own. And that's not all. On Friday, Match Group doubled down, announcing to Recode that it was suing Bumble for copyright infringement.
"Bumble, founded by three ex-Tinder executives, copied Tinder's world-changing, card swipe-based, mutual opt-in premise," the lawsuit reads. "As acknowledged by third-party publications upon its release, Bumble is 'virtually identical' to Tinder in its functionality and general look-and-feel. The competitive reason is obvious."
A source close to the situation told Newsweek, "Bumble learned about the lawsuit from the Recode article on Friday evening. Tinder didn't bother to inform Bumble ahead of going public."
Given the weekend to respond, Bumble took out a full-page advertisement in Tuesday's New York Times, structuring its statement as an open letter to Match Group.
In the statement, Bumble called the lawsuit another example of Tinder's "scare tactics" and "endless games." The letter heavily implied a pattern of abuse between the two companies, and it even positioned Bumble in a feminine role. "We remain focused [...]," the ad read, "until every woman knows she has the power to make the first move, to go after what she wants, and to say 'no' without fear."
As both apps currently stand, Bumble is the better choice for women looking to minimize harassment. But the results of Tinder's lawsuit against Bumble may shake up the playing field yet again. As weird as it may seem, the way you find your next date may be settled in court.