Bump Stock Review After Vegas Shooting Falls to Agency That Might Not Be Able to Regulate Them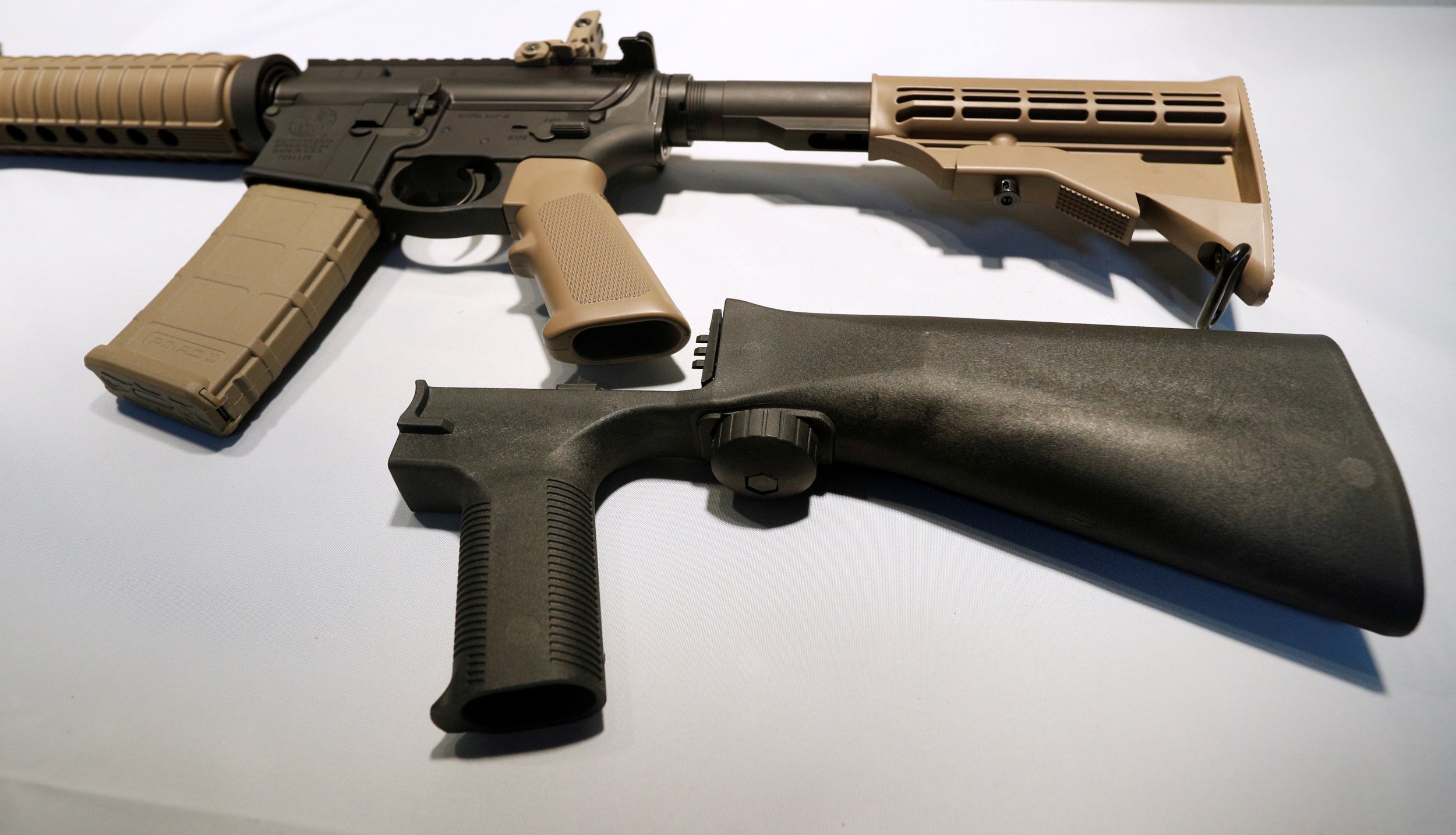 The Justice Department and the Bureau of Alcohol, Tobacco, Firearms and Explosives (ATF) announced this week that they were initiating a review of bump stocks—the device a Las Vegas gunman used to kill 58 people in October—to see if they are legal, but also said it was possible the ATF wouldn't have the power to do anything about them.
"Possessing firearm parts that are used exclusively in converting a weapon into a machine gun is illegal, except for certain limited circumstances," Attorney General Jeff Sessions said in a statement. "Today we begin the process of determining whether or not bump stocks are covered by this prohibition."
The ATF will move more slowly than Congress would in regulating the device, and it's possible it won't be able to regulate the device at all. The acting director of the ATF, Thomas Brandon, emphasized that its regulatory power was "a possibility," at a Senate hearing on Wednesday, saying that the DOJ wouldn't have opened the review in the first place "if that wasn't a possibility at the end."
But critics have brought up the ATF's previous claims that it did not have such regulatory power. "The ATF lacks authority under the law to ban bump-fire stocks. Period," Senator Dianne Feinstein (D-Calif.) said in a statement. "The agency made this crystal clear in 2010 and again in a 2013 letter to Congress, writing that 'stocks of this type are not subject to the provisions of federal firearms statutes.'"
The bump stock is a device that can be attached to a semi-automatic rifle to make it fire more quickly and effectively turn it into a fully automatic rifle. The most well-known version is made by the company Slidefire. Bump stocks achieved national infamy after gunman Stephen Paddock used them when he opened fire on a crowd of concertgoers in Las Vegas in early October, killing 58 people and injuring nearly 500.
The review will focus on deciding whether bump stocks count as machine guns, which the ATF can regulate.
It is an agency the National Rifle Association has lobbied to eliminate before, and it also is the agency the NRA wants to be in charge of regulating device. The NRA famously supported banning bump stocks in the weeks following the Vegas shooting, but later tempered that statement by saying it believed the ATF, and not Congress, should handle that regulation.
Sessions said in his statement on Tuesday, "This department is serious about firearms offenses, as shown by the dramatic increase in firearms prosecutions this year. The regulatory clarification we begin today will help us to continue to protect the American people by carrying out the laws duly enacted by our representatives in Congress."