Bump Stock Ban: What Does a Bump Stock Look Like? What Happens to Bump Stocks Turned Into the ATF?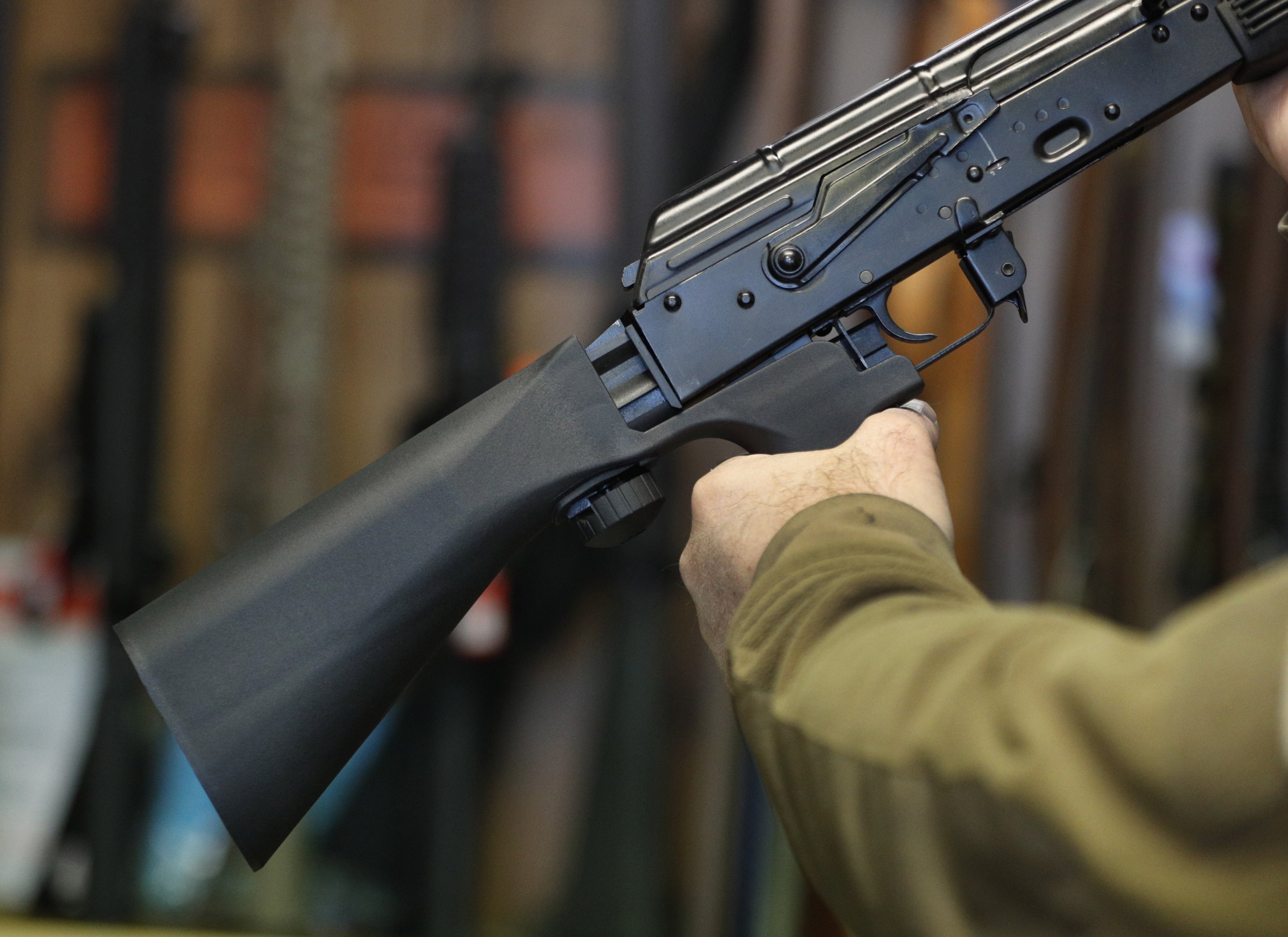 More than a year after Stephen Paddock allegedly used a bump stock device to fatally shoot 59 people in Las Vegas, the firearm accessory is not only illegal to sell, but also to possess. Bump stock owners now either have to destroy or turn the accessory into law enforcement or risk a felony charge.
Bump stocks can be added to a firearm to allow for continuous firing with a single pull of a trigger and in December, then-Acting Attorney General Matthew Whitaker announced they would be classified as a machine gun. The classification made bump stocks illegal to possess under federal law, which went into effect on Tuesday, 90 days after it was published in the Federal Register.
"We are faithfully following President [Donald] Trump's leadership by making clear that bump stocks, which turn semi-automatics into machine guns, are illegal, and we will continue to take illegal guns off of our streets," Whitaker said at the time.
How to Destroy a Bump Stock
Owners who don't want to turn their bump stock into the Bureau of Alcohol, Tobacco, Firearms and Explosives (ATF) have the option to destroy the accessory themselves. To comply with federal law, the bump stock must be destroyed to the point that it cannot be readily restored to its intended function.
Some options of destruction are crushing, melting, shredding and cutting. If cut, the bump stock must be severed in accordance with diagrams provided by the ATF.
How to Turn in a Bump Stock
Another option owners have to get rid of their now-illegal firearm accessory is to turn it in to local law enforcement offices. While local police departments can accept bump stock devices, they aren't required to, so the ATF recommended owners call to check before dropping it off.
However, all ATF offices will accept bump stock devices and the organization encouraged people to make an appointment ahead of arriving.
What Happens When You Turn It In
When a person voluntarily surrenders their bump stock, the ATF told Newsweek it uses a standard abandonment form. If a person refuses to complete the form, the ATF will still take their device and provide a standard property receipt to document that the transfer was made.
Bump stocks turned in to the ATF are not destroyed until all applicable litigation is adjudicated. Instead, bump stocks are properly tagged with the corresponding paperwork and stored at the local office. Due to it being a security issue, the ATF wouldn't expand on how the firearm accessories are stored.
​