After Las Vegas, Gun Modification Videos Banned by YouTube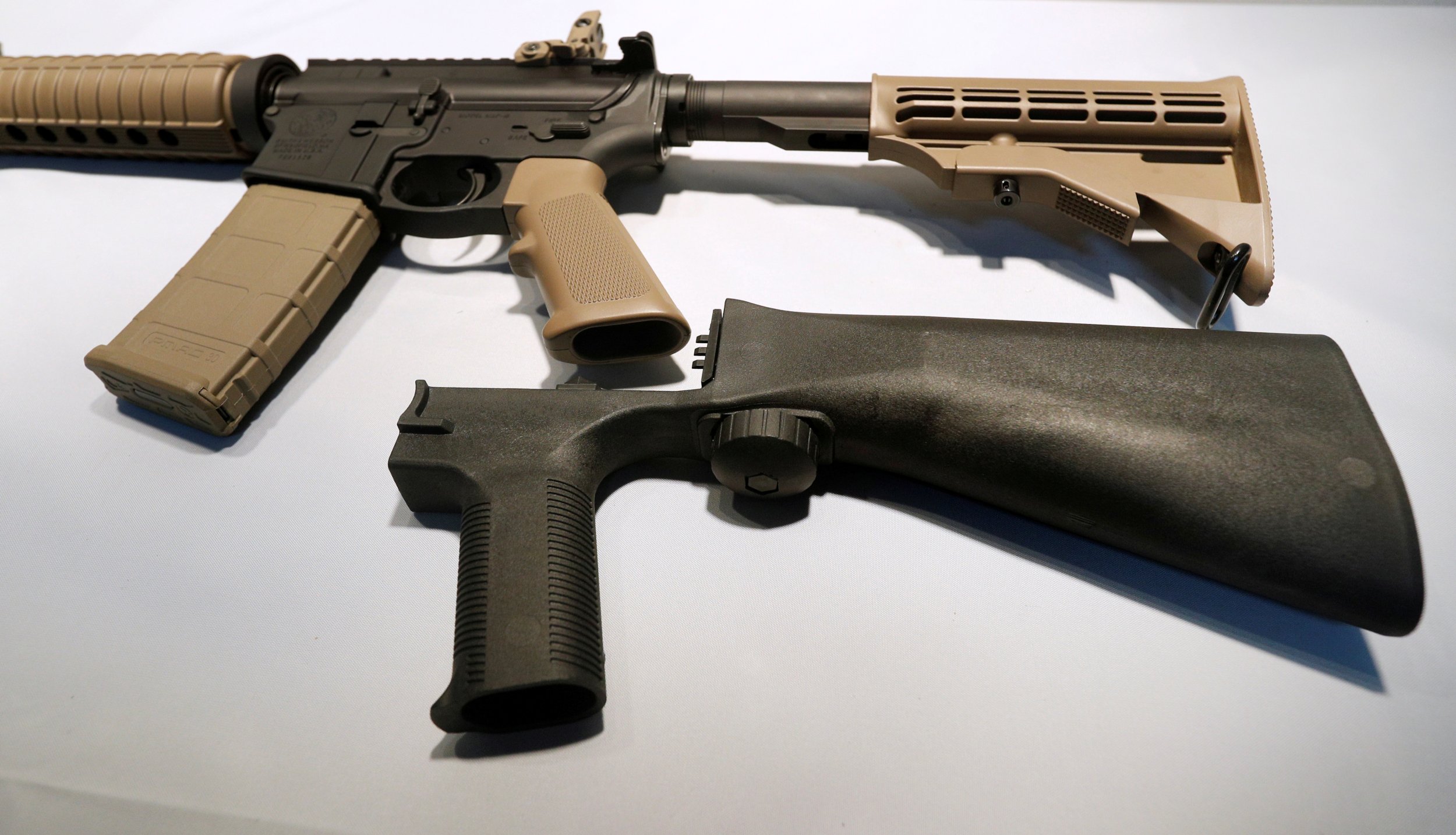 YouTube has banned and removed some video tutorials that show users how to modify guns—including ones that provide instructions for making semiautomatic rifles fire nearly as quickly as fully automatic ones, a tactic used in the deadly mass shooting in Las Vegas last week.
The company said it had taken down some tutorial videos that featured a bump stock, a legal attachment to semiautomatic rifles that makes them fire more rapidly. Stephen Paddock used a bump stock when he killed at least 58 people and injured over 500 in one of the deadliest mass shootings in modern U.S. history.
"In the wake of the recent tragedy in Las Vegas, we took a closer look at videos that demonstrate how to convert firearms to make them fire more quickly, and we expanded our existing policy to prohibit these videos," a YouTube spokeswoman wrote in an email to Newsweek.
The move is an expansion of the company's existing policy against dangerous content. "While it might not seem fair to say you can't show something because of what viewers might do in response, we draw the line at content that intends to incite violence or encourage dangerous or illegal activities that have an inherent risk of serious physical harm or death," YouTube's policies page reads.
Bump stocks, which were popularized by an Air Force veteran from Texas in 2010, can increase the speed of gunfire to hundreds of rounds per minute. The veteran's company, Slide Fire, has "temporarily suspended new orders to process current orders as quickly as possible," according to its website, after gun owners flocked to buy the accessory in the days following the deadly shooting, many fearing it would be banned. Several guns in Paddock's room at Mandalay Bay hotel featured the modification, officials said.
Before this week, YouTube users could watch videos on how to attach bump stocks to guns and how to fashion homemade bump stocks (which were popular even before the invention of the Slide Fire bump stock) with tools like belts.
YouTube is full of gun enthusiast videos, handgun tutorials, "funny gun fails," home videos of children firing weapons and fetish videos of bikini-clad women using high-powered weaponry. Such videos apparently do not violate YouTube's standards.
The company, like many other platforms, has been criticized before for failing to monitor and block hateful or dangerous content from its website. In February, YouTube canceled a season of a reality show hosted by popular vlogger PewDiePie after he posted about an anti-Semitic prank he pulled for a video, in which he paid people $5 to hold up signs that read "Death to All Jews." It recently began to block accounts linked to white supremacists. It confused researchers in September when it banned videos from a popular North Korean channel, The Washington Post reported.
Most gun regulation attempts are contentious, but the bump stock is one area where both sides are finding agreement. Legislators have agreed across the aisle to ban bump stocks, and even the National Rifle Association released a statement last week that it would call for the same thing, but only on the condition that lawmakers passed concealed-carry reciprocity. The move sparked criticism, and the legislation is one of the NRA's biggest goals at the moment—it would allow gun owners with concealed carry permits to use those permits in other states, despite the differences in state laws and requirements for those permits.