Bump-Stock Sales Are Spiking After Stephen Paddock's Las Vegas Massacre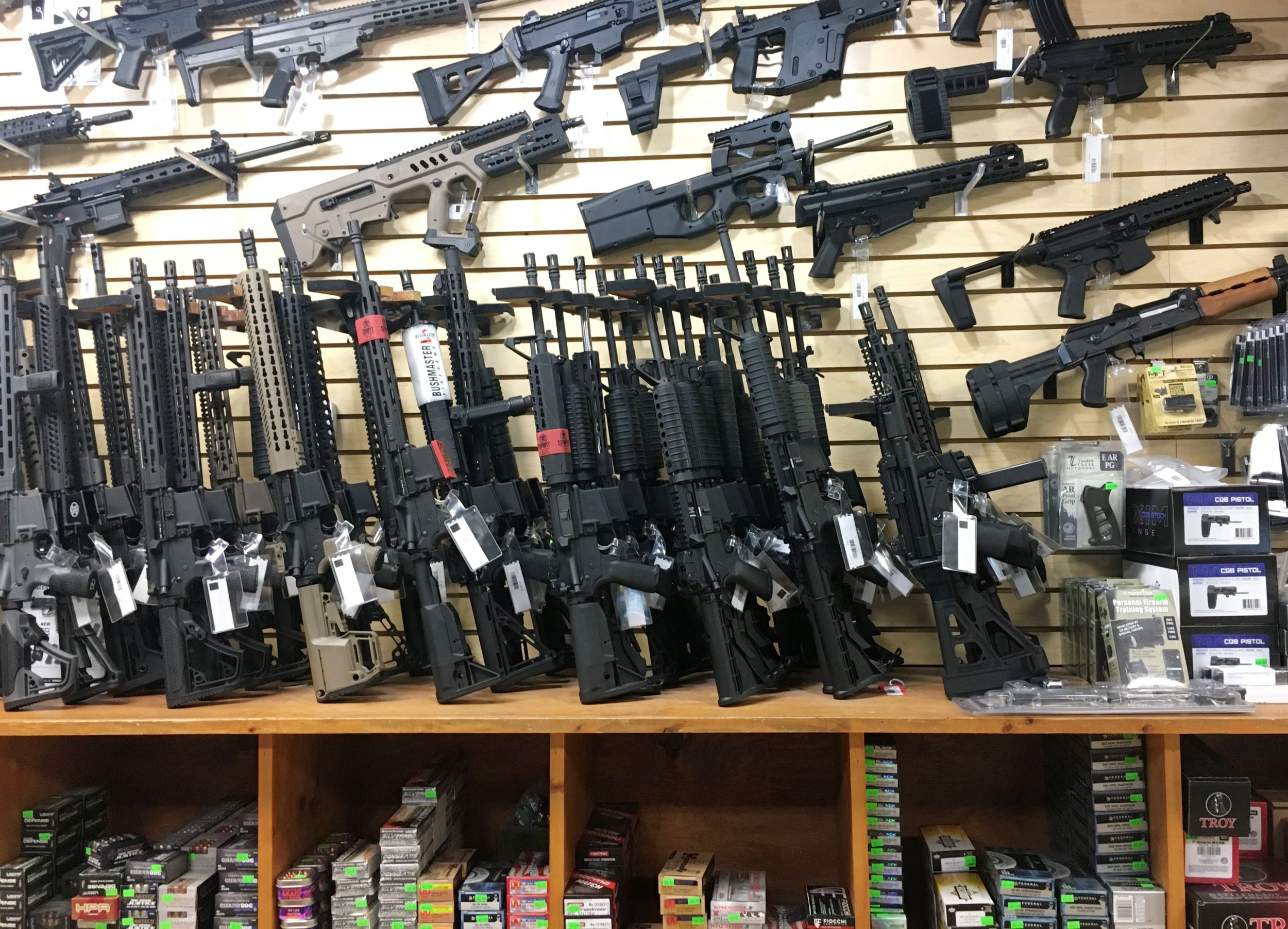 The Las Vegas shooting that left 58 people dead and more than 500 injured has placed new attention on the "bump-stock" device that Stephen Paddock had 12 of to enhance his semi-automatic rifle arsenal at the Mandalay Bay Hotel. In the wake of the massacre, sales of the modification that allows these weapons to fire like fully-automatic rifles have spiked—and in some cases bump-stocks are selling out.
In the wake of the killing there have been renewed calls for greater gun controls to prevent the ownership of dozens of weapons, some of which can be legally modified to be as effective and dangerous as a fully-functioning assault rifle. There have even been calls for the "bump-stock" to be outlawed.
With that in mind, gun enthusiasts appear to be getting out their wallets and spending their hard-earned cash on the devices before any action is taken.
Newsweek reviewed the online stores of at least six gun retailers whose stock of the device were sold out. A seventh, Earthquake Targets, allowed the potential purchase of 12 bump-stocks, the same number officials say that Paddock used, at a price of $389.99 each.
But not all retailers are allowing the sale of the device. Both Walmart and Cabela's, two of the biggest gun and gun accessory retailers in the U.S., appear to have stopped selling the bump-stock, according to online searches.
Slide Fire, a top manufacturer of the bump-stock, took down sales of the device from its website, instead posting a notice that read: "We have decided to temporarily suspend taking new orders in order to provide the best service with those already placed." Firearms retailer militarygunsupply.com had also removed the SSAK-47 XRS AK-47 Slide Fire Stock at the time of writing, other bump-stocks on the site were labelled as "sold out."
Newsweek has reached out to Walmart, Cabela's and militarygunsupply.com for comment.
The continued sale of bump-stocks is of concern to lawmakers, even those who have long resisted attempts to thwart the sale of guns and gun accessories. Top Republicans in the U.S. Congress have admitted that they would be open to a ban of the device.
"I own a lot of guns, and as a hunter and sportsman, I think that's our right as Americans, but I don't understand the use of this bump-stock," Senator John Cornyn of Texas, the No. 2 Republican in the Senate, told the New York Times, adding, "It seems like it's an obvious area we ought to explore and see if it's something Congress needs to act on."
Representative Bill Flores, Republican of Texas, called for an outright ban on the conversion device.
"I think they should be banned," Mr. Flores told the newspaper The Hill. "There's no reason for a typical gun owner to own anything that converts a semiautomatic to something that behaves like an automatic."
The fear is that with the continued sale of the device, copy-cat attacks could emerge in which they are used.
"Due to the high number of casualties, other self-motivated individuals are likely to be increasingly attracted to using automatic weapons," John Raines, head of political risk at IHS Markit, a London-based defense consultancy, said. The closest one can legally get to bearing an automatic rifle in the U.S. is by modifying a semi-automatic weapon.
Fully automatic weapons have been banned in the U.S. since 1986, but there are permissable attachments that allow legal guns to fire the same clip with one pull, enabling gun enthusiasts like Paddock to soup up their weapons and to cause such carnage.
The bump-stock has been rumored to have been originally created to help with accessibility for disabled gun enthusiasts, but the device now appears to be being used for something totally different: firing a gun and its bullets as fast as possible.
Whereas a semi-automatic requires the trigger to be pulled after firing each round, a semi-automatic rifle with a modified bump-stock would only require one pull as the device's spring mechanism effectively pulls the trigger over and over.
The modification means that the rifle used is still legal and not an outlawed fully automatic weapon—even though it acts like one.
The removal of the need to pull the trigger after every round means there is a crucial difference in gunfire frequency. The one pull on a modified semi-automatic rifle can allow for an entire magazine to be unloaded without pause.
Because it only technically resembles a fully-automatic and is not actually converted into one, the Bureau of Alcohol, Tobacco, Firearms and Explosives—the body that decides if such devices are legal or not—appear unlikely to withdraw their sale, as it believes them to be fully permissable in the U.S.
"Bump fire stocks, while simulating automatic fire, do not actually alter the firearm to fire automatically, making them legal under current federal law," Jill A. Snyder, the organisation's Special Agent in Charge, said at a press conference late Tuesday.
So, as the debate surrounding bump-stocks rages on, retailers will likely be able to keep refilling their stocks, and gun enthusiasts will keep adding to their arsenals.