Bundy Drops Republican Party, Will Run as Independent in Idaho Gov Race
Citing the "corrupt and wicked state of the Idaho Republican Party," anti-government activist Ammon Bundy said he'll ditch the GOP and pursue an independent bid for governor of the state.
Bundy's announcement Thursday marks his full break with the Republican party, which remains dominant in Idaho but never fully embraced the activist known for high-profile standoffs with the government.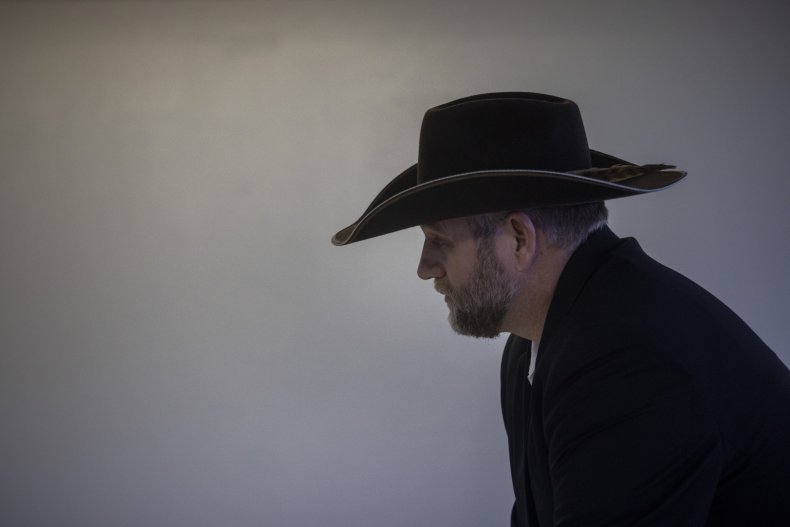 In a statement announcing his departure, Bundy described his situation as a "conundrum," wanting to stand behind the Republican party platform but being repelled by what he called the "filth and corruption" of the party's establishment.
"Because of the corrupt and wicked state of the Idaho Republican Party establishment I have considered several times of un-affiliating myself with the party and running as an Independent candidate," he said in the statement.
The statement pointed to embarrassing incidents involving Idaho GOP officials. Those referenced include how party chair Jonathan Parker was arrested in 2019 on stalking charges after police found him wearing a wig and masturbating. The statement also references U.S. Senator Mike Crapo's 2012 DUI arrest and U.S. Sen. Larry Craig's 2007 arrest for soliciting sex in a Minnesota men's room.
"On top of this the Idaho Republican establishment lead by [current Governor] Brad Little have put forth liberal, Democrat policies like increased welfare, meanwhile shoving the Republican Party platform of limited government, fiscal responsibility, and ending abortion in the garbage," Bundy said in the statement.
Idaho voters will cast their ballots in November for governor, an office Democrats haven't won since 1990. Little has drawn multiple GOP challengers, including Lt. Gov. Janice McGeachin.
Bundy received a frosty reception from the Idaho Republican Party when he registered to run for the position last year. Party Chairman Tom Luna issued a statement in June saying the party will not "support his antics or his chaotic political theater."
In 2020, Bundy was banned from the Idaho State Capitol for a year after being arrested for protesting COVID-19 measures. Previously, he rose to national prominence for helping lead an armed standoff against the federal government at the Malheur National Wildlife Refuge in Oregon. He was arrested for this role but acquitted at trial.
Before that, Bundy was involved in a 2014 standoff in Nevada with federal officials after his father, Cliven Bundy, refused to pay grazing fees for his cattle.
Bundy has also diverged from party orthodoxy. He's criticized former President Donald Trump's hardline stance on immigration. The Idaho Republican Party has also accused him of trying to divide the party by voicing support for the Black Lives Matter movement and calls to defund the police.
"I was going to go to a rally with the Black Lives Matter and support defunding the police because yes, the police need to be defunded," Bundy said in a Facebook video posted July 2020.
Newsweek has reached out to Bundy's campaign and the Idaho Republican Party for comment.