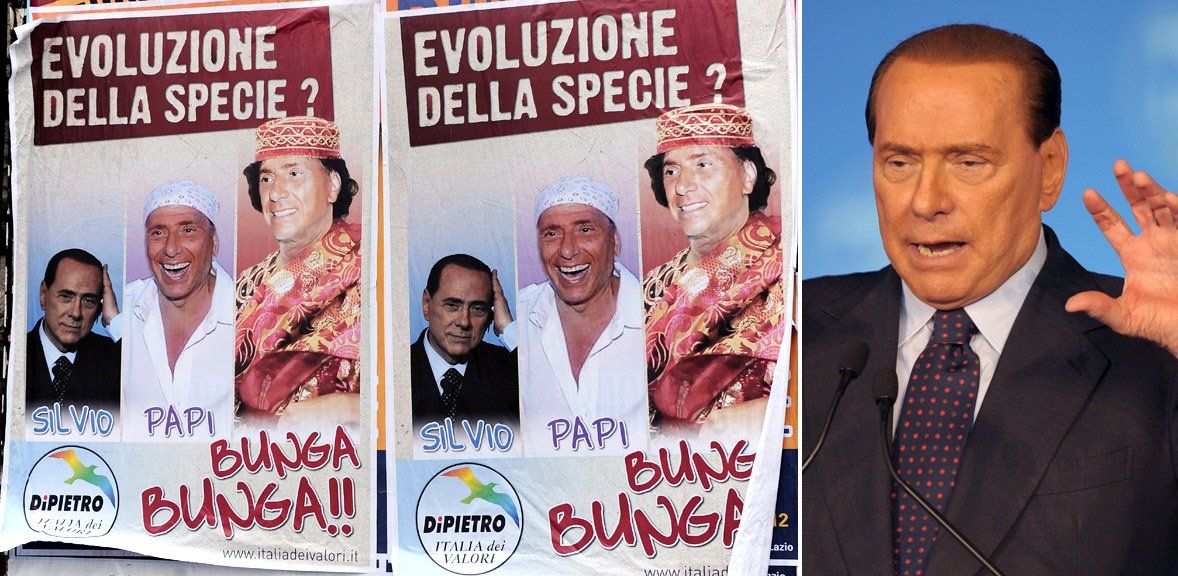 A year ago, the ex-wife of Silvio Berlusconi publicly asked whether he was ill when she announced their divorce. Now Italian media and others are wondering the same thing, as the country is rocked by a salacious new sex scandal that involves the prime minister, a teenage prostitute, a bevy of nude women, and something called bunga-bunga.
This is not the first time that the 74-year-old, center-right prime minister has been caught up in this kind of scandal. Just last year he was forced to deny charges that he had paid for sex and become involved with a teenage girl. This time he is alleged to have invited a prostitute, Karima el-Mahroug—better known as Ruby the Heartbreaker, and who was 17 at the time—to at least two parties at his villa near Milan this year, and to have showered her with cash and expensive jewelry. Ruby, a Moroccan belly dancer who is now 18, has testified in front of Milan's prosecutors that one of these parties included "bunga-bunga," a kind of orgy. The party supposedly featured a naked Berlusconi and 20 nude female guests.
Ruby has denied having sex with Berlusconi and has said she lied to him about her age, telling him she was 24. She added that Berlusconi explained bunga-bunga was a ritual he had imported from the Libyan leader. "Silvio told me that he'd copied that formula from Muammar Kaddafi," she said to prosecutors. "It's a ritual of his [Kaddafi's] African harem," she added, according to the daily La Repubblica, which also reported that the prime minister called Milan police to try to get the teenager out of trouble when she was arrested in a separate theft case, telling the cops she was a relative of Egyptian President Hosni Mubarak. That claim then forced Egypt's embassy in Rome to deny any link between Ruby and Mubarak, the report said.
Berlusconi acknowledges knowing Ruby and making a phone call on her behalf to police, but says he was merely offering routine assistance to a person from a disadvantaged background. And he has publicly dismissed the media reports about his behavior as trash. Besides these allegations, Italian newspapers have recently reported that a former escort, Nadia Macri, has been describing to prosecutors in Palermo sex parties at the prime minister's villas. Another daily, Corriere Della Sera, reports that she claims to have been paid €10,000 (about $14,000) for their sexual encounters.
At least for now, it doesn't appear that Berlusconi has broken any laws. Milan's chief prosecutor says there are no grounds for bringing a case against the prime minister for abusing his position. And even if Ruby's allegations are true, the age of consent in Italy is 14 and prostitution is not illegal, although profiting from it is.
Bunga-bunga—a term that has already taken on a life of its own in Italian gossip—is more of a political problem. The Ruby matter has caused the powerful entrepreneurs' lobbying group, Confindustria, to criticize Berlusconi. Emma Marcegaglia, head of Confindustria, said it is necessary to recover "a sense of dignity, otherwise it is not possible to go ahead." And the Roman Catholic Church, which previously was mild in its comments about the prime minister, has taken a stronger stance now. The daily of the Italian bishops, Avvenire, wrote that "personal sobriety and decorous respect of the public office one represents is the minimum [standard expected of the country's leader]."
The viability of Berlusconi's government has been in question since his split in July from his former ally, the president of the lower chamber, Gianfranco Fini, who is now creating his own party. If that new party were to vote with the opposition in Parliament, the combination would have the numbers to topple Berlusconi. Even right-wing newspapers have begun to question the prime minister's behavior, and in private some of his supporters acknowledge that they are no longer sure he is fit to lead.
At a rally on Sunday, Fini said members of his party would support a new Berlusconi-led government only if the prime minister agreed to certain terms, which include an enlargement of the coalition and a new electoral law. If Berlusconi were not to agree, members of Fini's party would resign from the government, Fini said. But Berlusconi, according to sources quoted by Italian news agencies, has said he has no intention of quitting. "Fini could force Berlusconi to step down, but not before January or February, since his [Fini's] party is not organized yet," says Gianluca Giansante, author of a book on Berlusconi's sex scandals.
While waiting for the showdown, Berlusconi can continue to govern and, presumably, party. That will leave the country, and everyone else, to continue wondering if Italy, the sickest country in Europe, with the European Union's largest debt at around 120 percent of GDP, is run by a prime minister who is also "sick."