Bunny Mellon, the Secret-Keeper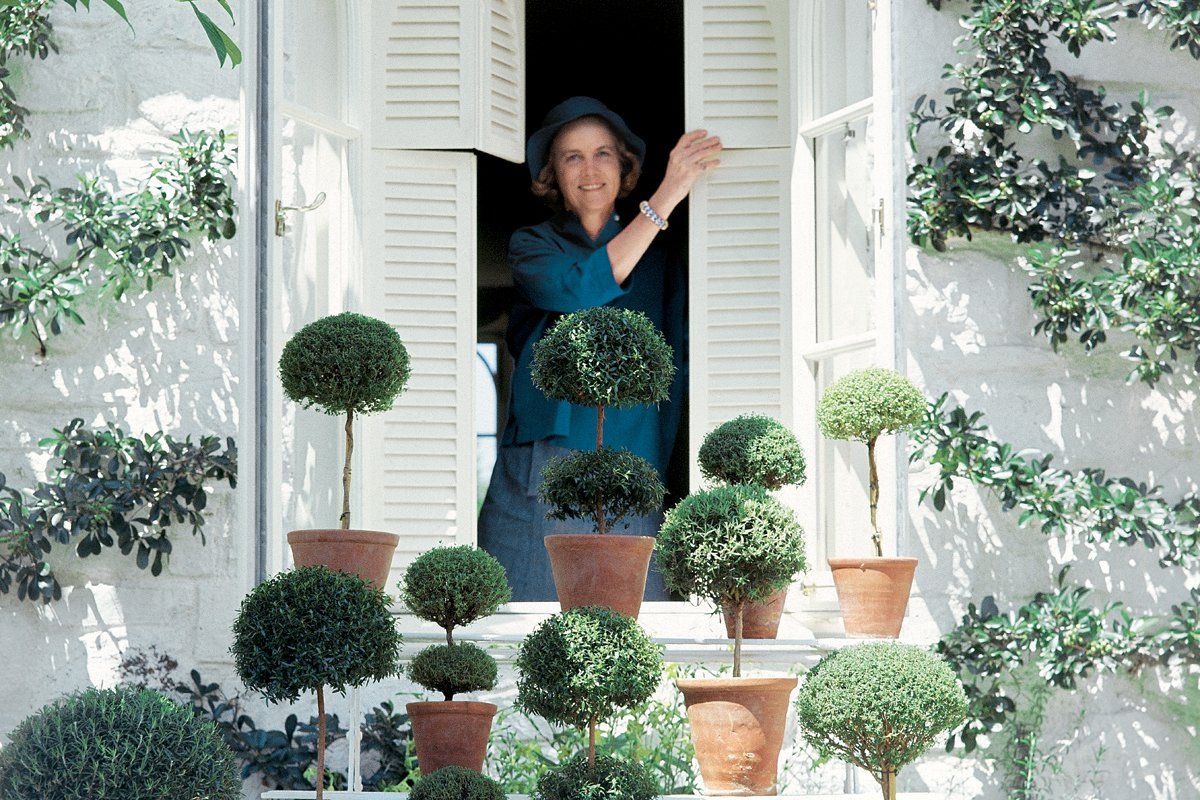 The voice on the phone was frail but clear, with a hint of Southern gentility. "I have to tell you, my dear, I hate publicity," said Rachel "Bunny" Mellon. "I don't know what I've done that has made people so interested in me, more than anyone else." Mellon, now blind, lives in luxurious seclusion on her 2,000-acre Virginia farm, cosseted by a staff of 120 loyal retainers. She had not given an extended interview in more than a quarter century.
Until recently the philanthropist, whose net worth exceeds $400 million, was primarily known as a passionate gardener and discreet woman with a discerning eye. As Jackie Kennedy's closest confidante, she helped decorate the White House, redesigned the Rose Garden, presided over the floral arrangements for JFK's bier, and remained an intimate to the first lady until Jackie's death. As the second wife of financier Paul Mellon, she helped him amass a renowned art collection, hundreds of works ranging from Cézannes to Rothkos, either donated to the National Gallery in Washington or still hanging on her walls.
Yet now the private Mellon, who turns 101 on Aug. 9, has become front-page news for her unwitting involvement in two unrelated criminal cases. Prosecutors have charged that she gave $725,000 to former presidential candidate John Edwards in 2007 and 2008, which he used to conceal his extramarital affair with Rielle Hunter and the existence of their child. Mellon has not been accused of wrongdoing (she even paid gift taxes), but Edwards was indicted in June for violating campaign-finance laws. He pleaded not guilty and is preparing for trial this fall. A key issue: did Edwards solicit the money to salvage his presidential campaign, or was this an attempt to prevent is cancer-stricken wife, Elizabeth, from learning of the romance?
Through it all, she remains an enthusiastic defender of the former North Carolina senator. "He would have been a great president," insists Mellon, who has been interviewed by the FBI but is not expected to testify. "He and I were great friends. Every time he'd go on a debate against Hillary, he'd call and we'd talk…I was so surprised when this thing came up." Stressing that her sympathies have always been with Edwards rather than his wife, who died last year from cancer, she confides, "You know that John had a hard time with Elizabeth." Mellon's lawyer Alex Forger elaborates further on his client's attitude: "She was not enamored of his wife and didn't want his wife to know that he was getting money."
The Edwards episode has baffled and upset Mellon's family. "I wish I could have 10 minutes in a room with John Edwards to explain that he's doing nothing but tarnish her legacy and really taking advantage of her," says Thomas Lloyd, her grandson, who testified before the grand jury. His view of his grandmother's relationship with Edwards? "It's a crush." The 35-year-old Lloyd, a Washington investment adviser, adds, "As I explained to the jury, imagine a very handsome man who is well liked and respected, and there are two women vying for his affections."
Lloyd reiterates that John Edwards remains in his grandmother's good graces. "He's done a very good job of maintaining the sense that 'Bunny, I want to be your friend; Bunny, feel sorry for me in this predicament, we'll get through this together,'" says Lloyd. "I think it's awful." After prosecutors learned that Edwards had visited Mellon on May 26—even as his lawyers were conducting unsuccessful plea-bargain negotiations prior to the indictment—he was banned from contacting his benefactor.
Mellon comes across as a woman with her faculties fully intact. "If you are 100 years old, you get to like who you like," says gardening writer Mac Griswold, Mellon's friend for a half century. "I don't think she's been gullible." Lloyd, who was questioned by the grand jury about whether she was coerced, says with a laugh, "You can't tell my grandmother what to do. She's going to do what she wants, and that's the way it's going to be."
For a woman who spurns publicity, this has been a rough year. In March her longtime investment adviser Ken Starr received a seven-and-a-half-year jail sentence for running a Ponzi scheme and stealing $33 million from clients, including $5.75 million from Mellon and $3 million from her son Stacey Lloyd III.
"It was just terrible because I trusted him, and we're in sort of a hole because of that, and it hasn't been returned," admits Mellon, who is in danger of losing another $6 million in investments made by Starr that are now underwater. With other estates on Antigua, Cape Cod, and Nantucket (the two Paris apartments and the New York townhouse have been recently sold), Mellon is experiencing that WASP nightmare—living on principal. As her lawyer Alex Forger puts it, "She's well off, but her assets are not liquid."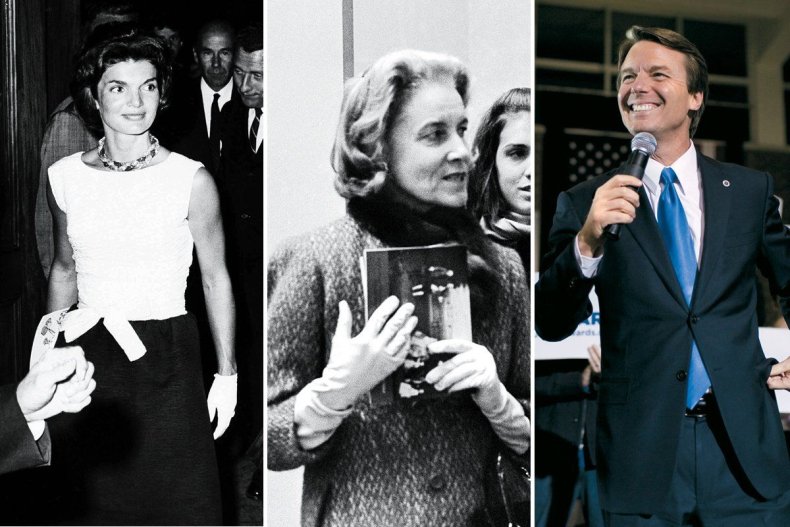 Mellon and her late husband Paul recommended Starr to friends, and she is mortified that they have suffered, saying, "The worse thing is the people he stole money from." Novelist Jane Stanton Hitchcock, who with her mother, Joan Alexander, alerted authorities to Starr's scam, explains, "The Mellons were the gold standard of integrity, and my parents felt that Ken would live up to their trust. It's sad that he didn't."
Bunny Mellon's health has deteriorated due to a bad fall, a bout with cancer, and the onset of macular degeneration. Her days of pruning in the garden are over, but she still swims and does Pilates. Forever blonde, tall, and slender, she greets visitors in cotton shirts or cashmere twin sets, accented with pearls and Schlumberger bracelets. "I had a serious operation a little while ago, and ever since then I've been very, very weak," Mellon says. "I'm going along on very weak wheels." Most distressing is her loss of vision. "It's hard being 100 and blind. I don't mind being 100, I can cope with that, but not seeing is very scary." Then she adds, "I'm very busy. I can't write, but I dictate, I talk to people. I have so much to do."
Ever since she married Paul Mellon in 1948, she has been consumed by turning his Virginia farm into a magnificent showcase. Old stone walls surround the sun-dappled rolling fields, which feature two enormous greenhouses and a football-field-size cutting garden with branches of fruit trees entwined in a not-seen-in-nature pattern. Hidden from view is a separate library for her collection of 10,000 volumes on horticulture, a pool house designed by I. M. Pei, and the home that Bunny built 60 years ago. Even now she is making improvements. She is building what she calls a "memory house," a building that will feature artwork by her daughter, Eliza, who died in 2008, as well as photographs and objects from a lifetime of gracious living. She goes over daily to inquire about construction, a woman caught between present and past.
And what a past it was. Bunny Mellon is aristocratic American history personified, a woman who has entertained two generations of British royalty (Queen Elizabeth and Prince Philip in 1957 and, three decades later, Charles and Di), lent her jet and accompanied Jackie Kennedy to Martin Luther King Jr.'s funeral, gardened in clothes designed by Givenchy, and searched the world for art treasures with an open checkbook and an astute eye. As society bandleader Peter Duchin says, "Bunny is a person with wonderful taste. She's a classic, the epitome of a society that is no longer with us."
She was born into a well-to-do Princeton family. One of her grandfathers, chemist Jordan Lambert, invented Listerine, but it was her father, Gerard Lambert, an advertising innovator, who turned it into a hit product by marketing the antiseptic as a cure for halitosis. Bunny made her debut in October 1929 and three years later married the socially connected Stacy Lloyd Jr. Settling in Virginia, they had a circle that included Paul Mellon, the wealthy son of Herbert Hoover's Treasury secretary. During World War II, Lloyd and Mellon roomed together in London, where both worked for the Office of Strategic Services, the predecessor to the CIA. Once the war ended, as Paul Mellon wrote in his autobiography, Reflections in a Silver Spoon, both men found it difficult to resume married life. In October 1946, as the Mellons were riding home together after fox hunting, Paul's wife, Mary, suffered a severe asthma attack, dying hours later. Bunny Lloyd made a condolence call; Mellon wrote that she was "very kind and understanding over my distress." Indeed. She quickly divorced her husband, and in May 1948 she and Mellon wed.
He gave her a life of infinite luxury—The Washington Post once pronounced Bunny the "Most Envied Hostess in the Country Today"—but at a cost. Scarred by his parents' acrimonious divorce, Paul proved to be an emotionally remote husband with a wandering eye. His affairs were an open secret. Bunny tolerated his paramours, even inviting one mistress to join them at their Antigua estate. She described that trip to a friend, who told me: "Paul and Bunny slept apart…She was very funny about it. She'd long since given up being upset."
The centenarian's friends view her tolerant attitude to John Edwards's affair as an outgrowth of her own marital experiences. Mac Griswold says, "I think her view is that he's a cute guy and he's allowed to fool around if he likes. The life she's led was all about that kind of thing."
Her solace was her gardens, and she took enormous pleasure in designing gardens for herself and friends. Paul Mellon once told The Washington Post, "The thing I envy about Bunny is that from the age of 5 or 6, her whole life has been occupied by horticulture, by one consuming thing." Small wonder that Bunny and Jackie Kennedy, introduced in 1957, would become confidantes. "Jackie Kennedy Onassis and I were the best of friends," Mellon recalls, her voice wistful in memory. Jane Stanton Hitchcock says, "Jackie told me that she thought Bunny was a visual genius." During Camelot, Mellon was ever-present at the White House, quietly underwriting Jackie's extravagant entertaining. Letitia Baldrige, Jackie's White House social secretary, recalls, "They were very close. Mrs. Mellon had exquisite taste, and what Jackie admired most of all was the way she taught other people."
Bunny Mellon has outlived most of her intimates. Jackie Onassis, 19 years her junior, died in 1994; Paul Mellon died five years later after a lingering illness. In May 2000, Bunny's daughter from her first marriage, Eliza Lloyd, was crossing the street in Manhattan when she was hit by a truck, suffering a severe brain injury. Rendered a paraplegic and unable to speak, Eliza was transported to her mother's farm for round-the-clock care, surviving for eight years.
This could have made for a grim existence. But Mellon struck up new life-affirming friendships with much younger, artistic men. Robert Isabell, the talented New York floral designer who worked on Caroline Kennedy's 1984 wedding, became an integral part of Mellon's life. They would talk about flowers for hours, mesmerized by one another's company. "They were on the same wavelength," says one of Isabell's friends. "Bunny gave him validation, after all those ass-kissing socialites who mistreated him."
Another friend was Bryan Huffman, a 47-year-old North Carolina decorator who got to know Mellon after visiting a church she helped design and underwrite. "I thought the church was charming and sent her a little note," he recalls. "She called and invited me to lunch."
Huffman introduced Mellon to John Edwards in 2006. She had been an admirer from afar, buying an ad in her local newspaper three years earlier trumpeting Edwards's candidacy. She says she was drawn to him by "his very deep intelligence. He was wise, he was clear, he was a very good person. I don't like complicated people." She contributed more than $3.5 million to Edwards's issues organization and to PACs supporting his candidacy. The indictment quotes a note from Mellon: "I was sitting alone in a grim mood, furious that the press attacked Senator Edwards on the price of a haircut. But it inspired me: 'From now on, all haircuts, etc., that are important for his campaign, please send the bills to me. It is a way to help our friend without government restrictions.'?" According to the indictment, Edwards and his aide Andrew Young asked her for personal cash for the senator.
With Huffman's help, Mellon began sending checks to the decorator marked "an antique Charleston table" and "bookcases." According to the indictment, Huffman signed over the checks to Young. The aide used the money to pay expenses for Rielle Hunter and his own family, as they lived together during much of Hunter's pregnancy to maintain the charade. "It's been like falling down the rabbit hole with Alice in Wonderland," says Huffman, who rues introducing the heiress to the senator. He claims, "Bunny and I were the last people on earth who knew about the girlfriend and the baby."
The events of the past five years—the death of her daughter, Ken Starr's betrayal, the indictment of Edwards—might leave less hardy souls reaching for Prozac. Yet Bunny Mellon cheerfully carries on. One weekend in June, she beamed as her 3-year-old great-granddaughter, Fiona, put stickers all over her arms. Lloyd, her grandson, says, "I don't think there's ever going to be a moment for her to sit back and reflect."
Her birthday plans are uncertain but are likely to mimic last year's modest festivities—a lunch at the farm for family members plus Caroline Kennedy, Huffman, and Forger. While Mellon is leaving bequests to her family, the bulk of her estate will go to a foundation, financing a library and school for arborists. Most of her modern-art collection will be sold, along with three quarters of the acreage of the farm. She is not afraid to face the future. "I may not be here a year from now," she tells me. "That's why I want to do this story now," I reply. She laughs, saying, "Oh, you're bad. Just plain bad." In her patrician voice she adds, "I'll have to put my trust in you and God. Write it nice, friendly, nongossipy. Be kind. Calm it down, calm it down."
Gordon, a veteran journalist, is the author ofMrs. Astor Regrets.