Is Burger King Really Testing the French Fry Sandwich Again? Wendy's Trolls Latest Gimmick
Burger King is doing what nobody has asked for—launching a "French Fry Sandwich".
According to Burger King's website, the new addition is described as: "Crispy golden fries, mayo and ketchup, nestled between two soft buns." It also writes that its dish is "fit for a King at a price fit for everyone".
The trial is taking place in New Zealand—sorry, U.S. readers—and has already seen some critical reviews from foodies. Using the term "chip butty", which originates from the U.K., Kiwi publication The Spinoff gave the new menu item a try.
"Burger King has given us a zero effort option: its own take on the chip butty, featuring its classic burger buns, fries, mayo and ketchup," the review says. For $2 ($1.29 in US Dollars), New Zealanders can get stuck into the new sandwich, which is part of the "change range" according to the publication.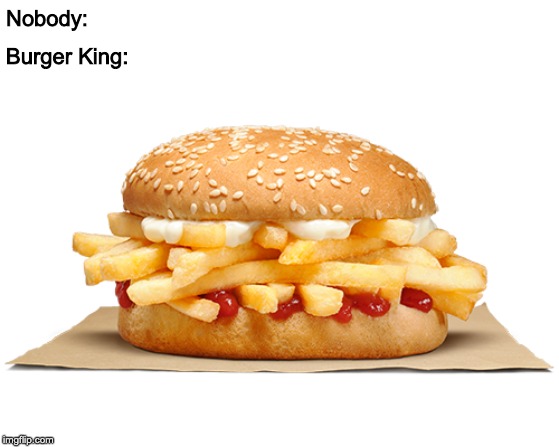 However, the dish caused mixed reactions. Staffer Josie Adams writes: "I thought this would spoil my lunch but instead it spoiled my day." Ouch.
"The more I think about it, the more I realize that what I actually wanted was a burger, and I'm sorry to this butty for expecting more," Adams concludes.
Wendy's, which is considered a competitor to Burger King, also didn't seem very impressed. Taking to Twitter to comment on the new menu addition, the brand says: "When literally anything would be better on a bun than their beef." Newsweek has contacted Burger King for comment.
Users on the platform were all for Wendy's trolling, with one commenting, "Please tell me this is a joke," and the brand responding, "Their whole restaurant is."
An innocent fast food restaurant then got caught in the crossfire, with another Twitter account writing, "Do yall got beef with burger king and McDonald's". Again, totally tongue in cheek, Wendy's replied: "We have beef. No idea what they have."
It's not the first time Burger King has released such a sandwich. As reported by the Associated Press and Yahoo! News, in 2013 the restaurant released a "French Fry Burger" for $1 in an attempt to compete with McDonald's Dollar Menu.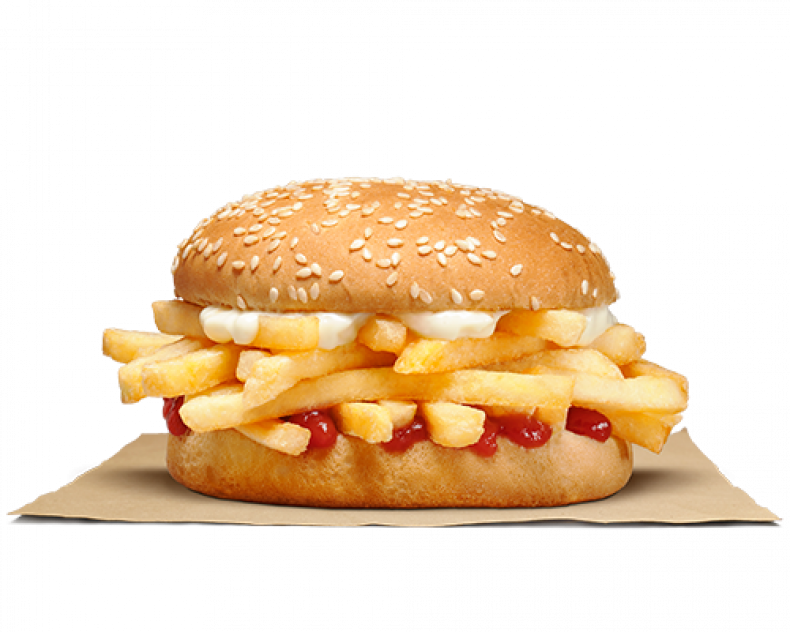 Writing in August 2013, Associated Press said the burger was released in September 2013 and was a standard beef patty topped with four french fries. However, international publication The Week didn't approve of the addition. In its article "Why Burger King's French Fry Burger is a bust", journalist Carmel Lobello wrote that food critics from Bloomberg Businessweek, The Daily Beast and New York's Grub Street were "underwhelmed by both the concept and the taste".
Journalist Vanessa Wong at Bloomberg Businessweek also didn't rate the burger because, as she pointed out, it had been at the chain since the "beginning of time."
"You can already have this amazing concoction any time you want," she writes. "It's not like the stores don't always have fries, and hey, 'Your way, right away,' right?"
Another thought why the burger failed in 2013 was due to the chain losing its top spot to Wendy's in the same year.
The "Chip Butty" is available from Burger King in New Zealand for $2 ($1.29 USD).