Burger King Impossible Burger Locations: Which Stores Sell the Meatless Whopper and Where It'll Arrive Next
More Burger King locations are now selling the meatless Impossible Burger. Find out when and where you can buy the Impossible Whopper, here.
On Tuesday, Burger King began rolling out its Impossible Whopper to new locations across the U.S. The fast-food outlet has partnered with Impossible Meats, and first launched its meatless burger offering in St. Louis, Missouri last month. The Impossible Whopper was so well-received that in its quarterly earnings call, Burger King announced it would be rolling out the meatless burger across all of its 7,200 stores nationwide by the end of 2019. The latest cities to offer the new burger are Miami, Florida, Columbus, Georgia and Montgomery, Alabama. The burger can be found in any Burger King location in these four major cities starting May 14.
Burger King's expansion into meat alternatives isn't surprising, as consumer interest in plant-based protein is at an all-time high. With its new Impossible Whopper, Burger King is hoping to provide burger lovers a healthier version of their signature offering, while still satisfying the craving for fast food.
"We have been very gratified to have such a great partner in Burger King," Impossible Meat CFO David Lee told Newsweek . "I think what it says is that the mass consumer of meat is ready for good-tasting Impossible Whoppers."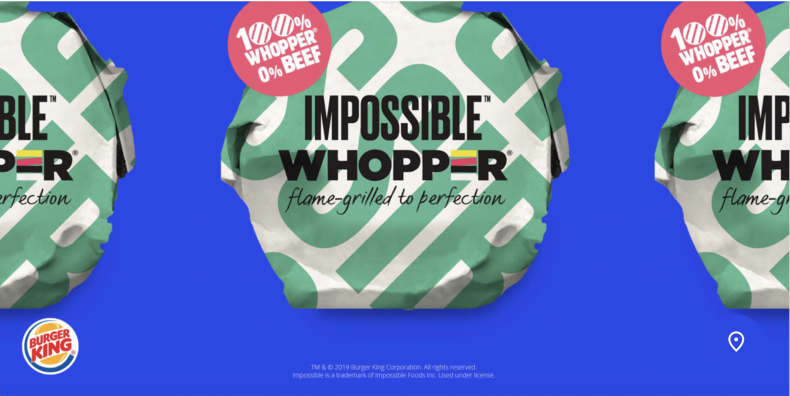 According to Lee, more than 90 percent of the customers purchasing the Impossible Whopper at Burger King are "self-avowed meat eaters," which points to a growing interest in alternative protein sources among average Americans. When compared with the classic Whopper, the Impossible version offers some positive health benefits. The plant-based burger has the same amount of high-quality protein and iron as the original Whopper, but contains no cholesterol, has less fat and about 10 percent fewer calories. By all accounts, the heme protein in the burger also gives it a decidedly more "meaty" flavor than the typical soy burger, making the transition to plant-based protein all the easier.
"People are willing to try a great new burger if it hits the spot on craveability and it makes them feel better about their choice," said Lee.
While Burger King provides a massive client base for Impossible Meats' products, the company has seen high levels of demand for other products in their lineup as well. The demand has grown to such an extent that the company has been experiencing product shortages. To meet the demand, Impossible Meats has raised an additional $300 million in funding to provide more of the products consumers desire.
Burger King Impossible Whopper Tour Dates: When Will the Van Be in My Area?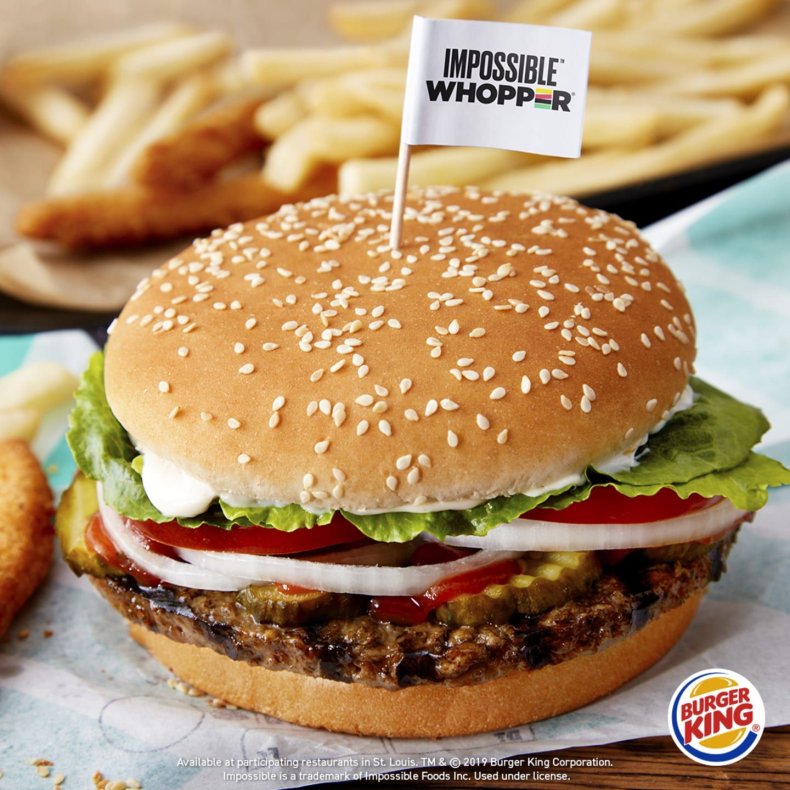 If you happen to be one of the lucky folks who live in Miami, Columbus or Montgomery, Burger King has planned a series of fun events to celebrate the launch of Impossible Whopper. The events include an Impossible Burger bus tour that will be making its way through the three cities, bringing games, music and swag to the people of the city. The Impossible Whopper bus is set to begin its tour May 16-18 in Miami, followed by Columbus on May 20 and 21 and Montgomery on May 22. While not every date and location for the tour bus has been announced yet, information about the events will be posted on Burger King's Official Facebook Page . Here are the events that have been announced so far:
Thursday, May 16
9 a.m. - 12 p.m. - Burger King located at 9201 S. Dixie Hwy., Miami
2 - 6 p.m. - Burger King located at 7070 Bird Rd., Miami
9 a.m. - 12 p.m. - Burger King located at Wynwood Walls. 2520 NW Second Ave., Miami
2 - 6 p.m. - Burger King located at Wharf. 114 SW North River Dr., Miami
Friday, May 17
9 a.m. - 12 p.m. - at Wynwood Walls. 2520 NW Second Ave., Miami
2 - 6 p.m. - at the Wharf. 114 SW North River Dr., Miami
Saturday, May 18
9 a.m. - 12 p.m. - at Dylan's Candy Bar. 801 Lincoln Rd., Miami Beach
2 - 6 p.m. - at Whopper Bar. 1101 Washington Ave., Miami Beach
What do you think of Burger King's Impossible Whopper? Would you try it? Share your thoughts in the comments below.