Burger King Advert Banned for Encouraging Anti-Fascist 'Milkshaking' Protest Against Nigel Farage
Burger King U.K. has been reprimanded over a tweet which has been ruled to have encouraged a "milkshaking" protest against British politician Nigel Farage.
The Advertising Standards Authority (ASA), the British advertising watchdog, launched an investigation into a tweet sent by the fast-food company in May ahead of Farage's visit to Scotland.
"Dear people of Scotland. We're selling milkshakes all weekend. Have fun. Love BK. #justsaying," the tweet from the official Burger King account read.
The tweet was sent one day after a McDonald's branch in Scottish capital Edinburgh confirmed that it would not be selling milkshakes on the day of Farage's rally following a series of anti-fascist protests which were taking place against British politicians and activists.
Farage previously got "milkshaked" during his public appearance in the English city of Newcastle that same month.
Anti-Islam figurehead Tommy Robinson and far-right politician Carl Benjamin, better known as Youtuber Sargon of Akkad, who is also a member of Farage's former party UKIP, were also doused with milkshakes in what critics argued amounted to political violence.
In a follow-up tweet, Burger King said they were not encouraging violence and the post was merely a tongue in cheek reaction to recent events while also advertising they will still be selling milkshakes in Edinburgh.
"We'd never endorse violence—or wasting our delicious milkshakes! So enjoy the weekend and please drink responsibly people," the tweet said.
The ASA said that they received 24 complaints that the tweet was "irresponsible and offensive" because it appeared to encourage violence and antisocial behavior against Farage.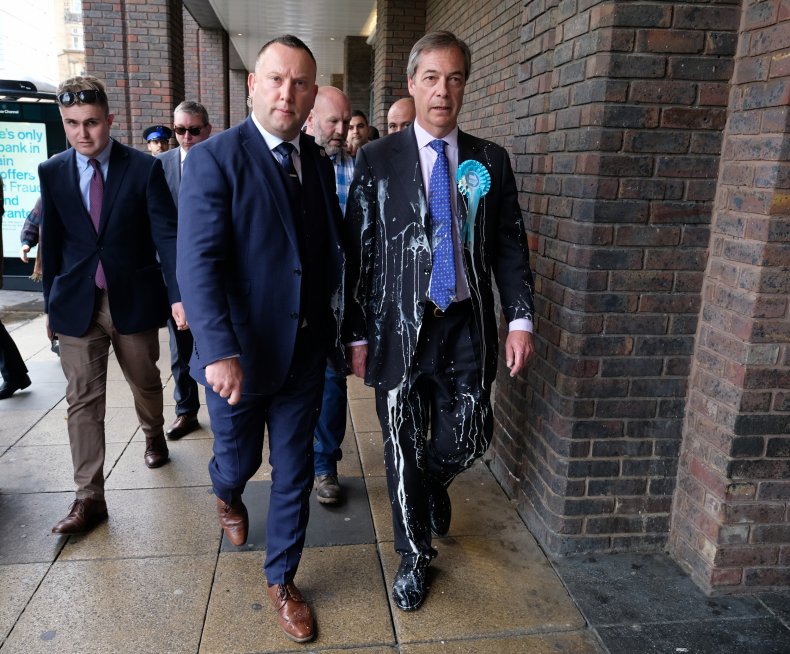 In their ruling, the ASA said because the previous "milkshaking" had been so widely reported in the media at the time, those who saw the tweet were likely to be aware of what had happened and that Farage was due to appear in Scotland.
"Although we acknowledged that the tweet may have been intended as a humorous response to the suspension of milkshake sales by the advertiser's competitor, in the context in which it appeared we considered it would be understood as suggesting that Burger King milkshakes could be used instead by people to 'milkshake' Nigel Farage," the ruling added.
"We considered the ad therefore condoned the previous antisocial behavior and encouraged further instances. We therefore concluded that the ad was irresponsible."
The ASA said the ad must not appear again in its current form and told Burger King they must ensure all future marketing communications did not condone or encourage antisocial behavior.
Paul Crowther, the man responsible for pouring the beverage on the Brexit Party leader in Newcastle, told the BBC: "I didn't know he [Farage] was in town. I thought this is my only chance.
"It's a right of protest against people like him. The bile and the racism he spouts out in this country is far more damaging than a bit of milkshake to his front."
Crowther pleaded guilty to common assault and causing criminal damage to a microphone attached to Farage at the time. He was ordered by a judge to pay for Farage's suit-cleaning bill among other fines after admitting the charges in June, reported The Guardian.