Burger King Uber Eats BOGO Whopper Deal: How to Get Two Sandwiches for the Price of One Throughout November
Burger King is offering customers a buy one, get one free deal on either two Whoppers or two Impossible Whoppers. The offer is valid only through Uber Eats from now through 11.55 p.m. PST, November 26, with no Burger King coupon or Uber Eats promo code required. Burger King announced the new offer on Instagram yesterday.
Customers can order two original Whoppers or two Impossible Whoppers for the price of one. A Burger King Whopper typically sells for $4.19, and the Impossible Whopper typically sells for $5.59, though prices can vary by location.
The Whopper is made with a quarter-pound flame-grilled beef patty, topped with tomatoes, lettuce, pickles, mayonnaise, and white onions on a sesame seed bun. The Impossible Whopper is the same as the original but made with a plant-based patty made from soy protein by Impossible Foods.
According to Impossible Foods, they create the plant-based protein using heme, extracted from soya: "We started by extracting heme from the root nodules of soybean plants, but we knew there was a better way. So we took the DNA from these soy plants and inserted it into a genetically engineered yeast. We ferment this yeast (very similar to the way Belgian beer is made) to produce heme."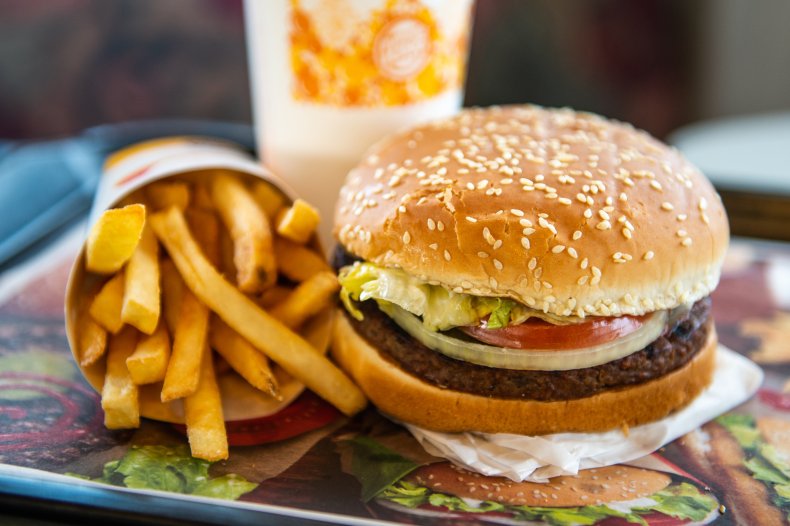 Is the Impossible Whopper vegan?
Despite the patty being plant-based and vegan, as the burger contains mayonnaise and is cooked on the same broiler as beef products, the Impossible Whopper is neither vegan nor vegetarian. However, if a customer asks for the burger to be cooked separately and made without mayo, the Impossible Whopper should then be suitable for vegans.
Burger King recently announced that it would be adding three burgers made with plant-based patties to its menus. The three burgers, the Impossible Whopper Jr, the Impossible Burger, and the Impossible Cheeseburger, will be tested at 180 restaurants in Milwaukee, Cedar Rapids, Augusta, Cincinnati, and Buffalo, before potentially being released nationwide.
Plant-based Meat Alternative Products
Many fast-food restaurants are introducing plant-based meat alternatives to their menus. Denny's released its Beyond Burger, and after a test in Los Angeles, plans to launch the new product nationwide in 2020. Dunkin' made its Beyond Sausage Sandwich available nationwide on November 6 following successful tests in Manhattan. Carl's Jr. has also released two new burgers made with plant-based patties: the Beyond Famous Star Burger and the Beyond BBQ Cheeseburger.
The Impossible Whopper was launched in 9,000 restaurants in August and increased Burger King's sales by 5 percent in the last quarter, according to Business Insider. Burger King will also be releasing a plant-based burger called the Rebel Whopper in 2,400 restaurants across Europe.