Burger King 'Unhappy Meals' Capture All the Feels From Pissed to Yaaas
You can feel any way you like with Burger King's "Real Meals."
On Wednesday, Burger King announced a brand new menu item called "Real Meals," and while they may look like McDonald's iconic Happy Meals, they are anything but.
Whether your feeling, sad, happy, angry or just "meh," Burger King's Real Meals have you covered. On the inside Real Meals look like your standard Whopper, fries and a drink offering, but it's the outside that says it all. With five "moody" containers, customers have the option to feel any way they want to. The meals capture a wide variety of emotions from Pissed off to Salty to that DGAF (don't give a f***) feeling that hits you midweek. And for those that feel a Happy Meal just isn't enough joy, the "YAAAS" meal was made just for them.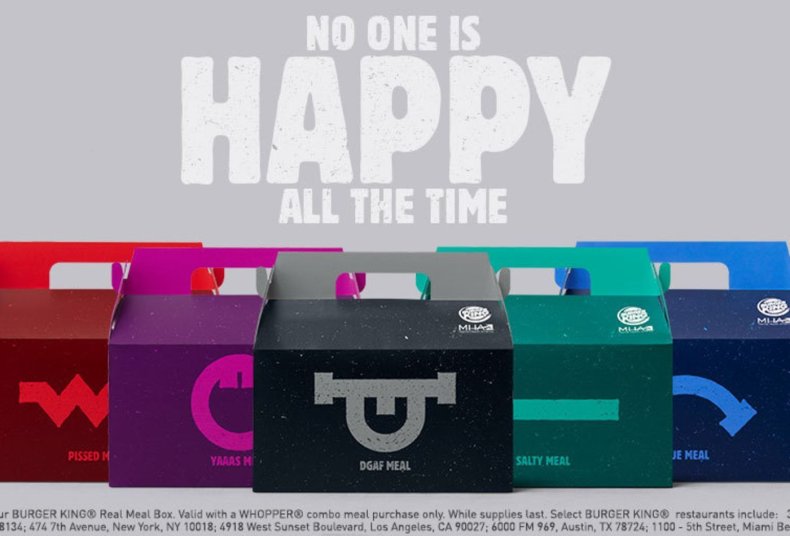 While Burger King's Real Meals may be seen as just another jab at competitor McDonald's, the company is hoping the limited-time offering will raise awareness about an important topic: mental health. May is the official mental health awareness month, and so the company has partnered with Mental Health America to launch its "Feel Your Way" Unhappy Meal campaign. The meals will be available for a limited amount of time in the cities of Austin, Seattle, Miami, Los Angeles, and New York.
Though mental health and fast food may not seem like the most natural pairing, Mental Health America is pleased to have Burger King's internationally recognized brand bringing awareness to the subject.
"Too many people do not understand that mental health is everyone's business and that we need to take all mental health conditions seriously," Paul Gionfriddo, president, and CEO of MHA told Newsweek. "If we wait until crises occur – Stage 4 – before addressing them, recovery is at best difficult and at worst impossible. If we act before Stage 4, with early identification and intervention, people can recover from even serious mental illnesses, and we give everyone hope," said Gionfriddo.
Mental Health America encourages people not to struggle alone with mental illness. If you or someone you know is concerned about their mental health, one of the simplest ways to move toward better mental health is to take an online screening. Since its inception in May 2014, Mental Health America has collected over 4 million screens through their online screening program MHA Screening. Mental Health America now collects around 3,000 screenings daily.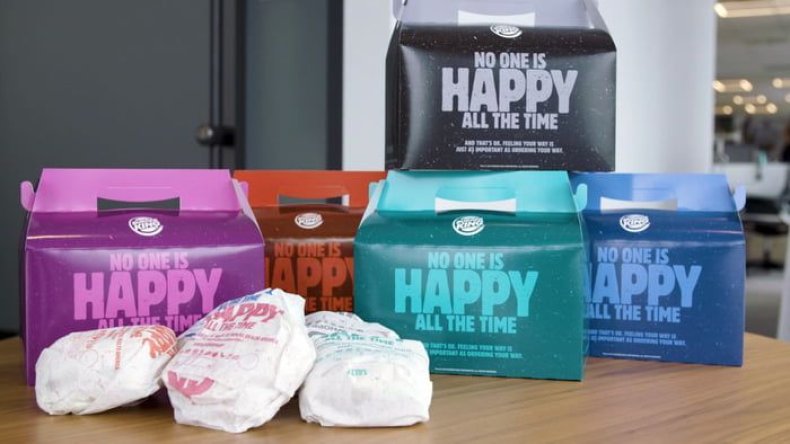 What do you think of Burger King's Real Meal? Are you feeling it? Share your thoughts in the comments below.