Burger King Whopper Is Returning to Its Original Price - Here's Where and How to Buy One
Burger King's iconic Whopper sandwich is turning 64 and the fast food restaurant is offering a "throwback offer that'll flip your lid."
This Friday and Saturday (December 3 and 4), participating restaurants around the U.S. will offer the flame-grilled beef burger for the original price of just 37 cents via the Burger King app or website.
However, before making an order, customers need to be a member of the new Burger King Royal Perks loyalty program to redeem the "birthday bash" deal.
Account registration is required and there is a limit of one burger per account.
Zahra Nurani, head of marketing communications for Burger King North America, said: "In 1957, Burger King changed the game with the introduction of the Whopper sandwich."
Newsweek has contacted Burger King for an update about this deal.
The Whopper is described by the company as a quarter pound of savory flame-grilled beef topped with juicy tomatoes, fresh lettuce, creamy mayonnaise, ketchup, crunchy pickles and sliced white onions on a soft sesame seed bun.
In the 1950s, co-founder of the restaurant chain Insta Burger King Jim McLamore redesigned the company's process for cooking burgers, and his flame-broiled burgers so large, he declared in his autobiography: "[...] we call our product a Whopper, knowing that this would convey the imagery of something big."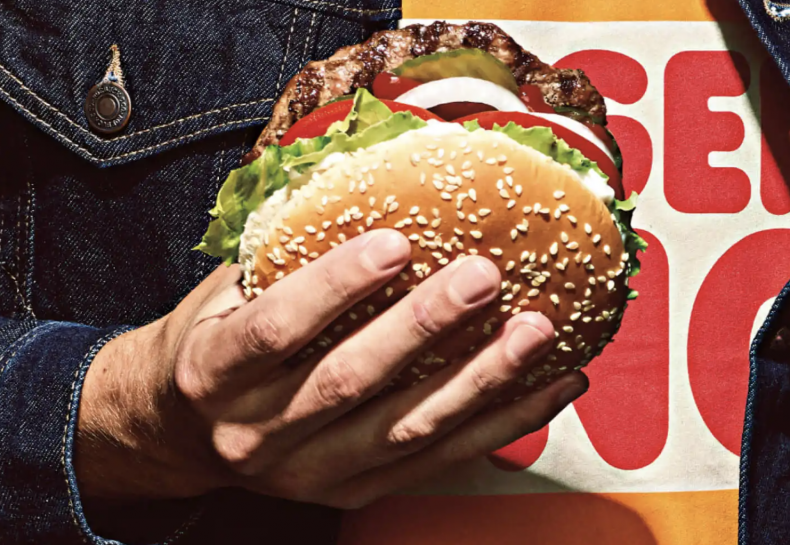 Burger King expanded its Royal Perks rewards program across the country earlier this year, with the famed fast-food chain's parent company, Restaurant Brands International, saying in a statement it was pleased with the early response.
This has been perceived to be part of an attempt to eliminate paper coupons and entice hungry customers to make digital orders.
Ellie Doty, chief marketing officer for Burger King in North America, said in a statement at the time: "It feels like we've just accepted what brands have told us is possible with loyalty programs over the years, so as we started working on Royal Perks, it was easy, let's do what the others don't.
"To make sure we get it right, we're testing, learning and solving this year."
Advertising has played a part in the Whopper's success with the public over the decades. One of the most famous taglines associated with Burger King's creation is the claim: "There are 1,024 ways to have a Whopper."
Although this may initially seem implausible, the math behind this claim (apparently) checks out, due to the number of possible optional ingredients that can be theoretically included with the Whopper.
In fact, as reported by Mashed.com, there are now so many optional ingredients potentially included with a Whopper, that the number — according to Burger King's ad campaigns — has supposedly reached 221,184.