Burgerville Bans Buttons After Workers Wear 'Abolish ICE' Pins
A Burgerville fast-food restaurant in Portland, Oregon, has reportedly banned employees from wearing buttons to work after staff joined the "Abolish ICE" movement, wearing pins calling for the Immigration and Customs Enforcement agency to be dismantled.
As many as 10 employees at the Burgerville location were sent home for a day last month after they refused to remove the buttons, which said "Abolish ICE" and "No one is illegal," from their uniforms, according to The Oregonian.
Their silent protest came amid widespread outrage over the Trump administration's "zero tolerance" immigration policy, which led to around 2,500 children being separated from their parents at the U.S.-Mexico border.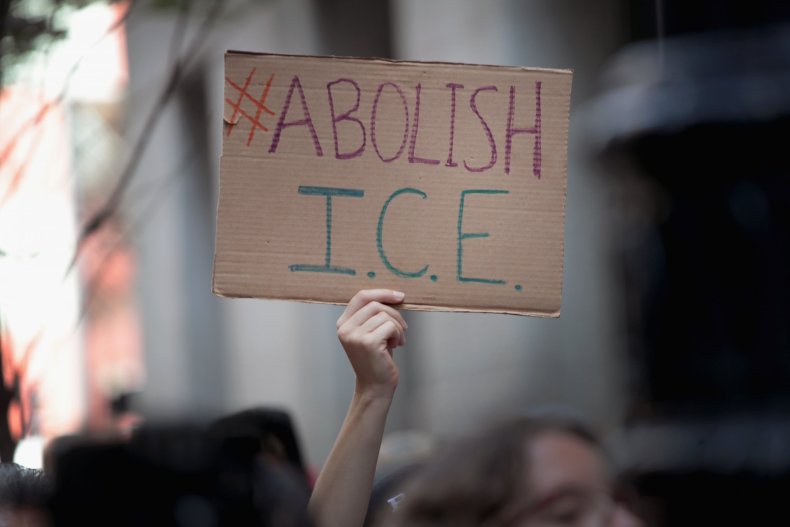 After claiming it faced complaints from customers and workers at the restaurant, the Burgerville location has said it will now be enforcing a strict no-buttons policy.
"Guests provided feedback that they didn't want to see personal and political messages while they ate," Burgerville Human Resources Director Liz Graham told The Oregonian.
"Additionally, some employees expressed that the content of the buttons was drawing unwanted attention that made them uncomfortable," she said.
In a statement Sunday to Fox News, the company said, "While Burgerville had a long-standing verbal policy prohibiting the wearing of personal buttons, we did not have a written policy about this. We are instituting an updated uniform policy, and buttons and other messaging—both political and personal—will not be allowed. It is a policy that is common in public-facing businesses and is in alignment with our mission to Serve With Love."
The new rule is expected to go into effect on September 13.
It will likely face opposition from the Burgerville Workers Union, which made history in April by becoming the first formally recognized fast-food union in the U.S.
On its Facebook page, the union hit out at the company's planned policy, accusing the fast-food chain of choosing "to ban buttons and side with white supremacists."
"Burgerville wants to be seen as a sustainable and progressive company, but instantly sides with racist customers and commenters over their own workers," the union said.
In its post, the union said, Burgerville managers had initially "attempted to make amends" with workers after they were sent home over refusing to remove their buttons.
However, the union said that after the story "made local and national news, white supremacists began flooding social media with hatred and threats of violence towards the workers."
"Within twenty-four hours of the swell of right-wing outrage, Burgerville corporate gave in to the demands of internet racists by reimposing the button ban of 'personal' and 'political' buttons," the union said.
"Our fight over buttons is about something much bigger—it's about standing up for and as undocumented workers and workers of color, it's about standing against police brutality and violent deportations, and it's about standing against Burgerville's voluntary cooperation with ICE and discriminatory practices in hiring, firing, and scheduling," the union said.
It added that "white supremacy threatens us in and outside of work, and to say our buttons are too political for the workplace is to say our lives are too political for the workplace."
Both Burgerville and the union did not immediately respond to a request for comment from Newsweek.