Robbers Call in Fake 911 Emergency to Distract Police Investigating Break-In
Two robbers in Washington State reportedly tried to throw cops off their scent by calling in another crime for them to investigate.
On Friday morning at about 3:30am, an alarm company called the Seattle Police Department, reporting a possible robbery at a luggage store on Third Avenue.
Officers went to the store and, shining their flashlights inside, didn't see anything suspicious. Soon enough, though, they noticed a man crawling on his belly toward the cash register.
The police surrounded the building and prepared to enter, but another call to 911 indicated several people were shooting each other six blocks from the luggage store. One officer checked out the alleged shooting, SPD Blotter reports, while the remaining squad maintained its perimeter.
A K9 team entered the store and immediately noticed a large hole in the wall, above ten feet off the ground, with an officer noticed a fresh trail of blood inside. Hearing someone on the other side of the wall, officers followed the gap into an abandoned restaurant next door. There they found a 29-year-old man hiding under a table and a 35-year-old man hiding in the ceiling vent. The pair were found with rubber gloves, binoculars, crowbar and lock picks, as well as a hand-held Pac Man video game.
Police believe the duo called in the fake shooting to send police on a wild goose chase while they made their escape. They were both charged with burglary and booked into the King County Jail.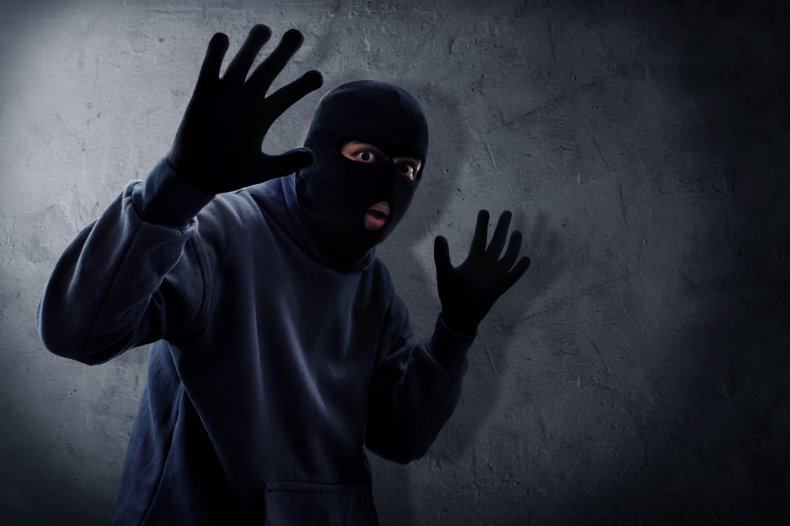 The alleged thieves are hardly the first to try and bamboozle the cops: While fleeing authorities in her car last month, an Iowa woman reported the vehicle stolen.
And in 2014, a UK man tried to fool police after being caught with a stolen excavator.
The missing vehicle was fitted with a tracking device, enabling authorities to trace it to Matthew Brown's farm, according to prosecutors. Police found a digger in Brown's workshop, being stripped down and repainted. When asked to proved he had bought the $8,600 digger found on his farm, Matthew Brown handed over a handwritten note scrawled on the back of crudely torn envelope.
Brown eventually pleaded guilty to money laundering and handling stolen machinery and was sentenced to 16 months in prison. "This sentence demonstrates that regardless of how much effort offenders make to cover their tracks, we will get them eventually," prosecutors said. "Despite him trying to dig his way out of trouble, he could not escape justice."
Back in 2008, a bank confounded cops buy hiring decoys off Craigslist to wear the same outfit. The unnamed crook held up an armored truck outside a Bank of America in Monroe, Washington, wearing a yellow vest, safety goggles, a blue shirt, and a respirator mask. The suspect went over to the guard and sprayed him with mace, grabbed his bag of money before fleeing.
The robber had put up a Craigslist ad for road maintenance workers, telling applicants to wait outside the bank around the time of the robbery, and to wear a yellow vest, safety goggles, a respirator mask, and blue shirt. According King 5, More than a dozen people showed up.
And then there were the bank robbers who thought they could fool a Brazilian bank's security system by wearing homemade suits made of aluminum foil.
"They broke down one of the walls and thought the detectors from the alarm would not notice them," a police spokesperson told CNN. "We found a power drill and other instruments that lead us to believe they were looking to break into the safe. However, they left empty-handed."