Burglary Suspect Leads Authorities on Car Chase in Los Angeles Before Climbing Into Drain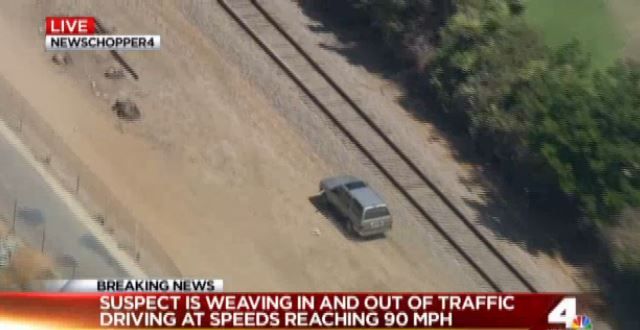 A burglary suspect led law enforcement officials on a high speed car chase in the Los Angeles area Wednesday afternoon before abandoning his vehicle and running into a wooded area. An NBC4 livefeed of the chase showed the suspect, who has not yet been identified by authorities, driving a silver Toyota SUV and turning down a deadend street. With nowhere to go, he drove onto the curb and onto a railroad.
The suspect drove on the railroad tracks for several minutes before getting out of his car. He jumped over two fences and then ran into the brush. He briefly emerged from the woods and then entered a large tunnel, believed to be a drain, according to NBC4. Police were pursuing him closely but were too far away to enter the drain tunnel behind him. The suspect's whereabouts are currently unknown, though he appears to still be in the tunnel.
Authorities are working with the the local public works department to find out where the tunnel leads. There is a possibility that it may end in a manhole cover, NBC4 reporters said. It remains unclear if search dogs will be sent into the tunnel to look for the suspect.
NBC4 Los Angeles has a livefeed of the search: