Enormous Burmese Python Caught in Florida is Largest Ever Found in State
Snake hunters have captured a massive Burmese python in Florida that is the largest specimen of this invasive species ever caught in the state.
The Florida Fish and Wildlife Conservation Commission (FWC) said the snake measured 18 feet and 9 inches in length—a new record for the Sunshine State. The previous largest Burmese python caught in Florida was slightly smaller, measuring 18 feet and 8 inches. This snake was captured in 2013.
The latest record-breaking snake was caught on October 2 near the L-28 Tieback Canal, around 35 miles west of Miami, by snake hunters Ryan Ausburn and Kevin Pavlidis who work with the South Florida Water Management District (SFWMD) and FWC respectively.
Burmese pythons—native to Southeast Asia—are an invasive species in Florida, where they became established in the south of the state around 20 years ago. It is thought they gained a foothold after pythons being kept as exotic pets were released or escaped.
Population estimates for Florida vary wildly because the snakes are hard to detect, but it is thought there could be over 300,000 living in the state.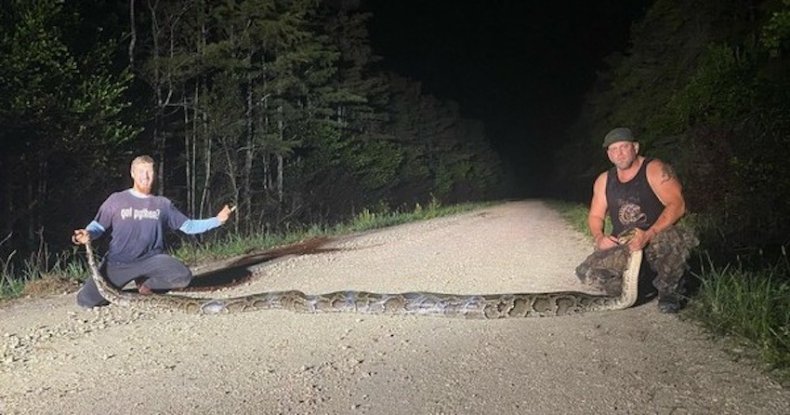 Because they have no natural predators in the region, they have been able to reproduce rapidly. They can live to around 20 years and sexually mature females are capable of laying up to 100 eggs per clutch, once per year.
The U.S Geological Survey says Burmese pythons are "one of the most concerning invasive species" in the Everglades National Park because they compete with non-native wildlife for food and eat native animals. Scientists have linked significant population declines in some mammal species, such as raccoons, opossums and bobcats, to the Burmese python invasion.
In an attempt to combat the spread of this invasive species, the state introduced a python elimination program in 2017, which is jointly managed by the FWC and SFWMD.
As part of this program, registered snake hunters can earn money for catching the snakes—a day rate plus bonuses, depending on the size of the python and whether or not it is a nesting female.
So far, this program has removed more than 5,000 invasive pythons from the Everglades ecosystem, the SFWMD said.
"Today's record breaking capture shows that our increased efforts are working to get harmful pythons out of the precious Everglades ecosystem," SFWMD Governing Board Member Ron Bergeron said in a statement.
"Together with our partners and the public's help, we can restore the Everglades and combat the harmful pythons that hurt Florida's native wildlife."
"The removal of this behemoth Burmese python is a triumph for our native wildlife and habitats," FWC Commissioner Rodney Barreto said in a statement. "It's a great example of the partnership between the FWC and the South Florida Water Management District, working under the leadership of Gov. Ron DeSantis, toward our goal of removing these non-native predators."
In a Facebook post, Pavlidis described how he and Ausburn pulled "this beast of a snake" out of waist-deep water in the middle of the night, deep in the Everglades.
"I have never seen a snake anywhere near this size and my hands were shaking as I approached her. Every python we catch can be potentially dangerous, but one this size? Lethal. One mistake, and I am for sure going to the hospital. But more importantly, this is a once in a lifetime snake. I could go out every single night for the rest of my life and never see one this big again," he wrote.
"We got the snake under control very quickly but it was a battle. Really I am just incredibly grateful for this opportunity and an experience I will never forget.
In Florida, it is illegal to release non-native species, such as Burmese pythons into the wild due to the negative impact that these can have on local ecosystems. The state has an Exotic Pet Amnesty Program that helps to prevent non-native animals from being released into the wild by providing owners of exotic pets who can no longer keep them with a legal way to give them up.