'Burn the Witch' Anime, From 'Bleach' Creator, Coming to Crunchyroll in October
Burn the Witch, the highly anticipated new anime from Bleach creator Tite Kubo, is coming exclusively to Crunchyroll this fall.
The anime streaming service announced over the weekend that the female-led action series will arrive with subtitles worldwide, outside of Asia, in early October. Burn the Witch follows two witches, Noel Niihashi and Ninny Spangcole, working for the western branch of Soul Society—called "Wing Bind"—in an alternate version of London, Reverse London.
If Soul Society sounds familiar, that's because it's the same organization that the Soul Reapers of Bleach were a part of. Burn the Witch takes place in the same universe as Bleach, but instead of finding and destroying demon souls called Hollows, witches are tasked with maintaining and protecting dragons that only they can see.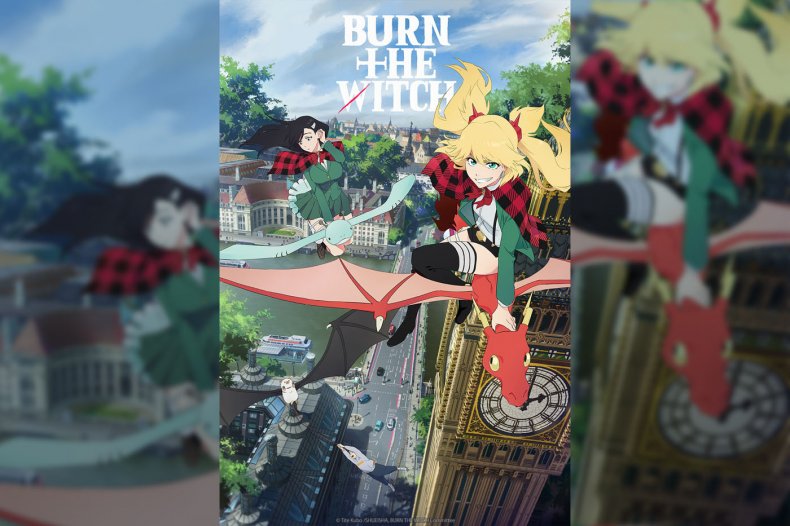 Here's the official synopsis of Burn the Witch:
Historically 72% of all the deaths in London are related to dragons, fantastical beings invisible to the majority of the people.

While unknown to most, some people have been standing up to these dragons.

Only inhabitants of Reverse London who live in the hidden "reverse" side of London can see the dragons. Even then, only a selected few become qualified enough as witches or wizards to make direct contact with them.

The protagonists of the story are witch duo Noel Niihashi and Ninny Spangcole. They are protection agents for Wing Bind (WB), an organization for dragon conservation and management. Their mission is to protect and manage the dragons within London on behalf of the people.
Crunchyroll confirmed that the series will be directed by Tatsuro Kawano, who is best known for his work on Kabaneri of the Iron Fortress. The series will have Yuina Yamada (Anima Yell!) play Noel and Asami Tano (Toriko) play Ninny.
The release date of the Burn the Witch anime comes months after its announcement. Back in March, Weekly Shonen Jump revealed that the sequel series from Tite Kubo would be released as an anime in the fall. Alongside that announcement was the reveal that the Bleach anime was returning in 2021.
The Bleach anime stopped in 2012, after the "Fullbringer" arc, with no official reason given for the cancellation. However, eight years later, the series will return to finish Kubo's story in animated form.
The anime will cover the "Thousand-Year Blood War," which begins in Chapter 480 of the manga, to the end of the series in Chapter 686.
What do you think of the first trailer for Burn the Witch? Are you excited for the return to the world of Bleach? Let us know in the comments section.