Burning Man 2018: What to Expect at the Surreal Festival in the Middle of Nevada's Black Rock Desert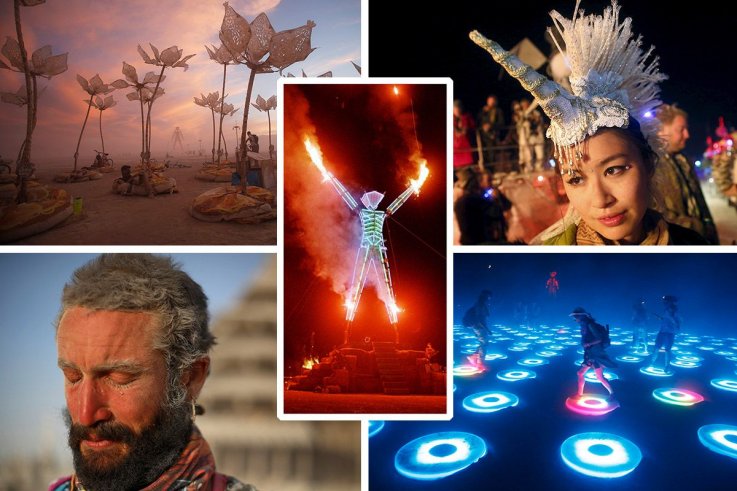 Every year, something strange happens to the bleak, dusty landscape of Nevada's Black Rock Desert, 100 miles north of Reno.
Some 70,000 people flood into the area, wearing outfits pitched between beach-bum backpacker and steampunk raver. There, they erect a temporary settler camp, called Black Rock City, which includes not only tents but giant sculptures, interactive art exhibitions and performance spaces. The city thrives for a week, before a giant human sculpture is burned, and the whole thing disappears without a trace.
Burning Man, the event beloved by hippies, venture capitalists and Paris Hilton alike, isn't your average festival. It was founded in 1986 when a small group of friends burned effigies of a man and a dog on a beach in San Francisco. Over the years, both the crowd and the size of the effigy grew, and the celebration was moved to Black Rock in 1991.
Starting out as a free festival that relied on word of mouth to attract crowds, Burning Man espoused the ethos of self-expression and community. Attendees, nicknamed Burners, are encouraged to abide by the 10 principles of Burning Man, as written by co-founder Larry Harvey in 2004. These principals include radical inclusion (or welcoming and respecting strangers), gifting, radical self-reliance, leaving no trace and communal effort.
Money is shunned at the festival, and Burners must bring their own supplies of water and other essentials, and barter for anything that catches their fancy at the event. Each festival has a theme—after last year's "Radical Ritual," this year's is "I, Robot".
Yet as Burning Man has grown, there have been murmurings that it has lost its radical, counter-culture soul. This Burning Man Survival Guide bemoans "an alarming increase in fashion shoots" in the desert, and reminds attendees to be creative and communal participants within the event.
The festival is no longer free—tickets this year cost $425—and has recently attracted a number of Silicon Valley millionaires who erect air-conditioned luxury camps in the settlement. Tesla billionaire Elon Musk is a fan. "Burning Man... is Silicon Valley," he told a Re/Code reporter.
The irresistible spectacle of Burning Man—the flames, fireworks and surreal sculptures billowing up from the dust—is what makes the festival so memorable for many, despite the festival's struggle to find a balance between its lush theatrics and its original anti-consumerist ethos.
In anticipation of the upcoming 2018 festival, we've collected the most spectacular photos from the past seven years at Black Rock City.