Burning Man 2019: Where to Watch Live Stream, What is Burning Man, Where Can I Buy Tickets?
What is Burning Man?
According to the Burning Man official website, Burning Man started in 1986, when friends Larry Harvey and Jerry James made an improvised wooden figure and took it down to Baker Beach, San Francisco, on the Summer Solstice. They lit it up and a crowd gathered to watch it burn. This was the first man to burn.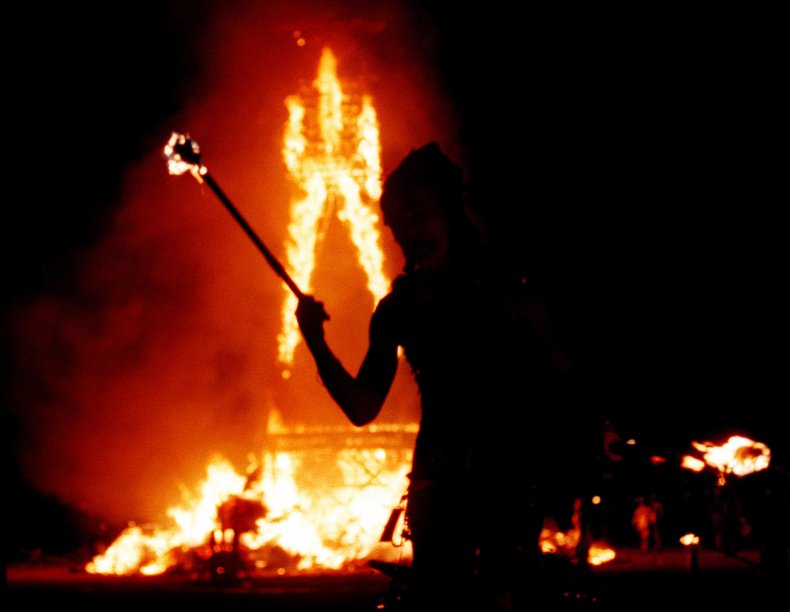 Since then, Burning has become not only an annual event but also a community and way of life. In 2004, Harvey wrote the 10 Principles to reflect the community's ethos. These are:
Radical Inclusion: Anyone may be a part of Burning Man.
Gifting: Burning Man is devoted to acts of gift-giving.
Decommodification: Create social environments that are unmediated by commercial sponsorships, transactions, or advertising.
Radical Self-reliance: Burning Man encourages the individual to discover, exercise and rely on his or her inner resources.
Radical Self-expression: Arises from the unique of the individual.
Communal Effort: Valuing creative cooperation and collaboration.
Civic Responsibility: Assume responsibility for public welfare and endeavor to communicate civic responsibilities to participants.
Leaving No Trace: Respecting the environment.
Participation: Transformative change, whether in the individual or in society, can occur only through the medium of deeply personal participation.
Immediacy: Overcome barriers that stop the recognition of inner selves, the reality around them, participation in society, and contact with a natural world exceeding human powers.
The event itself brings together the Burning Man community who build a temporary metropolis in the Black Rock Desert of Nevada, called Black Rock City. Artists come from across the world to produce works that reflect the beliefs of the community, such as sustainability and the environment.
This year's art theme is Metamorphoses; a celebration of change, and an exploration of uncertainty. Art includes:
A kinetic light sculpture, Archaeopteryx, which is designed to bring people together and act as a physical and symbolic reminder that humans must work together to evolve.
A gasoline station, Awful's Gas & Snack, which represents a time when men roamed the "open road" seeking fortune & freedom.
A sacred theater, Bee Divine, that seeks to empower female identifying participants through designing a customized ritual of worship and achieve a state of heightened embodiment.
A full list of 2019 art can be found here.
The Burning Man itself is set to burn on August 31, 2019.
Where to watch Burning Man live?
For people who cannot attend the event live, the organizers have created a live stream on their website and on YouTube. You can access it here.
How do I buy tickets for Burning Man?
The latest wave of ticket sales opened on July 31, 2019, and will close on August 20, 2019. Tickets are currently $550.