Police Report "Suspicious" Death at Burning Man, Just Days After a Fatal Collision and Plane Crash
Thousands of people head into Nevada's Black Rock Desert every year to attend the Burning Man Festival. Burners, as they are called, take part in a week's worth of community, inclusion, public artwork and radical revelry. But the 2019 Burning Man has been plagued by a number of unforeseen incidents, most recently the death of 33-year-old Shane Billingham on Thursday night, whose death police are calling "suspicious."
On Thursday night, Pershing County deputies were called to a medical tent at Burning Man where Billingham was declared dead. His body was transported to the Washoe County Regional Medical Examiner for an official autopsy.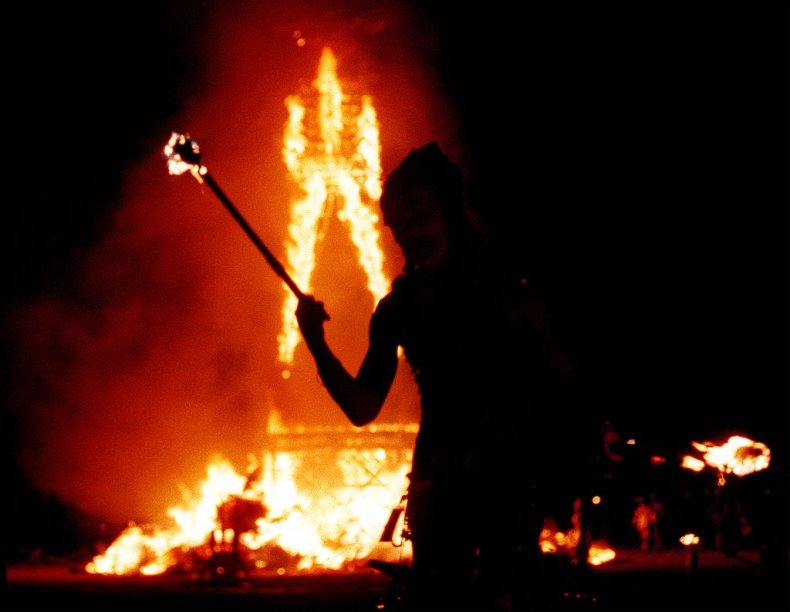 "The scene was secured to be investigated and a Deputy Coroner transported the decedent to the Washoe County Medical Examiner's Office for autopsy," the Pershing County Sheriff's Office said in a press release.
Local authorities have not released information on the manner of death but said Billingham's death "remains under investigation as suspicious."
On Friday, Burning Man Project released a statement about Billingham's death.
"At approximately 6:30 pm Thursday evening, a male participant identified as 33-year-old Shane Billingham from New Zealand was found unresponsive in his vehicle at his camp," the statement read. "CPR was immediately performed by bystanders...Death was declared by the on-scene emergency physician shortly thereafter. Preliminary autopsy information showed Mr. Billingham's blood had a concentration of carbon monoxide which 'would be considered poisonous to human life,' according to a release from the Pershing County Sheriff's Office."
"The death of a member of our community will surely be felt by many. Our condolences extend to Mr. Billingham's friends, family, and campmates."
On Sunday night, there was a fatal collision just outside the Burning Man festival in Washoe County. Sixty-one-year-old Carson City resident Lonnie Richey drove over the centerline of a local road and fatally crashed head-on with an RV. Richey died from injuries sustained in the crash.
Then on Monday, a plane leaving the Burning Man festival crashed near the Reno-Stead airport around 5 p.m. All three people onboard reported injuries, but there were no fatalities.
The last death at Burning Man occurred in 2017, when a man ran into a flaming namesake effigy. The man, Aaron Joel Mitchell, 41, was pulled from the fire but was too badly burned. He was airlifted to the University of California Davis burn center in Sacramento where he was pronounced dead.
Burning Man started in 1986 and has grown in popularity every year since. It's organized by the non-profit origination the Burning Man Project. In addition to the main festival in Nevada, the organization also holds several smaller festivals around the world.
Viewed as a weeklong counterculture festival, one of the more recognizable parts of the event are the large structures built in the middle of the desert. At the end of the festival, the structures are burned. Each year has a theme, with past themes including Good and Evil (1995), Vault of Heaven (2004) and American Dream (2008). The theme for the 2019 festival is Metamorphoses. Originally the festival was free, but tickets now can be purchased in a range from $100 to $1,400, depending on your level of participation.
This article has been updated to include the statement released by the Burning Man Project on Friday.