Women in Denmark will no longer be allowed to wear a burqa or niqab in what is being called the "Burqa Ban," leading hundreds of people to take the streets of Copenhagen in protest.
The law, which was passed in May, took effect on Wednesday and forbids any type of garment that covers the face. However, the new legislation stipulates that people are allowed to use face coverings in certain situations, such as wearing a helmet while riding a motorcycle or protection from cold weather.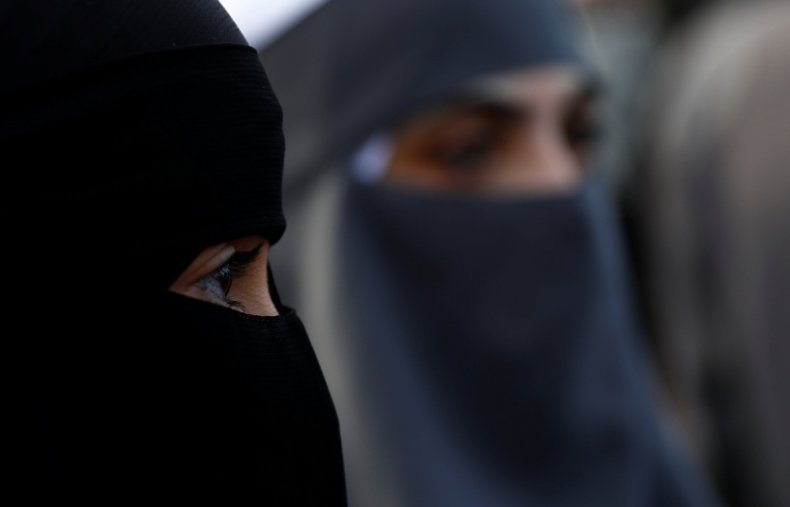 The ban doesn't affect those who wear headscarves, turbans or Jewish skull caps.
The "Party Rebels," a Denmark-based activist group, had announced that they would be holding Wednesday's demonstration, CBS News reported. People who attended the burqa ban protest in Copenhagen would not be penalized for wearing burqas, but Benny Ochkenholdt, a police spokesperson, told local media that if someone is caught wearing a burqa to or from the protest, they may have to face fines, The Independent reported.
If the law is broken, offenders may face a fine of 1000 kroner ($157). If they're caught again, a fine of 10,000 kroner ($1,565)or a jail sentence of up to six months may be enforced.
The law goes on to say that if someone forces another person to wear clothing that covers the face, they may also be punished with a fine or up to two years in prison.
"All women should be free to dress as they please and to wear clothing that expresses their identity or beliefs," Amnesty International's Deputy Europe Director Fotis Filippou, told The Independent.
"If the intention of this law was to protect women's rights it fails abjectly," Filippou continued. "Instead, the law criminalizes women for their choice of clothing – making a mockery of the freedoms Denmark purports to uphold."
One of the proponents of the law, Liberal Party member Marcus Knuth, said that the clothes worn by some women in the Muslim religion are "strongly oppressive."
Denmark joins Austria, Belgium and France in instituting a nationwide ban. The German state of Bavaria, Bulgaria and the Netherlands have imposed some restrictions in the public use of face veils.
France became the first country in Europe that banned individuals from completely covering their face in public when it adopted the law in 2011. In 2017, Belgium's ban was upheld by the European Court of Human Rights when two cases were brought to the court's attention. Meanwhile, in October of the same year, Austria's burqa ban went into effect, including a fine of 150 euros ($175).