The news of Senator Richard Burr temporarily stepping aside from his role as chairman of the chamber's Intelligence Committee was shocking to at least one of his colleagues on the panel, a reaction that was visible even beneath her face mask.
"Oh, wow... I don't know what to say... I truly didn't know about it," Sen. Susan Collins (R-Maine) said after Newsweek told her of the revelation. "He's been an excellent chairman of the committee."
The North Carolina Republican's controversial stock market activity is under the microscope of federal authorities for potential insider trading for selling large sums in the run-up to the novel coronavirus pandemic tanking the stock market. The Los Angeles Times reported Wednesday night that the FBI—armed with a warrant—seized Burr's cell phone, prompting the senator to temporarily surrender his powerful position.
"Senator Burr contacted me this morning to inform me of his decision to step aside as Chairman of the Intelligence Committee during the pendency of the investigation," Senate Majority Leader Mitch McConnell (R-Ky.) announced in a statement. "We agreed that this decision would be in the best interests of the committee and will be effective at the end of the day tomorrow."
Burr's colleagues on both sides of the aisle hailed the decision to vacate himself as a necessary one, though they complimented how he's managed his role as chairman of one of the most influential panels in Congress. The bipartisan approval and absence of negative remarks about a fellow senator was a representation of the more mild-mannered nature of the upper chamber.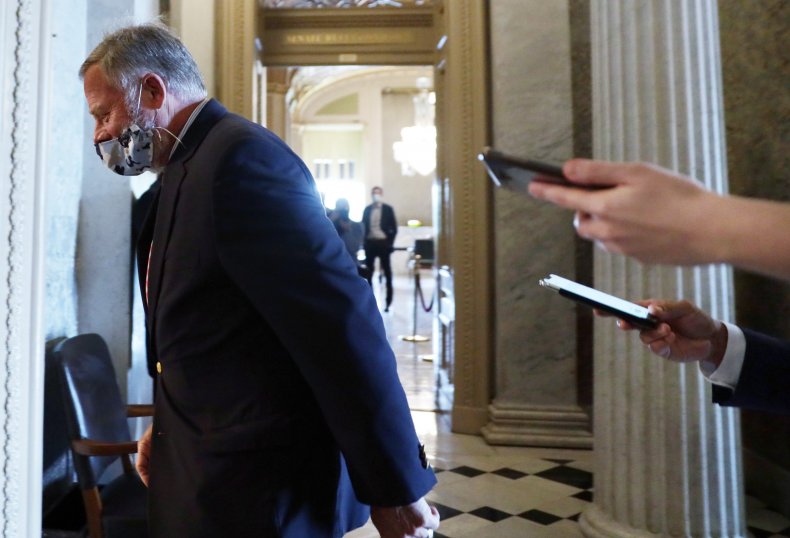 "[Burr] took the appropriate—made the appropriate choice, the right choice in temporarily stepping aside and hope this issue gets resolved as quickly as possible," said Sen. Mark Warner (D-Va.), the ranking member on Intelligence.
Warner added that the panel's reports on investigating Russian interference in the 2016 election have all been bipartisan and unanimous from the start. He does not expect any of that to change.
Senator Bob Menendez (D-N.J.), who was cleared of corruption charges in 2018, commended Burr for making "the right move, the proper move under the circumstances." Menendez relinquished his post as the ranking member of the Foreign Relations Committee when he was charged in 2015 with bribery and conspiracy.
"That decision was good judgment," he added of Burr.
The support for Burr's move was similar among Republicans. Senator Lindsey Graham (R-S.C.) said although Burr "maybe used poor judgement" in his stock decisions, "I don't believe he did anything criminally wrong."
"I think he's trying to do what he thinks is the right thing, and I respect that," said Sen. John Cornyn (R-Texas), a member of leadership. "Obviously, he's entitled to a presumption of innocence, just like anybody else."
Burr's stock selloff on February 13, which totaled anywhere between $628,000 and $1.72 million, was first reported by ProPublica in March. Despite receiving classified intelligence briefings about the virus that has thus far killed over 85,000 Americans, Burr publicly downplayed the impending public health crisis while issuing private warnings. The senator has denied any wrongdoing and has welcomed an internal Senate ethics probe with open arms. He is not seeking re-election in 2022.
Last week, ProPublica reported that Burr's brother-in-law also dumped a large amount of stocks—between $97,000 and $280,000—on the same day as Burr.
"I think that this has become a distraction to the committee work—on a committee that's really, really important to the national security—and a distraction to its members," Burr told reporters of his decision to temporarily renounce his chairmanship. "I thought this was the best thing to do."
Burr later declined to comment to Newsweek on whether he believed the Justice Department could have targeted him. The warrant to obtain his cell phone, which came after a warrant was served to Apple for his iCloud data, required the highest levels of approval from the department, according to reports.
Burr also reiterated he has no intention to resign from Congress. It is not immediately clear who will replace him as head of the Intelligence Committee. Senators Jim Risch (R-Idaho) and Marco Rubio (R-Fla.) are next in line based on seniority. However, they both chair other committees, which means they would have to give up those positions to chair Intelligence.
But ultimately, the decision will be made by McConnell. As of Thursday afternoon, he had not made a public announcement.
Thursday also brought news that Burr was not the only U.S. senator who was recently contacted by the FBI about their finances.
The office of Sen. Dianne Feinstein (D-Calif.), a former chair of Intelligence, revealed she turned over documents to the bureau and answered investigators' questions related to her husband's controversial trades in January. Her office emphasized the lawmaker "had no involvement" and denied any wrongdoing.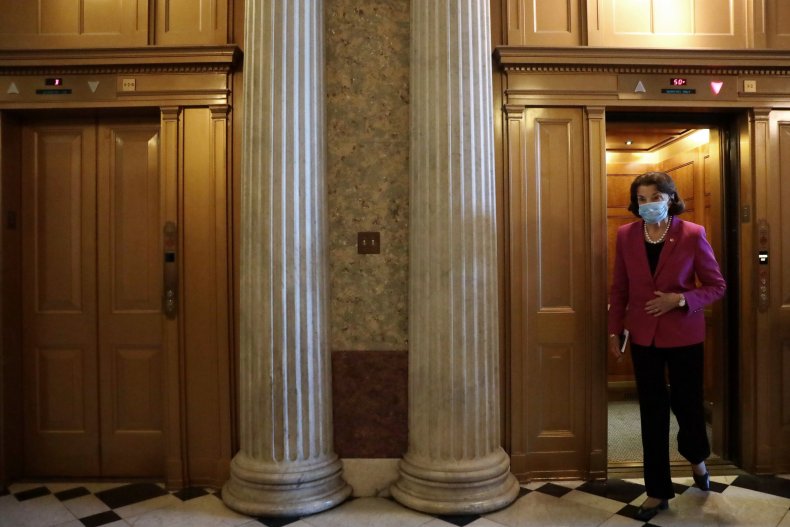 Republican Senators James Inhofe of Oklahoma and Kelly Loeffler of Georgia also sold large amounts of stock in certain industries just before they crashed. Members of Congress regularly receive classified and private information not available to the public, particularly amid major events, fueling speculation that they committed insider trading.
Loeffler is married to Jeffrey Sprecher, chairman of the New York Stock Exchange. However, she's denied wrongdoing because a third-party adviser handles her stocks. Loeffler declined to answer Newsweek's questions, but her office later said that the lawmaker "has forwarded documents and information to DOJ, the SEC and the Senate Ethics Committee establishing that she and her husband acted entirely appropriately and observed both the letter and the spirit of the law."
One of the most outspoken critics of Burr and the senators' stock selloffs has actually been a Republican: Rep. Matt Gaetz of Florida. He's called on Burr to be ousted from the Senate.
News of the FBI confiscating Burr's phone Wednesday night stemmed a two-word celebratory tweet from the firebrand conservative.
"Bout time," Gaetz wrote.