Burt Reynolds Through the Years: The Hollywood Star's Life and Career in Pictures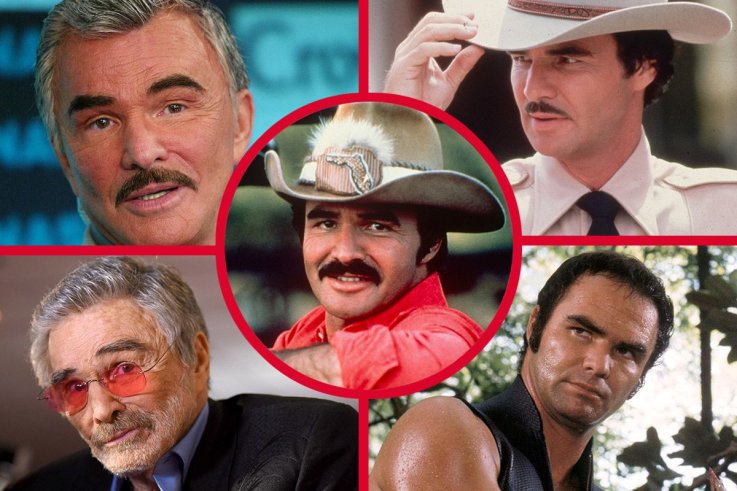 Burt Reynolds, whose good looks and charm made him one of Hollywood's most popular actors in such films as Deliverance, The Longest Yard and Smokey and the Bandit in the 1970s and '80s, has died at the age of 82.
With his trademark mustache, rugged looks and macho aura, Reynolds was a leading male sex symbol of the '70s.
Reynolds cited director John Boorman's Oscar-nominated Deliverance, released in 1972, as his best film. He played tough guy Lewis Medlock—opposite Jon Voight, Ned Beatty and Ronny Cox—in the chilling tale of a canoe trip gone bad in rural Georgia.
Many of Reynolds's films were set in the South. He often played a lovable rascal who outwits local authorities, as in director Hal Needham's 1977 crowd-pleasing action comedy Smokey and the Bandit, co-starring Jackie Gleason and Reynolds's then-girlfriend, Sally Field.
Another of his memorable performances was that of a former pro quarterback who lands in prison and assembles a team of convicts to play the warden's squad of brutal prison guards in 1974's rollicking The Longest Yard, directed by Robert Aldrich. He appeared in a supporting role in the 2005 remake with Adam Sandler.
At the peak of his career, Reynolds was the most bankable actor in the film industry, reeling off a series of box-office smashes until a career downturn in the mid-1980s.
He rebounded in 1997 with an Oscar nomination for his supporting role as a porn director in Paul Thomas Anderson's Boogie Nights—a role Reynolds said he despised—and won an Emmy for his role in the 1990-1994 TV series Evening Shade.
Reynolds turned down some notable roles, including Han Solo in Star Wars, which went to Harrison Ford; the title role in a James Bond film; and the astronaut in Terms of Endearment, which went to Jack Nicholson, who gave an Oscar-winning performance.
Reynolds's personal life sometimes overshadowed his movies, including his marriages to actresses Loni Anderson and Judy Carne, which ended in divorce, and his romances with Field and Dinah Shore. His financial woes, cosmetic surgery and struggles with prescription pain medication also gained attention.
Reynolds, who was set to appear next summer in a Quentin Tarantino film featuring an all-star cast, died at a hospital near his South Florida home, according to his manager, Erik Kritzer.
A caretaker for Reynolds at his estate in Hobe Sound, north of Palm Beach, was heard telling an emergency dispatcher that the actor was having chest pains and breathing difficulties in an audiotape of the call released by the Martin County Sheriff's Office. The actor was later pronounced dead at the Jupiter Medical Center. —Reuters